By Elizabeth Cohen
CNN





Empowered Patient, a regular feature from CNN Medical News correspondent Elizabeth Cohen, helps put you in the driver's seat when it comes to health care.
ATLANTA, Georgia (CNN) -- On the popular parenting Web site urbanbaby.com, a writer asks whether it's OK to give an 18-month-old "a tiny bit of Robitussin" for her "cold/cough and fever."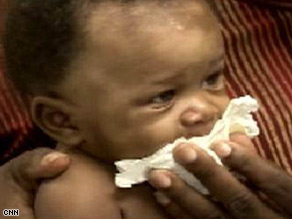 Since the FDA advised against cold medications for small children, parents have been looking for other remedies.
"No flames please," the parent requests.
But flames she got.
"Idiot," one user writes.
"The answer is of course not," another writes. "Come on ... these cough syrups are totally ineffective in ameliorating the common cold and are harmful to your child."
Recently, the Consumer Health Care Products Association changed the labeling of children's OTC cold and cough medications to instruct consumers not to use in children under 4 years of age. This after the FDA raised concerns about the use of these medications in young children. They have been blamed for more than 100 deaths and at least thousands of trips to the emergency room.
So what else can a parent do?
"I use these types of meds at night so we can all get some sleep," writes another parent on urbanbaby.com. "It's the only thing that helps with her cough at night," another says.
Or as one parent puts it succinctly on the Craigslist parenting forum: "It sucks not knowing what to do."
Here are a few alternatives that physicians give their patients when little ones are miserable with a cough or cold.
Music and a massage
"Gentle massage with an essential oil such as lavender may help to promote sleep," says Dr. Michelle Bailey, a pediatrician and associate director of education at Duke Integrative Medicine, which blends traditional medical treatments with alternative therapies.
She says minimizing stress, since it weakens the immune system, is important, too. "There is a connection between the mind and the body, so relaxing the mind may have a positive relaxation effect on the body during times of illness," she says. "Relaxation tapes or CDs may help reduce stress."
Tea and a bath
"I like to recommend ginger tea with honey," says Dr. Paula Gardiner of Harvard Medical School's Osher Institute. (For babies under 1, hold the honey -- it could make them sick). She also tells patients a warm bath with eucalyptus oil helps open stuffed-up nasal passages. Bailey says menthol in the bath works, too.
Vitamin C and vapor rub
Vitamin C also is worth trying, says Dr. Kathi Kemper, a professor of pediatrics at Wake Forest University School of Medicine in North Carolina and a specialist in integrative medicine. But she says there isn't enough in orange juice. "Doses need to be several hundred milligrams, depending on the age of the child," she says. "My 10-year-old gets two grams daily when he starts to get a cold."
Your Health Tools
She also recommends a vapor rub for stuffy noses -- except for infants under 1 month. (She says applying it under the nose can cause apnea in such infants.)
These suggestions, the doctors say, are in addition to the basics that any pediatrician would recommend: warm liquids, a humidifier, a saline nose spray and a nasal bulb syringe to suck out what's stuffing up your little one.
But even with all these tricks, there's nothing that will magically make your child's cough or cold go away -- or magically get them to sleep.
E-mail to a friend

All About Pediatrics