By Elizabeth Cohen
CNN Medical Correspondent
ATLANTA, Georgia (CNN) -- Dr. Jodi Greenwald, a pediatrician in Roswell, Georgia, has a secret weapon for helping children cope with pain. It's not a drug. It's not a medical device. It's a pinwheel. Yes, a pinwheel.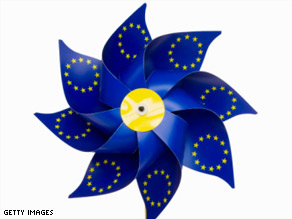 Having your child blow on a pinwheel when getting a shot can distract him and get him to breathe deeply.
"Tell them to blow the pinwheel to make it turn, and you're accomplishing two things," Greenwald says. "It distracts the child while they're getting a shot, and it makes them take deep breaths, which helps them relax."
Jennifer Crain discovered another anti-pain weapon after giving birth to her son: a pacifier dipped in sucrose water. Nurses gave it to him during his circumcision. Researchers think the action of sucking sugar water on a pacifier probably changes neurochemicals in the brain.
"It diminishes the baby's behavioral response to something painful," says Dr. Elliot J. Krane, professor of Anesthesia and Pediatrics at Stanford University.
"I was ready for him to scream, but he didn't make a peep," says Crain, who lives in Olympia, Washington. "He just sucked really hard on his pacifier."
Pediatric pain experts say, sadly, that too many children aren't getting any pain relief -- even something as simple as a pinwheel or sugar water. In a study last week in the Journal of the American Medical Association, researchers found four out of five babies in the neonatal intensive care unit received no pain relief when they had to undergo painful procedures.

Watch more on protecting your child from pain »
Don't Miss
The study was in France, but other studies have found U.S. doctors also don't give pain relief to babies and children as often as they should.
"We may not see children's pain as that severe," says Dr. Brenda McClain, director of pediatric pain management at Yale-New Haven Children's Hospital in Connecticut. "But pediatric pain needs to be taken seriously. Most of the time I don't think we see it that way."
So whether it's for routine vaccinations or something even worse, here are some ways you can alleviate your child's pain.
1. For babies, ask about a pacifier dipped in sucrose water
It worked for Crain's son, and doctors say it works wonders for other babies, too. If your pediatrician's office doesn't have any, you can make your own. According to the Web site of the late researcher Dr. Donna Wong, dip a pacifier in a mixture of one measuring teaspoon table sugar and four teaspoons water.
Give your baby the pacifier about 30 minutes before the shot or procedure, recommends Dr. K.J.S. Anand, at the Arkansas Children's Hospital Research Institute.
2. Ask for a topical pain creams
These creams can help take the sting out of any needle stick, from a vaccination needle to an IV, McClain says.
Why don't all doctors use them? McClain says because they have to be given well in advance. "The argument I get from primary care doctors is that it takes so long, you have to just sit there. It slows things down," she says.
Solution: Ask your doctor for a prescription, and you can apply the cream yourself before you arrive at the doctor's office, McClain suggests. The cream needs to go on 30 minutes to two hours before the procedure.
3. Distract your child
As Greenwald found out, a pinwheel can go a long way. Other ideas: Talk to your child about anything but what's going on. "The mistake parents make is saying, 'We'll get ice cream when it's over,' or, 'I know it hurts.' " she says. "That's empathetic, but it's not going to help a 3-year-old get their mind off the pain."
Instead, she recommends talking about something completely different. "Say, 'Remember the time we went to Disney World and Cinderella waved at you?' That'll be more effective."
The Children's Hospital of Wisconsin has more ideas on distractions for children.
4. Ask about alternative treatments
Acupuncture, music therapy and hypnosis have all been used to treat children's pain. The Academy for Guided Imagery has information on using guided imagery for patients' pain.
5. Don't be afraid of opiates
Opiates can help a child in severe pain, and the risks are small, pediatric pain experts say.
"It is very, very rare for children to get more pain medicine than they need or to get addicted to pain medicine," according to the Web site for the pain management program at the Seattle Cancer Care Alliance. "Children can become tolerant to pain medication, which means they need more medication to get the same amount of relief. But they do not have the psychological craving for pain medications that is part of addiction."
Health Library
If your child is in the hospital, the experts suggest asking if there's a specific pain team you can talk to. "They focus just on pain, and they'll see your child several times a day," McClain says.
Another idea: If they don't have one, ask for a pain-rating scale for kids. The happy and sad faces will help your child let you know how much pain they're in.
Finally, if you feel your child is not getting enough pain relief, you may have to step in. "Doctors and nurses get so focused on saving lives that the baby's pain experience doesn't always count very much," Anand says.
E-mail to a friend

CNN's Jennifer Pifer, A. Chris Gajilan and Melanie Diaz contributed to this report.