By Katie Hawkins
CNN
(CNN) -- Bristol Palin, the 17-year-old daughter of Alaska Gov. Sarah Palin, became the center of the media spotlight this week after her pregnancy was revealed.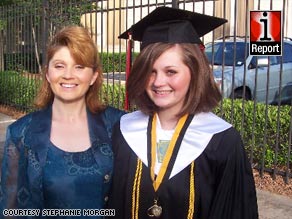 Stephanie Morgan, left, was proud to see her daughter graduate from high school without being pregnant.
The news broke three days after Republican presidential candidate Sen. John McCain tapped Sarah Palin as his running mate.
According to the family, Bristol Palin plans to marry the baby's father. The announcement has garnered support from key evangelical leaders and criticism from opponents.
We asked members of the iReport.com community to share their own stories of teenage pregnancy. To them, the news of Bristol Palin's pregnancy is a social, not political, story -- one that should be reported responsibly.
Teen pregnancy "is often the elephant in the room," said Andrea Norwood of Alhambra, California, who was pregnant at 15.
Norwood, now 32, said she believes Bristol Palin's pregnancy should be reported on because "it brings this issue once again to the public arena."
"I believe this can bring some much-needed attention to the rising rate of teen pregnancy," she wrote on iReport.com. She said that the issue of teen pregnancy often gets major attention and then dies out, such as when 17-year-old television star Jamie Lynn Spears gave birth in June.
The teenage pregnancy rate grew slightly in 2006 nationwide after more than a decade in decline. The overall birth rate in 2006 for 15- to 19-year-olds was 41.9 births per 1,000 women, according to the Centers for Disease Control and Prevention.
Don't Miss
Experts say it is too early to determine whether the increase is part of a trend or a one-time rise in birth rates.
With a daughter the same age she was as a pregnant teen, Norwood said she has encouraged open conversation about sex and has promoted the use of birth control. "As she's gotten older, the conversation has matured," she said.
Sonya Hathaway also promotes birth control when it comes to her teenage son. A self-described evangelical Christian, Hathaway said she initially planned to raise her son to abstain, but later decided to give him condoms.
"Five years ago, we would have never done that," she said, explaining that the reality of her son having sex without protection convinced her to change her mind.
Hathaway was pregnant with her son at 19. As an unmarried mother, she said, "I was scared out of my mind."
She said she hopes Bristol Palin "takes some time off and focuses on being a high-quality mommy." iReport.com: Read one family's success story of teen pregnancy and marriage
"I think she could develop bitterness toward her parents for putting her business out there," she said.
As governor, Sarah Palin has been outspoken against abortion. In a 2006 questionnaire given to all gubernatorial candidates in Alaska, she maintained her opposition to abortion and said that she would not support funding for "explicit sex-education programs."
GOP loyalists and anti-abortion activists say that Palin's announcement and support of her daughter's pregnancy show that she believes in family values. Some bloggers, however, have blasted the governor for not supporting sex-education programs.
iReporter Amanda Hagler of Richmond Hill, Georgia, believes that Bristol Palin's pregnancy should not reflect on her mother.
"I think that, as parents, they teach us the best that they can," said Hagler, who was pregnant at 17. "It's up to us to make the decisions that we make. It shouldn't reflect on our parents."
Hagler, now 22, believes Palin's pregnancy should not have any bearing on the presidential election. iReport.com: Read more from Hagler
"Bristol's pregnancy should not be paraded around in the media like it is," she wrote on iReport.com. "The decision she has made in life does not make her mother Sarah Palin a bad parent."
Stephanie Morgan of Kidder, Missouri, agrees. "At what age do we become responsible for our own actions?" she asked, adding that Bristol's pregnancy has nothing to do with her mother's abilities as a politician.
"The fact that Sarah Palin's child is pregnant only makes her fit into society more," said Morgan, who had her first child three months before her 18th birthday.
Morgan does hope that Bristol Palin's story and the issue of teen pregnancy will encourage more sex education in schools. "Kids have access to sex online, on TV, through friends," she said. "A lot of it is misinformation."
"Let's give them the correct information, but emphasize the behavior we want them to follow."
Morgan said she made a point to discuss sex and teach abstinence to her oldest daughter, who is now in her first year of college. "I wanted to make sure she was not going to get pregnant in high school or before she graduates from college," she said.
"It worked ... I am confident that she will graduate before beginning a family."
E-mail to a friend

All About Pregnancy and Childbirth • Birth Control • Abortion