By Elizabeth Cohen
CNN Medical Correspondent
ATLANTA, Georgia (CNN) -- Two friends of mine recently received the same letter in the mail from their internists: Fork over $1,500 or you're out of my practice.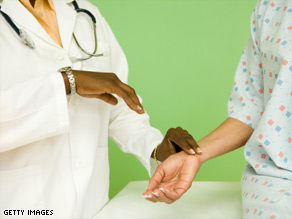 Make sure you know what you're getting for your money if your doctor practices boutique medicine.
Of course, they didn't say it quite that way. The doctors said they'd be cutting their practices down from around 2,500 patients to 600 patients. Those willing to pay the annual fee were promised primo service in return: The doctor's cell phone and/or pager number; "same day or next day appointments that start on time and last as long as needed" and a "full, thorough, comprehensive physical examination that is typically not given in most traditional primary care practices."
"Is it worth it?" my friends asked. "Should I spend the extra money, or should I go find myself another doctor?"
"Get prepared to receive this letter," says Dr. John Santa, director of the Consumer Reports health ratings center. "You can absolutely count on more internists and family doctors doing what these folks are doing."
Virtually unknown 10 years ago, in 2005 there were 500 doctors practicing what's referred to as concierge medicine. Now there are 5,000, according to the Society for Innovative Medical Practice Design, a professional society of concierge physicians.
As with any business deal where you're being asked to pay hard, cold cash for an intangible service, the buyer should beware. "Just because they charge a fee and behave exclusively does not make them good," warns bioethicist Art Caplan.

Watch and learn more about boutique medicine »
So, if you're thinking about becoming a patient in a concierge practice, here are the right questions to ask:
1. Specifically, what services will I get for my money?
Don't Miss
Don't accept vague promises that with a reduced patient load the doctor will be able to provide better service, advises John Rother, executive vice president of policy for the American Association of Retired Persons. Instead, ask specific questions, such as:
• How long will it take you to return phone calls?
• How often will you check e-mails?
• Am I guaranteed same-day appointments, or are you just promising to try to get me in the same day?
• What's the after-hours plan? If I get sick in the middle of the night, will you come to my house? Meet me in your office? Meet me in the emergency room?
2. When I get sick, will I see you, or another doctor?
The big selling point for concierge medicine is access to the doctor. But when you get sick, will you really get to see your own doctor, or one of his partners?
If your doctor practices alone (and many concierge doctors do), ask what will happen if you need her and she's busy tending to another patient. After all, concierge doctors promise care that's not rushed, so if you're getting un-rushed care, so are the doctor's other 599 patients.
Health Library
"There's no way one doctor can be three places at once," says Rother.
3. What capital investments will you be making to improve service?
Maybe the reduced patient load will solve all the problems in your doctor's office, but maybe not. Electronic medical records, more staff, or training for current staff could improve patient service. Ask whether your doctor plans on making any of those investments, advises Santa.
4. How will you save me money?
Given that you'll be spending $1,500 you hadn't planned on, ask whether the doctor can save you money in other places, Santa says. For example, your doctor could suggest less expensive alternatives to drugs you're taking or devices you're using.
The fee is generally considered payment for an in-depth wellness exam not covered by insurance. Most doctors in these practices work with your existing insurance for coverage of office visits, hospital stays and visits to specialists.
5. Ask yourself if money will make your doctor better.
"In the past, has this doctor ever done anything that struck you as extra, as special?" Santa asks. "Have they ever gone out of their way for you? If they haven't, I'd be skeptical. Fifteen-hundred dollars isn't going to convert a doctor. They have to be that kind of person to begin with."
Got a comment or an idea for a future Empowered Patient column? We'd love to hear from you. Talk to us at empoweredpatient@cnn.com
E-mail to a friend