By Elizabeth Cohen
CNN Senior Medical Correspondent
(CNN) -- Tuesday morning, Silvia Saldana was driving to work on a two-lane road in Cabin John, Maryland, when a wall of water came rushing toward her. Her first instinct was to make a U-turn to get out of the water's path, but it was too late. The water was gushing too quickly.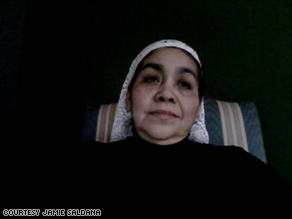 Silvia Saldana, who was stranded in her car Tuesday, says she'll be better prepared in the future.
Saldana'a next instinct was to pray. Then she called her husband on her cell phone, and waited for someone to rescue her as 4-foot-deep water surrounded her car.
As she shivered in the 20-degree cold, Saldana wished she had a blanket. "I was cold and nervous," Saldana said in Spanish, as her son Carlos translated. "I've never been in a situation like that."
Now the Saldanas have vowed that the next time one of them is in an emergency situation, they'll be better prepared. "We're looking to put together an emergency kit," said Saldana, who lives in Springfield, Virginia.
The flooding in Maryland, caused by a water main break, is yet another reminder to stock your car with the essentials just in case you get caught in a flood, stuck in a blizzard, or have some other emergency.
Experts advise keeping a first aid kit in your car and at home. Here are five things to keep in a well-stocked first aid kit, and one thing not to put in it.
1. Benadryl
"What if you're out at a picnic and someone in your party has a severe allergic reaction to something?" says Dr. Assaad Sayah, chief of emergency medicine at the Cambridge Health Alliance in Massachusetts.
2. Antiseptic wipes
The American Red Cross recommends carrying five antiseptic wipe packets. For more on how to clean cuts and wounds, see these instructions from the American Academy of Family Physicians.
3. Antibiotic ointment
Bacitracin, Neosporin or something similar can help prevent infection of a wound. The Department of Homeland Security's first-aid kit must-haves also lists burn ointment.
4. Bandages
The Red Cross recommends several different kinds of bandages and gauze pads. See their "Anatomy of a First Aid Kit" for a complete list.
Health Library
5. A blanket
A regular blanket will do, but a so-called "space blanket" is even better, Sayah says. "They're alumimum lined, and they decrease the probability of getting hypothermia by 70 percent," he said.
And here's the one thing not to include in a first aid kit: Ipecac, the liquid used to induce vomiting. At one time, it was relatively common to find Ipecac in medicine cabinets, but now experts no longer recommend it.
"You don't always want to make someone throw up after they've swallowed something toxic," says Dr. Joseph Luria, an emergency medicine physician at the University of Cincinnati in Ohio. "For example, you don't want to vomit gasoline, because it could cause more damage on its way back up."
E-mail to a friend

CNN's Jennifer Pifer-Bixler contributed to this report.
All About Emergency Medicine