By Judy Fortin
CNN Medical Correspondent
ATLANTA, Georgia (CNN) -- At 33, Lori Hamilton is young and healthy. So what is she doing at an oral, head and neck cancer screening at an Atlanta, Georgia, hospital?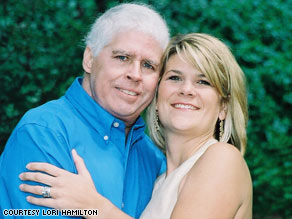 Lori Hamilton lost her husband, NASCAR champ Bobby Hamilton Sr., to neck cancer last year.
"It's therapeutic for me to talk to patients," Hamilton explained. Her husband, Bobby Hamilton Sr., a champion NASCAR driver, died of neck cancer last year at the age of 49.
"It blindsides you," Hamilton said. "It just completely caught us off guard."
The American Cancer Society estimates 35,000 new cases of oral, head and neck cancer will be diagnosed in the United States this year, accounting for between 3 and 5 percent of all cancers. More than 7,000 people will die.
Nearly a quarter of the cancers occur in the tongue; others develop on the floor of the mouth, lips, salivary glands, gums and tonsils.
Doctors don't know for certain what causes this type of cancer, but they do know that heavy smokers and drinkers are most at risk.
Health Minute
Watch for Judy Fortin's Health Minute on Headline News
10 a.m. -6 p.m. ET weekdays.

The cancer society reports the disease is twice as common in men compared with women, possibly because more men are likely to drink and smoke.
"It's not just smoking tobacco products," clarified Dr. Michelle Cullen, assistant professor of otolaryngology at Emory School of Medicine. "Chewing tobacco increases risk, especially if you chew in one particular area."
The cancer society revealed another emerging source of oral cancers. The organization said up to 30 percent of new cases may be caused by a common sexually transmitted disease that can be passed along through unprotected oral sex.
"There has been some recent evidence, particularly in the base of the tongue and the tonsils that may be linked to the human papillomavirus or HPV," according to Dr. Amy Chen, director of Health Services Research for the cancer society.

Health Minute: More on the symptoms of head, neck and oral cancers »
HPV is probably best known as the leading cause of cervical cancer in women.
Researchers at Johns Hopkins University in Baltimore, Maryland, found the number of cases of oral cancers related to HPV nearly doubled between 1973 and 2004. Study authors concluded it may be the result of changing sexual behaviors.
Experts recommend that adults of all ages be screened annually for oral, head and neck cancer. Some of the warning signs may include: red or white patches in the mouth that last more than two weeks, difficultly chewing or swallowing and a change in voice or hoarseness.
Chen added "ear pain, difficultly breathing or spitting up blood" might also be symptoms.
"For someone who is afflicted with head and neck cancer it is a huge problem because it affects speech and swallowing," noted Chen. "If you have a cancer like that it can be quite devastating for someone's appearance."
While the condition can be easily treated if caught early, it can also be fatal.
Lori Hamilton is trying to spread the word about the dangers of oral cancers by visiting screening centers around the country.
One of her target groups hits close to home: NASCAR fans. Hamilton operates her husband's racing team out of Greensboro, North Carolina. She travels the racing circuit urging people to get checked for cancer.
"At a racetrack, we have a captive audience of 80,000 people," Hamilton said. "If we can reach a third of them, maybe it can make a difference."
Hamilton explained her husband was neither a drinker nor a smoker. "He took very good care of himself. I'm not sure why this happened."
He had never been screened for oral cancer before the condition was detected after the removal of an infected wisdom tooth.
He endured chemotherapy, radiation and surgery before succumbing to the disease in January 2007.
"He wasn't aware that head and neck cancer was the fifth-largest cancer out there," Hamilton said. "It's important for people to know it's something that can come out of left field."
E-mail to a friend