By Andrea Kane
CNN
(CNN) -- The revelation that Bristol Palin, the 17-year-old daughter of GOP vice presidential candidate Sarah Palin, is five months pregnant puts teen pregnancy squarely in the spotlight again this summer.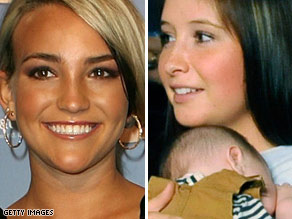 Jamie Lynn Spears, left, and Bristol Palin, holding her brother Trig, have both experienced pregnancy as teens.
Amid ripples of publicity, 17-year-old television star (and sister of Britney) Jamie Lynn Spears gave birth in June to a daughter, Maddie Briann. That same month, pregnancies of numerous students at Gloucester High School in Massachusetts were discovered, causing a huge stir in the community and across the country.
The overall teen birth rate rose slightly in 2006 after steadily declining since 1991, according to the latest figures from the Centers for Disease Control and Prevention. The report shows the birth rate for teenagers ages 15-19 rose 3 percent between 2005 and 2006.
That translates to 41.9 births per 1,000 in 2006, a decline of 34 percent from the all-time high of 61.8 births per 1,000 in 1991.
"It's way too early to know if this is the start of a new trend," Stephanie Ventura, head of the Reproductive Statistics Branch at CDC, said in a prepared statement. "But given the long-term progress we've witnessed, this change is notable."
Many people question the newsworthiness of Bristol Palin's pregnancy. Democratic presidential nominee Barack Obama, the son of a teenage mother himself, declared it a private matter and said families, especially children, should be strictly off limits.
Others believe that the younger Palin's pregnancy and its implications should be discussed publicly and openly, saying family values is a central part of the Republican platform and Sarah Palin, a self described pro-life feminist, supported abstinence-only programs during her 2006 gubernatorial race.
Abstinence-only programs, which received a boost in federal funding during the last decade, have been shown not to be effective at keeping teens from having sex, according to a congressional study supervised by Mathematica Policy Research Inc. Released last year, the study tracked 2,000 children from elementary and middle school through high school and found children who were in abstinence-only programs were no more or less likely to engage in sex than their counterparts who had received more comprehensive sexual education. iReporters: Teenage pregnancy deserves attention
"From a data perspective we know that there are plenty of attempts to evaluate abstinence-only sex education and none of them have shown that it actually decreases levels of sexual activity or substantially delays sexual activity," says Rachel Jones, Ph.D., a senior research associate at the Guttmacher Institute, a think tank that focuses on sexual and reproductive health. Jones was not involved in the congressional report. "It really is the comprehensive programs that are shown...to have a positive impact on teen behaviors."
But Valerie Huber, the executive director of the National Abstinence Education Association, disputes the conclusions drawn from the congressional study.
"I think it is very important to understand that the Mathematica study was conducted when abstinence education was in its infancy. Those programs knew what they wanted to teach but not necessarily the best approach to get the best results," Huber explains.
A better approach, she says, includes reinforcing the abstinence message throughout the years.
"If you look at abstinence programs today, an increasing number of them begin early and continue throughout high school, because we know with the sex-saturated culture that our teens are living in there needs to be a healthy message for abstaining from that sexual activity and skills to go along with that. That is why we are now seeing studies coming out showing that abstinence education is indeed successful," she says, noting recent research.
Dr. Yolanda Wimberly, an assistant professor of clinical pediatrics at the Morehouse School of Medicine and the medical director for the Center for Excellence in Sexual Health, works on the front lines of this debate, in an adolescent clinic.
Health Library
She says educators need to be specific and explicit when teaching teenagers about sex in order to dispel myths, to get kids thinking about the real-world consequences of unintended pregnancies and STDs and to talk them through their options.
"Those people for whom abstinence is not a choice or a desire, you have to give them options because everybody can't fit into one mold," she says. "Do I want my patients to be abstinent? Yes, I would love for all of them to be abstinent, but I also have to... be practical, and practically speaking some of them, they're not going to be."
And even those who intend not to have sex can and do change their minds, sometimes unexpectedly. "I have girls who tell me 'Dr. Wimberly, I'll be abstinent.' Then they come back and they've had [sex], and it wasn't something that they planned, and they're upset with themselves that it happened."
Wimberly says young people must be given the tools to deal with any situation they might encounter. iReport: Were you married at a young age? Tell us
"At least give them the information and the resources to know that if you change your mind or if something happens, this is what you need to do," she said. "With abstinence-only education, I think what happens is that we don't give those people those alternatives so that if they change their mind they don't really know what it is that they should be doing."
E-mail to a friend

CNN.com's Elizabeth Landau contributed to this report.
All About Sarah Palin • Jamie Lynn Spears • Pregnancy and Childbirth