(CNN) -- Sen. John McCain on Wednesday attacked his rival as a candidate whose words cannot be trusted, telling voters "what Sen. [Barack] Obama says today and what he has done in the past are often two different things."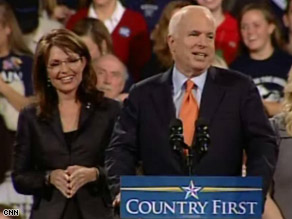 Sen. John McCain, with Gov. Sarah Palin, says he's been "fighting for change " his whole career.
"Who is the real Sen. Obama?" McCain asked at a rally in Bethlehem, Pennsylvania, continuing his campaign's newest line of attack against the Democratic presidential candidate.
"We have all heard what he has said, but it is less clear what he has done or what he will do," McCain said.
Earlier Wednesday, Sen. Joe Biden slammed the McCain campaign's negative tone, saying the attacks on Obama are "beyond disappointing."
McCain tried to paint Obama as a candidate of empty promises, while telling voters, "You don't have to hope that things will change when you vote for me. You know things will change, because I have been fighting for change in Washington my whole career."

Watch new McCain ad attack Obama »
In an admitted effort to turn the dominating narrative away from the nation's ailing economy, McCain's campaign has launched a new offensive against Obama's trustworthiness, and in the past few days, both campaigns have become more aggressive in their attacks.
Obama brushed off the latest jabs at a Wednesday rally in Indianapolis, Indiana, telling the audience, "I can take four more weeks of John McCain's attacks, but America can't take four more years of John McCain's Bush policies."
At an event in Tampa, Florida, Biden charged that McCain's campaign is trying to "appeal to fear."

Watch what Biden says about McCain's attacks »
Obama's running mate said that his Republican counterpart, Gov. Sarah Palin, was raising "the most outrageous inferences."
Over the weekend, Palin accused Obama of "palling around with terrorists who would target their own country." She was referring to Obama's ties to William Ayers, a founding member of the Weather Underground, the 1970s radical group.
McCain's campaign on Wednesday sent out an e-mail with a statement from John Murtagh, who said his home was firebombed by the Weather Underground in 1971.
At the time, Murtagh's father was a New York State Supreme Court justice presiding over the trial of members of the Black Panther Party charged in a plot to bomb New York landmarks and department stores, according to the e-mail.
"Barack Obama may have been a child when William Ayers was plotting attacks against U.S. targets -- but I was one of those targets. Barack Obama's friend tried to kill my family," Murtagh said in the e-mail.
Obama and Ayers, now a university professor, have met several times since 1995, when both worked with a nonprofit group trying to raise funds for a school improvement project and a charitable foundation. CNN's review of project records found nothing to suggest anything inappropriate in the volunteer projects in which the two men were involved.
"Those attacks don't hurt Barack Obama or me. They hurt you," Biden told the crowd in Tampa. "Every single false charge and baseless accusation is an attempt to get you to stop paying attention to what's going on in this country. Beyond the attacks, what is John McCain really offering?"
Biden said McCain's campaign has become "erratic" and is "relying on political stunts instead of offering real solutions."
Americans aren't looking for an "angry man lurching from one position to another," he said.
After the McCain campaign raised Obama's past relationship with Ayers, the Democratic nominee's campaign retaliated on Monday with a 13-minute documentary Web video detailing the Arizona senator's involvement in the Keating Five scandal in the 1980s.
Cindy McCain, McCain's wife, lashed out at Obama on Tuesday, telling a Tennessee newspaper that the Illinois senator has waged the "dirtiest campaign in American history."
"What I have found is that it's necessary to make sure the American people understand what we have to say, what we stand for as a husband and wife, and what we will do for the American people if we're lucky enough to be elected," she told The Tennessean.
E-mail to a friend

All About U.S. Presidential Election • Barack Obama • John McCain