(Travel + Leisure) -- How can you prepare for next trip? Here, Travel + Leisure offers its checklist of eight simple -- yet easily forgotten -- steps to take before departure.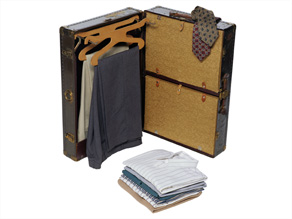 Taking pictures of the contents of your luggage will serve as documentation if your bag is lost or stolen.
ONE WEEK BEFORE TAKEOFF
Freshen up your suitcases
Air out your bags before you pack. And next time you put luggage away, leave lavender sachets by L'Occitane en Provence in the pockets.
Stock up on storage bags for small items
Our favorites: Stephanie Johnson designs stylish Dopp kits with protective plastic interiors; a nylon-lined cotton sack by Zazendi is well suited for wet swim gear; and the drawstring laundry bag by Flight 001 is treated with polyurethane, which keeps odors under wraps.
THREE DAYS BEFORE TAKEOFF
Get your gadgets in order
Empty memory cards and charge your phone and camera. Consolidate power cords, chargers, and extra batteries in your carry-on (new DOT regulations prohibit putting them in checked luggage). Pick up the Tumi Electronics Charger Kit, with adapters that work in 150 countries.
Refill necessary prescriptions
Bring medications with you on the plane; make sure they are properly labeled according to TSA requirements.
Copy important documents
Carry paper duplicates of your passport, visa, and itinerary, and e-mail yourself electronic copies. With a password-protected itinerary on Google Docs, close friends and family can keep track of where you are.
Pare down your travel wallet
Only bring essential documents: driver's license, medical insurance cards, passport, and credit cards. (T+L Tip: Alert your bank and credit card companies before you depart, so that they won't be alarmed by out-of-town charges and ATM withdrawals.)
ONE DAY BEFORE TAKEOFF
Record the contents of your suitcase
Take pictures of your clothes, shoes, and jewelry, which will serve as documentation if your bag is lost or stolen. Download the shots onto your home computer, just in case.
E-mail to a friend

Planning a beach getaway this summer? Don't miss Travel + Leisure's guide to Great American Beaches
Copyright 2009 American Express Publishing Corporation. All rights reserved.
All About Travel and Tourism • Business Travel • Transportation Security Administration