From Chris Welch and Kelli Arena
CNN
MINNEAPOLIS, Minnesota (CNN) -- Last month, 17-year-old Burhan Hassan told his family he was catching a ride to school with a friend. He then vanished.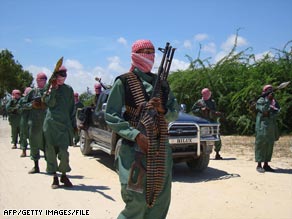 Islamic fighters drill in Somalia last month. The FBI says men are traveling from the U.S., potentially to fight.
His mother spoke to her son just a few days ago over the phone. To her shock, she says, he told her he was no longer in the United States.
"Mom, I'm in Somalia! Don't worry about me; I'm OK," the mother quoted her son as saying.
Details of how he got there and what has transpired in his life since his November disappearance are sketchy. His mother, who agreed to be identified only as Amina, says her son has clearly changed.
"He was different," she said of his attitude on the phone.

Watch a report on missing Somalis »
Hassan is one of more than a dozen young men of Somali descent -- many U.S. citizens -- to have disappeared from Minneapolis over the past six months, according to federal law enforcement authorities. Authorities say young men have also disappeared in Boston, Massachusetts; Portland, Maine; and Columbus, Ohio.
"A number of young Somali men have traveled from throughout the United States to include Minneapolis to Somalia, potentially to fight," said FBI Special Agent E.K. Wilson.
Amina speaks about her son in the past tense, almost as if he were dead. She worries about him night and day.
"Now that he's gone, I can't sleep," she said.

Watch Amina talk about her son »
The fear among the Somali community in Minneapolis is that their young men are being preyed upon and recruited to fight jihad, or holy war, in Somalia. Some have even called to tell their parents not to look for them.
"Those I talked to were completely shocked and dismayed as to what happened. They were completely in disbelief," said Omar Jamal of the Somali Justice Advocacy Center, based in St. Paul, Minnesota.
Don't Miss
The shock is magnified by what happened to one of them: Authorities say a 27-year-old named Shirwa Ahmed blew himself up in an apparent suicide bombing in northern Somalia in October.
Amina doesn't like to think about that and refuses to believe that her son could be learning similar tactics.
She and her son lived in an apartment along the Mississippi River in a thriving Somali neighborhood in Minneapolis. Hassan's father died years ago, and she raised him as a single parent. Hassan's other siblings have all moved out.
"I'm feeling empty tonight, like I have [nothing]," she said.
Amina says she now forgets to cook. It's gotten so bad that when she's out shopping, she'll often feel that her son is back home again. She'll quickly return, only to remember he's still away.
She struggles when she recalls how smart he is and how he was studying to become a doctor. Holding up a copy of his high school class schedule, which includes Advanced Placement courses in mathematics, chemistry and biology, she says Hassan was to graduate in May.
He wanted to attend college in Arizona, and he wanted her to move there with him.
"He was planning to be a physician assistant. He told me to move ... to Arizona because he said in Arizona, we can get [those jobs] as soon as possible after graduating," she said. "His expectations were high."
She added, "He doesn't like to fight. Sometimes, he was a comedian. He likes to laugh or to say things that make you laugh. He was a very kind person."
Amina says her son has called a few times, most recently Saturday. She says that each time, it feels as if her son is being watched or listened to by at least one or two other men, because she can hear other voices in the background.
"It's like a kidnapped person. And he has no freedom, because if he said, 'Mom, I have to leave here; I have no life,' then they would kill him."
The question that plagues Amina and just about everyone in Minneapolis' Somali community is: How could these young men who were well-educated and who stayed out of trouble in the United States wind up in war-torn Somalia, possibly as fighters?
In Hassan's case, his mother fled the nation when she was pregnant with him, and they eventually came to the United States to escape the country's violence. She says her son's demeanor changed a couple months before he disappeared. He became more withdrawn, and she doesn't know why.
Other local Somalis have voiced concern that, because a large number of the men missing attended the same Islamic center after school, it could have played a role.
Amina does not believe the center itself played a role but thinks there are certain people associated with it who may be involved.
On Monday, representatives of the mosque, Abubakar As-Saddique Islamic Center, held a news conference to address the issue. The mosque's attorney, Mahir Sherif, strongly denied any allegations that it is connected to the men's disappearance, saying the center "has not and will not recruit for any political cause."
"I haven't talked to any of them [since the stories came out]. I haven't seen any of them fighting," Sherif said. "I mean, I would be speculating. I'm hearing what everybody else hears."
Amina keeps hoping her son will return and that somebody in the community will come forward with more information.
"I'm asking for those who took my son or know anything about it to come forward. I'm asking you kindly to help and facilitate how to make possible to return [him]. Most sincerely."
E-mail to a friend

All About Somalia • Minneapolis