From Dave Alsup and Deb Feyerick
CNN





PADUCAH, Kentucky (CNN) -- Jurors on Thursday told a judge they could not reach a decision on whether a former U.S. soldier should be sentenced to death for war crimes -- including rape and murder -- he committed in Iraq.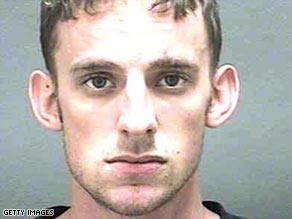 Former U.S. soldier Steven Green raped and killed a 14-year-old Iraqi girl and murdered her family.
The lack of a unanimous decision means Steven Green will be sentenced to life in prison without parole, according to instructions given to jurors as they began deliberations on the sentence Wednesday.
Green was convicted earlier this month of murder, rape, conspiracy and obstruction of justice in connection with a 2006 incident near Yusufiya, about 20 miles south of Baghdad. Jurors decided he was guilty of raping a 14-year-old girl, then killing her and setting her body on fire to destroy evidence. He was also convicted of killing the girl's parents and 6-year-old sister.
As jurors reported their inability to reach a decision, Green appeared to issue a sigh of relief and a small smile crossed his face. A member of his defense team, a paralegal, burst into sobs.
"We are obviously pleased with the penalty phase verdict, given the two choices available to the jury," Green's defense team said in a written statement. "However, there won't be any celebrating tonight by the defense team. Mr. Green will spend the rest of his life in jail, and the events of March 12, 2006, have forever changed the lives of many. It is a tragic case on so many levels."
During closing arguments to try to spare the life of Green, who was convicted of war crimes in Iraq, the defense argued that the U.S. military failed the former soldier, who was suffering from trauma.
"America does not kill its broken warriors," federal defender Scott Wendelsdorf, his voice choked with emotion, told the jury Wednesday at the U.S. District Court in Kentucky.
Executing Green, Wendelsdorf said, would let the military "off the hook" and send the message that his superiors bear no responsibility for sending Green into combat, knowing he'd been traumatized by the deaths of several respected unit leaders.
But prosecutors seeking the death penalty told the jury Wednesday it was time to end the blame game.
Assistant U.S. Attorney Brian Skaret said the soldiers in Green's unit who died honorably "would be rolling over in their graves" if they knew their deaths were being used to explain why Green went on the murder rampage.
Skaret said that before the killings, Green and his four co-conspirators were talking about "sex" and "screwing Iraqi chicks" rather than avenging their colleagues' deaths.
Four co-conspirators were tried in a military court. Two who testified for the prosecution are serving life sentences and will be eligible for parole in 10 years.
Green raped and killed a 14-year-old Iraqi girl after first murdering her parents and 6-year-old sister in their home, a short walk from a traffic checkpoint south of Baghdad where he was stationed.
He was on trial in a civilian court because he had been honorably discharged for a personality disorder before the crimes came to light.
In his defense, Wendelsdorf mentioned the testimony of psychiatric nurse practitioner Lt. Col. Karen Marrs. She interviewed Green in Iraq and said he exhibited characteristics that put him at risk for killing himself or others.
Green was not pulled from combat but instead was given sleeping pills and returned to his checkpoint. Defense lawyers said the army knew Green was suffering psychologically and chose to ignore it rather than give him the mental health care he needed.
Green's lawyer called the crime "horrific" and acknowledged, "No one is responsible for the death of the al-Janabi family but Steven Green."

Wendelsdorf said although the mitigating factors -- including Green's troubled upbringing -- do not excuse the crime, they should "help determine what the punishment should be."
But, the premeditated murders of Mr. and Mrs. al-Janabi and their two daughters were so horrific that those factors could not mitigate the crimes, Skaret said.
E-mail to a friend

All About Steven Green • Iraq War • Kentucky