By Elizabeth Cohen
CNN Senior Medical Correspondent





(CNN) -- Five days after giving birth to her daughter, Rhonda Monroe laid Dominique back in her crib after nursing, sat down and had a heart attack.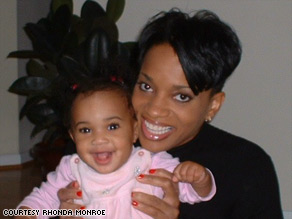 Rhonda Monroe, pictured with daughter Dominique, had her first heart attack at age 36.
Monroe didn't know she was having a heart attack -- she was only 36 years old -- but she did know she felt as if she had an elephant sitting on her chest. So she called 911, and within minutes the paramedics came, gave her an EKG, told her she'd had a heart attack, and whisked her off to the hospital.
"My experience with the paramedics team was great -- if that's possible under the circumstances," says Monroe, a teacher and writer who lives in Charles Town, West Virginia. "They were efficient and attentive and got me to the hospital pretty quickly."
But not every woman who's having a heart attack is as lucky as Monroe. A study published last week found that women who called 911 complaining of cardiac symptoms were 52 percent more likely than men to experience delays from emergency services.
The time it took for ambulances to arrive on the scene was similar for men and women, according to researchers at the Institute for Clinical Research and Health Policy Studies at Tufts Medical Center in Boston, Massachusetts, who published the study in the journal, Circulation: Cardiovascular Quality and Outcomes.

Watch more on women and emergency care »
The delays began after ambulances arrived and while they were on the way to the hospital, the researchers found.
Part of the problem is that too many health care workers -- doctors, nurses, paramedics -- still think of heart attacks as something that happens to men, and not to women, according to Donna Mason, former president of the Emergency Nurses Association.
Don't Miss
While she says health care workers are smarter now, too many still think of heart problems as a man's disease. "We need to change that mindset," she says.
Another problem: Women often don't have the "classic" signs of a heart attack. "Women don't have the 'typical' heart attack like men do," Mason says. "Women don't present as dramatically, and therefore aren't taken as seriously."
About a third of women experience no chest pain at all when having a heart attack, but often have symptoms such as nausea, vomiting, and extreme fatigue, according to the Women's Heart Foundation.
If you're a woman who fears she's having a heart attack, here's what you can do to decrease the chance of delays in your emergency care.
1. "Don't be a martyr"
Dr. Nieca Goldberg, cardiologist and author of "The Women's Healthy Heart Program" says too often women hesitate to call 911 even if they think they're having a heart attack. "Don't be a martyr," she says. "This is a big mistake because time is of the essence."
Or as Dr. Jesse Pines puts it, "Time is muscle." The longer it takes to get treatment for a heart attack, the more extensive the damage to the heart muscle, says Pines, an emergency room doctor at the University of Pennsylvania Health System.
2. Don't play down your symptoms
Mason says in her 35 years of working in emergency rooms, she often saw women pooh-pooh their pain. "Women tend to blow things off, and men don't," Mason says. "This is a time when you can't downplay your symptoms."
Pines warns that telling emergency workers "it's nothing" or "it's just indigestion" could lead to delays. Don't diagnose yourself, he advises -- just explain your symptoms in detail.
3. Tell emergency workers if you have a family history of heart attacks
Knowing this could make a real difference in the care you receive from emergency workers, Mason says.
4. Be specific about your symptoms
Don't just say you feel sick or short of breath, Mason warns. Instead, do something along the lines of what Monroe did. By describing the pain as feeling as if she had an elephant sitting on her chest, she gave emergency workers a specific location and intensity for her pain.
Health Library
Also, tell emergency workers when the pain started, whether it's radiating, and what you've done, if anything, to make it go away.
5. Explain these symptoms are not normal for you

Abnormal pain is a big red flag. "If you tell me this isn't normal pain, [as a nurse] I'll pay attention to this," says Mason.
Since her initial heart attack four years ago, Monroe has had two more heart attacks and two bypass surgeries, and has become a spokesperson for the National Coalition for Women with Heart Disease. "I'm a living miracle," she says.
E-mail to a friend

CNN's Jennifer Pifer-Bixler contributed to this report.
All About Heart Attacks