MEXICO CITY, Mexico (CNN) -- All businesses in Mexico City can reopen Thursday after almost a week of closures due to concerns over swine flu, said Mexico City Press Office spokesman Salvador Macías.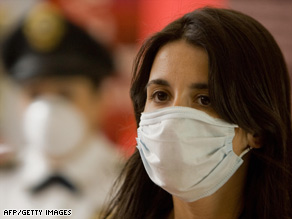 Mexico has borne the brunt of the flu, with 942 confirmed cases, including 29 deaths.
The Mexican government closed all nonessential government offices and businesses Friday as the number of confirmed cases of the virus known as H1N1 began to climb.
Mexico has borne the brunt of the flu, with 942 confirmed cases, including 29 deaths, according to the World Health Organization.
Mexican government officials have expressed hope that the worst may be over, but fears over travel, goods and products related to Mexico appear to persist.
Haitian officials turned back a Mexican ship laden with food aid, a move that President Felipe Calderon decried Wednesday as nonsensical.
"Where the people are truly dying, not from the virus, the people are dying of hunger, we have sent aid systematically to Haiti," Calderon said. "Well, it turns out that they rejected a Mexican ship that was carrying corn, wheat, beans, medication. I believe it is nothing more than the fruit of disinformation or of ignorance."
The Haitian embassy in Washington did not immediately respond to an e-mail from CNN seeking comment.
Don't Miss
China suspended flights into and out of Mexico after a 25-year-old Mexican man who arrived in Shanghai from Mexico City April 30 became the country's first confirmed case of the virus.
Mexican officials have criticized China for putting Mexican citizens in isolation. They said Mexicans were being singled out because of their passports, despite showing no signs of the virus.
China has denied discriminating against Mexicans, saying it is exercising proper precautions to prevent the spread of the virus.
The Mexican and Chinese government sent chartered flights to each other's countries Tuesday to pick up their respective nationals stranded or quarantined because of the global swine flu outbreak.
Many of the 138 Mexicans who returned home Wednesday from China aboard a chartered jet expressed outrage over their treatment.
Mirna Berlanga, one of the repatriated Mexicans, said she was treated badly upon her arrival in China.
"As soon as they saw my passport, they asked me to get out of the plane," she said. "They got me out, put me into an ambulance, enclosed me in a mobile laboratory next to another Mexican and an American and we were left for about five hours without a bathroom or water."
After that, she said, she was confined in a hotel with 10 other Mexicans -- none of whom was sick but all of whom had traveled on the same plane.
"It was humiliating, the way they took us off the plane and the way they treated us without telling us anything, even though no one on the plane was sick or had a fever," Berlanga said. "They took only the Mexicans; it's not right."
Marco Antonio Saldivar said he, too, was unfairly treated. The repatriated Mexican businessman said he and his wife had been in Hong Kong to promote their products at a trade fair.
"No hotel wanted to put us up," he said. "In all of Hong Kong, Mexicans were prohibited entry."
"They dressed us like astronauts," said Maria de Lourdes Castaneda, another of the repatriated Mexicans. "They gave us headgear so that no one would see our faces, nothing like that and then they gave us a robe, gloves and then we got into a truck dressed like astronauts."
"It's not right," said Calderon. "It serves no purpose to be imposing discriminatory measures against the Mexicans."
Dr. Philip Graitcer, a former influenza epidemiologist at the U.S. Centers for Disease Control and Prevention, said there was no public health reason to isolate people simply because they are Mexican.
"It's a lame public policy," he said in a telephone interview.
"H1N1 flu has already been seen in a number of countries. It's a bit like closing the barn door after the horses have escaped."
E-mail to a friend

CNN's John Vause contributed to this report.
All About Swine Flu • Mexico • China • Air Travel