MEXICO CITY, Mexico (CNN) -- Mexico lowered its swine flu alert one notch Thursday as more than 6 million students returned to classes and thousands of shuttered businesses reopened their doors.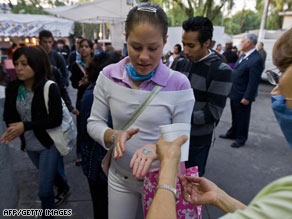 A student uses disinfectant as she arrives Thursday at the National Technical Institute in Mexico City.
The alert went from orange (elevated) to yellow (medium). Mexico has reported 1,112 laboratory-confirmed cases, including 42 deaths, according to the World Health Organization.
The government had ordered all schools and non-essential businesses closed as the nation battled the H1N1 flu epidemic, but Mexico City press office spokesman Salvador Macías said Wednesday that businesses could open Thursday, after almost a week of closures.
"This is the moment to return with strength, with vigor, the country's economic activity," President Felipe Calderon said in a televised speech.
Despite the loosening of restrictions in Mexico, worldwide cases of the H1N1 virus continued to increase, WHO said. There were 2,371 confirmed cases in 23 nations, and 44 deaths from the virus, WHO said Thursday.
"We continue to see human-to-human transmission, community transmission, primarily in North America," said WHO Assistant Director-General Keiji Fukuda.
The United States reported 896 confirmed cases in 41 states with two deaths, both in Texas, the Centers for Disease Control and Prevention said. Several more cases were suspected by state officials.
Canada reported 201 confirmed cases but no deaths.
Mexican government officials have expressed hope that the worst may be over, but fears over travel, goods and products related to Mexico appear to persist.
Haitian officials turned back a Mexican ship laden with corn, wheat, beans and medicine, a move that Calderon decried Wednesday as "the fruit of disinformation or of ignorance."
"Where the people are truly dying, not from the virus, the people are dying of hunger, we have sent aid systematically to Haiti," Calderon said.
China suspended flights into and out of Mexico after a 25-year-old Mexican man who arrived in Shanghai from Mexico City on April 30 became China's first confirmed case of swine flu.
Mexican officials have criticized China for putting Mexican citizens in isolation. They said Mexicans were being singled out because of their passports, despite showing no signs of the virus.
China has denied discriminating against Mexicans, saying it is exercising proper precautions to prevent the spread of the virus.
Dr. Philip Graitcer, a former influenza epidemiologist at the U.S. Centers for Disease Control and Prevention, said there was no public health reason to isolate people simply because they are Mexican.
"It's a lame public policy," he said in a telephone interview.
"H1N1 flu has already been seen in a number of countries. It's a bit like closing the barn door after the horses have escaped."
According to WHO, the following countries reported confirmed cases with no deaths: Austria, China, Hong Kong Special Administrative Region, Colombia, Costa Rica, Denmark, El Salvador, France, Germany, Guatemala, Ireland, Israel, Italy, Netherlands, New Zealand, Portugal, Republic of Korea, Spain, Sweden, Switzerland and the United Kingdom.
Spain had 81 confirmed cases and the United Kingdom had 32. All of the others had fewer than 10.
In the United States, Illinois had the most confirmed cases, 204, according to the CDC. California had 106 cases, followed by New York (98), Texas (91), and Massachusetts (71).
"The virus continues to spread, both domestically and around the world," said Richard Besser, the acting CDC director.
E-mail to a friend

CNN's John Vause contributed to this report.
All About Swine Flu • Mexico • China • Air Travel