By Madison Park
CNN





(CNN) -- A report released Thursday commended the government for developing plans and stockpiling antivirals after the avian flu scare but warned that gaps still exist and that the health system may not be prepared in a more severe outbreak.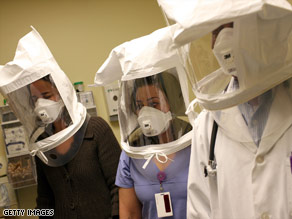 Stockpiling and planning helped in the response to the H1N1 virus, says a report released this week.
The Trust for America's Health, the Center for Biosecurity of the University of Pittsburgh Medical Center and the Robert Wood Johnson Foundation also listed 10 lessons from the H1N1 outbreak and 10 recommendations. Among them were a call for continuously updating and restocking the national vaccine stockpile, boosting the capacity for vaccine development and production, and reinforcing health care systems.
Nearly 20,000 cases of the H1N1 virus have been confirmed worldwide, with more than half of the cases from the United States, according to the World Health Organization.
The Centers for Disease Control and Prevention reported, as of Thursday, 11,468 probable and confirmed U.S. cases and 19 deaths from the H1N1 virus, also known as the swine flu. About 2.5 percent of the cases resulted in hospitalizations.
Health officials have warned that the H1N1 outbreak is not over, with more deaths being reported.
On Wednesday, Connecticut and Michigan both confirmed their first H1N1 deaths; both individuals had underlying illnesses, according to state health authorities. All 50 states have confirmed cases, but flu activity seems to be declining in the nation as a whole, according to the CDC.

See map of H1N1 flu activity »
10 Lessons from 2009 H1N1 outbreak
1. Investments in pandemic planning and stockpiling antiviral medications paid off.
2. Public health departments did not have enough resources to carry out plans.
3. Response plans must be adaptable and science-driven.
4. Providing clear, straightforward information to the public was essential for allaying fears and building trust.
5. School closings have major ramifications for students, parents and employers.
6. Sick leave and policies for limiting mass gatherings were also problematic.
7. Even with a mild outbreak, the health care delivery system was overwhelmed.
8. Communication between the public health system and health providers was not well coordinated.
9. WHO pandemic alert phases caused confusion.
10. International coordination was more complicated than expected.

Source: Pandemic Flu Preparedness report
During the summer, the agency will take steps to better prepare and coordinate with health systems, said Dr. Anne Schuchat, the CDC's interim deputy director for the Science and Public Health Program. Scientists are keeping close attention to the Southern Hemisphere as the flu season begins there.
According to the Pandemic Flu Preparedness report, the H1N1 outbreak showed that the "investment the country has made in preparing for a potential pandemic flu has significantly improved U.S. capabilities for a large scale infectious disease outbreak."
"One of the lessons in this is that everyone was concerned about the avian flu [H5N1], and biology played a trick on us," said Jeff Levi, the executive director of Trust for America's Health, a nonprofit organization that focuses on public health. "It was a different form of the virus that became widespread. Most of the preparation around H5N1 is totally transferable to H1N1."
Avian flu was "a wake-up call for the world that serious influenza threats exist" and resulted in better test kits, diagnostic tests and emergency exercises, Schuchat said.
"There has been a lot of payoff from worrying about the bird flu," she said. "A lot of lessons have been learned that put us in better shape to be prepared right now. We have a lot more work to do to make sure we're as well-prepared for the fall."
After the avian flu scare, county health departments started preparedness drills, said Dr. Christian Sandrock, a physician in infectious diseases at the University of California Davis Medical Center and a deputy health officer for Yolo County, California, who specializes in disaster preparedness and emerging infectious diseases.
"A lot of things we worked on then seemed far-fetched but worked really well," Sandrock said. "They had mock pills we sent around for years, and we would practice. Then, when it was the real thing, it was just like the drills. So it married what was spent and what we trained on."
The report also said the H1N1 outbreak "revealed how quickly the nation's core public health capacity would be overwhelmed if the outbreak were more widespread and more severe."
Many public health departments do not have resources to carry out pandemic flu plans or respond to a severe outbreak. Laboratory testing is days to weeks behind the on-the-ground reality. Hospitals, which are already overcrowded on a daily basis, don't have the capacity to treat large numbers in an outbreak.
The report evaluated "what policy changes, what investments might be needed, what policies need to be adapted to better prepare us in months ahead, because it's likely to be resurgent in the fall," Levi said.
Don't Miss
The report recommended that the federal government provide guidance on hospital capacities and sustain the public health work force, despite tough economic times. Read the entire report
It credited national public health officials with effective communications by having daily briefings and conveying a consistent message about good hygiene and coughing and sneezing etiquette.
"This is where planning paid off," Levi said. "They were sending a clear message. The public was informed about what we knew. The public was warned that the recommendations may change as the situation evolved. ... I think they were appropriately alerting the public. I think the response was quite balanced."
One of the challenges was communicating the latest H1N1 information to physicians and health care providers. Although public health departments were in contact with the CDC, some medical practitioners didn't receive guidance in timely fashion.
So those practitioners "start calling public health departments or send patients to the emergency department, or they're getting lab tests when they don't need to," Sandrock said. "What happens is, there's a surge of patients. That could've worked better. It wasn't a complete catastrophe."

Better real-time information is needed to track the outbreak, said David Fleming, director and health officer of Seattle and King County, Washington, a report co-author. National statistics were about one to two weeks behind what was happening.
"If this virus returns, it's going to return in differential and unpredictable way," Fleming said. "There's going to be a jigsaw of epidemics around the country."
E-mail to a friend

All About Swine Flu • Centers for Disease Control and Prevention