By Letitia Baldrige
Special to CNN





Editor's note: Letitia Baldrige, who served from 1961 to 1963 as Jackie Kennedy's social secretary and chief of staff in the White House, has written more than 20 books on etiquette and related subjects, including "Taste: Acquiring What Money Can't Buy." She's an adviser to the Mitchell Organization, a corporate training firm.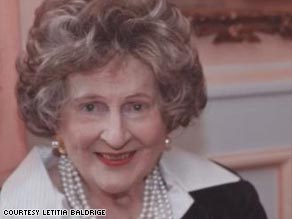 Letitia Baldrige says there are polite ways to greet people without spreading illness.
(CNN) -- Writers on etiquette receive a continuous flow of questions on subjects such as "When is it too early in the season to wear white accessories?" and "What is the proper gift to send to a family in mourning?"
But now, questions often apply to serious discussions of good manners and etiquette involving sickness, even if the H1N1 flu turns out to be limited in scope and relatively mild. The following are a few of my answers to recent questions on the subject:
1) If you're a naturally affectionate-hugger-and-kisser kind of person, in the present environment, restrain yourself when greeting friends and family. Cool down! Others may adore your effusiveness under normal circumstances, but these are not normal. Someone who has just seen a grid on TV of the transmission of thousands of flu germs may not want any contact of a close nature for a long time to come.
2) Replacement for your usual friendly handshake: When greeting people on the street or at an event, raise your right hand in a quick salute and put it back down to your side again. Accompany this gesture with a wide, friendly grin and a cheerful spoken greeting: "Hello, George. Great to see you!" Your voice and your smile will compensate for any rejected handshake. Even if George had already put his hand out, ready to grasp yours in the old familiar warm greeting, he will understand your new gesture and will not suffer from emotional rejection.
Don't Miss
3) If, when she sees you, Jennifer is quick on the draw and delivers her habitual big moist kiss to the side of your face, wait a few minutes before departing for the nearest restroom and wiping off the kissed side of your face with a soapy wet paper towel or a shot of hand sanitizer. (I have a friend who used up a half bottle of Listerine on her face in an airport bathroom after having been slobbered over by an overly enthusiastic greeter who had just been diagnosed with the detested flu.)
4) You can wisely advise a friend who has serious symptoms, but who insists on coming to work today or attending the party tonight, that he or she would be wise to return home to bed. Do something nice for this person. Call (and pay for that person's cab ride home, or drive that person's car home and then call yourself a cab back to the job or the party.) When a person is feeling low, a little kindness from someone who has just accused that person of carrying horrific germs should go a long way toward forgiveness.
5) If the flu situation in your town is serious, cancel a large long-awaited party you had scheduled, but promise the guests in an e-mail that you will reschedule the party as soon as possible. Explain to your guests in the e-mail that the ceremony, such as a wedding, bar mitzvah, anniversary dinner, baptism, etc., will take place as a small family event but that the "party-after party" will take place as quickly as possible, and you promise it will be more festive and lively than ever.
The important part of the whole cancellation process is to carefully note who was originally invited and remember to invite them to the party on the new date before the list gets filled up with new people you might rather invite.
If you don't remember to do that, later you may feel as though you don't have a friend left in the world of that community. I know this from experience. In my social secretary-to-the-White-House days, on three separate re-scheduled social situations, I forgot to re-invite certain guests, and today, decades later, they have not let me forget it!
The opinions expressed in this commentary are solely those of Letitia Baldrige.
E-mail to a friend

All About Etiquette and Manners • Influenza