By Mariano Castillo
CNN





(CNN) -- Immigrants living illegally in the United States could be mandated to have health insurance under the proposed health care reform bill but would be ineligible to receive subsidies to afford such coverage, a report from the Congressional Research Service says.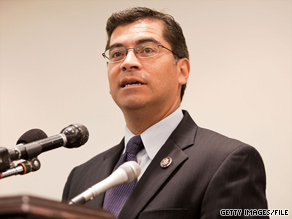 Rep. Xavier Becerra, D-California, rejected a citizenship verification system, calling rules it called for "unworkable."
The report, prepared by the nonpartisan policy research arm of Congress, provides a close reading of the treatment of noncitizens in the House bill on health care reform, HR 3200.
While the report found that federal subsidies to obtain health coverage would be restricted to U.S. citizens and legal residents, it also noted that the bill does not specify a citizenship verification system, something that critics say creates a loophole for undocumented immigrants to receive subsidies anyway.
The report, released Tuesday, "undermines the claims of the president and others that illegal immigrants would not be covered under the House version of the bill," Mark Krikorian, executive director of the Washington-based Center for Immigration Studies, told CNN.
The non profit think tank favors "an immigration policy that gives first concern to the broad national interest" and what it calls on its Web site a "pro-immigrant, low-immigration" vision that lowers the number of immigrants in favor of a "warmer welcome for those admitted."
The bill specifically bars illegal immigrants from receiving payments, but opponents of the reform say that without verification, the system is open to abuse.
Rep. Dean Heller, R-Nevada, last month proposed an amendment in the House Ways and Means Committee to add a verification process. Democrats on that committee, including Rep. Xavier Becerra of California, voted it down because the rules it called for would be "unworkable," the Democrat said.
"I think the report substantiates the exact opposite of what these critics say," Becerra told CNN.
Because they don't qualify for federal money, undocumented immigrants who want health insurance would pay full freight for coverage, he said.
According to the Center for Immigration Studies, in 2007, 33.2 percent of all immigrants, legal and undocumented, did not have health insurance, compared with 12.7 percent of native-born Americans.
But with passage of the health care bill far from certain in its current form, it is too early to know how undocumented immigrants could be affected by the bill, Tamar Jacoby, president of ImmigrationWorks USA, told CNN.
"I'm pretty skeptical that illegal immigrants will come out of this legislative battle" with any new benefits, she said.
The scrutiny of this part of the bill "points to the need to fix the [immigration] system," Jacoby said.
ImmigrationWorks USA brings together groups businesses and trade associations from industries that use immigrant workers to fight immigration battles on local levels as well as in the halls of Congress.
Estimates put the number of immigrants living illegally in the United States at 10 million to 12 million, many of whom already receive treatment in emergency rooms.
The proposed reform requires that individuals carry health insurance, and the language in the current bill may obligate undocumented immigrants to get health insurance, too, the Congressional Research Service report concluded.
It boils down to terminology. Those living in the country illegally are classified as such under immigration law, but the bill uses tax law terms that identify foreigners as either resident or nonresident aliens.
Nonresident aliens would be exempt from the required coverage, but undocumented immigrants who live in the United States for a certain amount of time during the year would be classified as residents. "Thus, it would appear that unauthorized aliens who meet the substantial presence test would be required under HR 3200 to have health insurance," the report says.
It was less clear, however, how the mandate would be enforced for people, immigrants or not, who do not file federal income taxes.
Another part of the bill would create a health insurance exchange, where consumers could choose among insurance plans or a government-run plan. That section of the bill does not set restrictions on participants' immigration status, the report says.
But when it comes to qualifying for government subsidies for coverage for people who aren't already covered by employers or federal programs, eligibility would be based on immigration status, the report says, barring illegal immigrants from aid.
E-mail to a friend

All About Immigration Policy • Health Care Policy • Health Insurance