From Shelby Erdman
CNN





(CNN) -- For the first time since jet airliners took to the sky, U.S. carriers have gone two years without a single passenger fatality.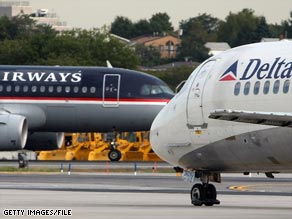 U.S. airlines flew more than 1 billion passengers in 2007 and 2008 without a fatality.
A single year without fatalities has occurred only four times since 1958, an analysis by the Air Transport Association found.
Thus, the two-year streak in 2007 and 2008 is all the more remarkable, considering that airlines ferried more than a billion passengers.
"That stellar record isn't something that came about by accident," David Castelveter, spokesman for the ATA industry group, told CNN.
The industry, he said, "has been working hard for years, looking at past accidents so as not to have similar things happen in the future."
Arnold Barnett, a professor at the Massachusetts Institute of Technology who has extensively researched aviation safety, said improvements in technology have helped bring down the fatality figures.
"The manufacturers of the air frame are making better equipment. The power plant people, the engine manufacturers are doing the same. The crews are better trained. It's just an all-around effort," he said.
Air travel is not without hazards, of course. Last month, a Continental Airlines jet veered off a runway at Denver (Colorado) International Airport and caught fire. The accident injured 38 people as frightened passengers tried to flee the burning plane.
"If you see a child in the airport today or tomorrow," said Barnett, "that child has a greater chance of growing up to be president than failing to reach his or her destination safely."
E-mail to a friend

All About Air Travel