Bodies ID'd as missing Oklahoma girl and mother's suspected killer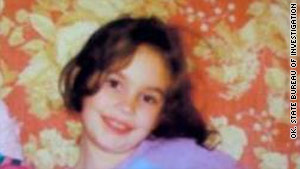 Aja Daniell Johnson, 7, has been missing since January. Officials believe they may have found her body.
STORY HIGHLIGHTS
Bodies of Aja Daniell Johnson, 7, and man suspected of killing her mother are identified
Aja's mother, Tonya Hobbs, was found dead in late January
Her estranged husband was suspected in her killing and Aja's disappearance
Court had awarded emergency custody of Aja to her biological father in November
(CNN) -- Two bodies found this week in Oklahoma are those of a murder suspect and his slain wife's missing 7-year-old daughter, authorities said Wednesday.
The bodies have been identified as Lester William Hobbs, 46, and Aja Daniell Johnson, authorities said at a Wednesday news conference.
The cause and manner of death are still under investigation.
Authorities had been searching for Hobbs and the girl since late January, when Aja's mother, Tonya -- Hobbs' estranged wife -- was found dead inside an RV in Geronimo, Oklahoma.
On January 26, two days after the body was found, Hobbs was charged with first-degree murder in the killing, and with kidnapping in Aja's disappearance, according to the Oklahoma State Bureau of Investigation.
Authorities launched a manhunt for Hobbs, saying that he took the girl in a white 1992 Toyota Paseo.
On Monday, the two bodies and the car were discovered in a heavily wooded area of Norman, which is outside Oklahoma City, said Jessica Brown, spokeswoman for the Oklahoma Bureau of Investigation. The city is about 80 miles north of Geronimo.
The car had been left in the woods for several weeks, possibly a month, Brown said.

Video: Missing girl, Aja Johnson, found dead
Cherokee Ballard, a spokeswoman for the Oklahoma state medical examiner's office, said Wednesday that the office used fingerprints to identify Hobbs and dental records to identify Aja.
Richard Goss, an agent with the Oklahoma State Bureau of Investigation, said authorities would be investigating whether anyone had harbored Hobbs.
The girl's biological father was awarded emergency custody of her in November, according to Oklahoma County District Court documents obtained by CNN affiliate KWTV of Oklahoma City.
At a hearing, Tonya Hobbs -- identified as Tonya Dunkin in the documents -- and the girl's father, John Johnson, agreed that she would have supervised visitation with the girl and that she would keep the child away from Hobbs, the documents said.