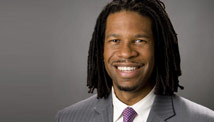 STORY HIGHLIGHTS
LZ Granderson was regularly beaten, demeaned, and bullied by his stepfather
Granderson says he tried to end his life at 12, but went on to get stronger and fight back
He ended up with graduate degree, happily living with partner and 13-year-old son
His message to those who are bullied: It gets better; don't give up, happiness is ahead
Editor's note: LZ Granderson is a senior writer and columnist for ESPN The Magazine and ESPN.com, and has contributed to ESPN's Sports Center, Outside the Lines and First Take. He is a 2010 nominee and the 2009 winner of the Gay & Lesbian Alliance Against Defamation award for online journalism, and a 2010 and 2008 honoree of the National Lesbian and Gay Journalists Association for column-writing.
Grand Rapids, Michigan (CNN) -- One night before going to bed, I walked into the bathroom, opened the medicine cabinet, and swallowed an entire bottle of aspirin. I was 12, poor and not very attractive.
My stepfather routinely used me as a punching bag, and as I was entering puberty, I was entering a confusing period with regard to my sexuality. I just didn't see life getting any better, and so that night I decided to end mine.
When I woke up the next morning, I was dizzy, lethargic, vomiting -- and confused. "Why am I still alive?" I wondered. Maybe I was a loser, as my stepfather had told me countless times before; after all, I couldn't even kill myself right. Of course I would find out much later that I had less than a 5 percent chance of dying from an aspirin overdose.
And despite everything that was going on in my life, and I mean everything, life would get better.
After student's death, a weeklong look into bullying
That doesn't mean things immediately turned around after that night.
In fact, when my stepfather learned I was too sick to go to school because I swallowed a bottle of pills, he beat me again. And for four more years the beatings continued. But eventually I grew stronger and I learned to fight back -- physically, but more important, mentally.

Video: Inside the Rutgers tragedy

Video: Are bullying laws strict enough?

Video: Why are gay teens bullied?

Video: Mother fights to save bullied teens
The abuse stopped, and his chokehold on the way I saw myself was gone. I earned a scholarship to college, then a full ride to graduate school, and today I am happily partnered and the proud father of a 13-year-old boy who thinks my sole purpose in life is to drive him around.
So for any young person who is being bullied in school, or as in my case, at home, don't give up. It gets better.
But if I had died that night, 25 years ago, I would not have been around to know. I would not have been around for all of the amazing opportunities I've had the pleasure of experiencing, like having beers with my favorite singer, Kenny Chesney; driving through a rainstorm with the Jeep top down; or falling in love. For years I continued to have nightmares from my violent upbringing, but they are happening less and less, as the pain of my childhood continues to give way to the joys of life. And believe me, there are joys, even if the dark cloud of your current circumstances makes it difficult to see.
Have you ever been bullied? Share your story
Brad Paisley has a song, "Letter To Me," and in it he fantasizes about an adult being able to offer encouraging words to his teenage self in a letter.
You've got so much up ahead,
You'll make new friends.
You should see your kids and wife.
And I'd end by saying have no fear,
These are nowhere near the best years of your life ...
The first time I heard the song, I began recalling the sense of hopelessness and desperation that used to haunt my life, and then the tears freely began to flow. If I could've written a letter to my 12-year-old self, I would've told him, this too shall pass. If I could've written a letter to Tyler Clementi, the Rutgers student who jumped off the George Washington Bridge after his college roommate allegedly posted embarrassing video of him online, I would've told him, "I know life is hard right now, but it does get better."
When I woke up the next morning I was dizzy, lethargic, vomiting and confused. "Why am I still alive?" I wondered.
The same for 13-year-old Hope Witsell and 18-year-old Jesse Logan, two girls who committed suicide in separate incidents last year after explicit photos of them were made public. My heart just breaks hearing stories about someone as young as Carl Joseph Walker-Hoover, who was just 11 when he hanged himself last year because he was being bullied at school and felt so helpless and alone. This is why I felt compelled to open up about the troubling things that happened early in my life -- so any young, hurting soul who stumbles across this column would know he or she is not alone.
Syndicated columnist Dan Savage recently started the "It Gets Better" project on YouTube as a way of rallying support for GLBT students who are being bullied and feeling alone. But I would say the stories are universal and can offer comfort to any student who may be a victim of bullying. Remember, pain and isolation know no race, gender, socioeconomic status or sexual orientation.
And thankfully, neither do hope and love.
I was around Walker-Hoover's age when, one morning before school, I was beaten so badly, the blood coming from the welts on my arms soaked portions of the sleeves of the shirt I was wearing. The spots caught the attention of one of my teachers, Ms. Jackson, who asked what happened. Fighting back tears, I said "nothing." She asked if I was sure, and I said "yeah," afraid of what would happen if I said otherwise.
I'm not sure how things would have turned out if I had reached for her helping hand that day. But I do know how things would've turned out had the hand of death grabbed me that night 25 years ago.
I would've missed life getting better. So much better.
The opinions in this commentary are solely those of LZ Granderson.
FOLLOW THIS TOPIC