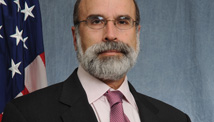 STORY HIGHLIGHTS
Michael Bromwich: Moratorium let government, industry work on oil spill prevention systems
New standards in place for CEO accountability, equipment, safety systems, he writes
Bromwich: Drilling, workplace safety advances to help workers, environment
Obtaining permit will take longer because of tougher inspections, regulations, he says
Editor's note: Michael Bromwich is the director of the Bureau of Ocean Energy Management, Regulation and Enforcement and led the effort on developing new rules and regulations for deepwater oil drilling.
(CNN) -- Last week, Interior Secretary Ken Salazar lifted the moratorium on deepwater drilling almost two months before it was set to expire. It was the right decision at the right time, because developments over the last three months, including new rules and regulations, will make deepwater drilling far safer than it was before.
The Deepwater Horizon explosion and oil spill was a tragedy that killed 11 rig workers, injured 17 others, and spewed oil into the Gulf of Mexico for nearly three months before the well was capped on July 15 and finally killed on September 19.
It shattered the conventional wisdom that had prevailed in industry and government that such a catastrophic blowout and spill could not and would not happen. The moratorium was designed to give the government and industry time to evaluate some of the potential causes of the explosion and spill, and begin to put in place additional safeguards that would drive down the risks of accidents in the future.
The moratorium was necessary to allow sufficient time to address some significant weaknesses -- weaknesses in the regulation of deepwater drilling relating to drilling and workplace safety; shortfalls in the capacity of industry and government to contain blowouts and spills in deepwater; and shortcomings in the ability to adequately respond to major oil spills.
To gather information on these three central issues, I conducted eight public forums around the country -- six of them in the Gulf of Mexico region. We invited academics and representatives of industry and environmental groups, as well as local businessmen and elected officials, to discuss issues of drilling and workplace safety, spill containment and spill response. At the end of an intense 45-day fact-gathering process, we prepared a report that found sufficient progress had been made to justify the early lifting of the moratorium. Secretary Salazar agreed.
Click for an opposing view on reopening Gulf to deepwater drilling
Why did we conclude that it is appropriate to resume deepwater drilling?
There are three reasons:
First, because spill response resources are no longer fully absorbed in dealing with the Deepwater Horizon spill.
Second, because spill containment capabilities had improved because of resources that had been developed to deal with Deepwater Horizon. In addition, the five major oil and gas companies have committed to building subsea spill containment capacity that would be permanently available to address deepwater blowouts.
Third, and most important, because we had been hard at work developing new rules and regulations that are effective immediately and fully binding on all oil and gas companies that operate in the Gulf of Mexico and elsewhere on the Outer Continental Shelf. Those rules are being put in place.
Many of those new rules and regulations govern critical technical aspects of the way deepwater wells are drilled to ensure the integrity of those wells -- which is the first line of safety. Others require additional testing and certifications for emergency safety equipment such as blowout preventers, the enormous and complex pieces of equipment that are the last line of defense if a deepwater well goes out of control.
Finally, companies are required -- for the first time -- to develop integrated systems to promote safety and protect the environment. Previously, such systems were voluntary; now they are mandatory. These new rules mark a significant advance in drilling and workplace safety that will improve protection of rig workers, the marine and coastal environments, and the public. They do not guarantee that a significant deepwater blowout will never happen, but they substantially reduce the risk.
Before deepwater drilling can resume, the new drilling rules must be met. The CEOs of oil and gas companies will have to personally certify that the requirements have been met -- a measure of personal accountability that we believe will ensure more accurate reporting -- before applications to drill will be approved. In addition, we will conduct thorough inspections of each and every deepwater rig -- this is in addition to inspections that were conducted on all deepwater rigs immediately after the Deepwater Horizon explosion.
Less than a week after announcing the roadmap operators will need to follow to resume drilling in deep waters, we are already being criticized by powerful industry forces who say that it will take too long to review and approve drilling permits. That judgment is based on the standards of the past when safety and environmental standards were fewer.
But the world has changed: Our agency's employees have fresh in their minds the catastrophic consequences of deepwater blowout. Those who expect our agency to be a permitting mill -- to rubber stamp applications to drill -- misjudge the impact of Deepwater Horizon on the people responsible for regulating the industry and their collective commitment to safety and environmental protection.
Those who claim that the lifting of the moratorium was politically motivated are wrong, and so are those who suggest the slower pace of drilling permit approvals is the result of political considerations. The actual reasons that the pace will not be as swift as in the past are not hard to find. One reason is that applicants must comply with the new regulatory requirements, and we will take the necessary time to ensure that they comply.
The other reason, however, is that our agency has been starved for a very long time of the resources necessary to do our jobs. That must change -- not only to speed up the processing and approval of drilling permits, but so that we have the personnel and resources to do the job the American people expect us to perform. With the ending of the deepwater drilling moratorium, that project must be pursued with vigor and persistence if we are to have the level of safety we want and deserve.
The opinions expressed in this commentary are solely those of Michael Bromwich.