STORY HIGHLIGHTS
Obama says Gulf Coast oil spill is a "potentially unprecedented environmental disaster"
In late March, Obama announced plans to expand offshore drilling
Administration officials insist priority is to get to the bottom of the current spill
Spokesman says Obama's announcement was the start, not the end, of longer process
(CNN) -- A month after announcing plans to expand offshore drilling, President Obama visited ground zero of the Gulf Coast oil disaster and warned that residents could be facing a "potentially unprecedented environmental disaster."
"The oil that is still leaking from the well could seriously damage the economy and the environment of our Gulf states and it could extend for a long time. It could jeopardize the livelihoods of thousands of Americans who call this place home," Obama said Sunday in Venice, Louisiana.
The president reiterated that oil company BP is responsible for the leak and will foot the cost of the cleanup. He pledged to "spare no effort to respond to this crisis for as long as it continues."
Obama's remarks were a stark contrast from his late March proposal to open swaths of U.S. coastal waters in the Atlantic Ocean and the Gulf of Mexico to oil and natural gas drilling.
Obama said then that the decision did not come lightly, but it was one that he approached with confidence.
"The bottom line is this: Given our energy needs, in order to sustain economic growth and produce jobs, and keep our businesses competitive, we are going to need to harness traditional sources of fuel even as we ramp up production of new sources of renewable, homegrown energy," he said as he unveiled his plans.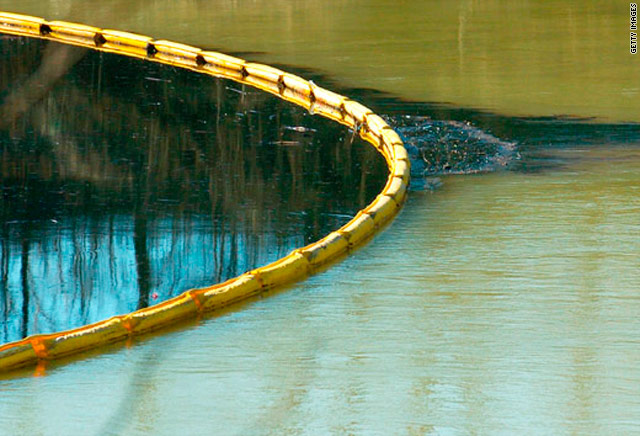 Responding to an oil spill
Obama said the federal government would begin the process of leasing some areas off the coasts of Virginia, Alaska and possibly Florida to oil companies for drilling.
New offshore drilling in most U.S. waters has been banned since the early 1980s, when mounting public pressure pushed lawmakers into action. A disastrous oil spill off the California coast in 1969 sparked protests that grew into a broader environmental movement, which eventually forced a drilling moratorium.
But as the environmental impact of the Gulf Coast spill comes ashore, the appetite for Obama's offshore drilling plan and the enthusiasm from administration officials appear to have subsided.
CNNMoney: Oil spill may threaten offshore drilling plans
"All he has said is that he's not going to continue the moratorium on drilling," White House senior adviser David Axelrod told ABC's "Good Morning America" on Friday. "No domestic drilling in new areas is going to go forward until there is an adequate review of what's happened here and of what is being proposed elsewhere."
Secretary of State Hillary Clinton said Sunday that moving ahead on offshore drilling is "going to require a balancing act."
"That is a national security concern because we have to do better to lessen our dependence on foreign oil. But it has to be done safely. It can't be done at the risk of having to spend billions of dollars cleaning up these spills," she said on NBC's "Meet the Press."
And Interior Secretary Ken Salazar said Sunday that the Gulf Coast disaster "sends out the clarion call that we need to diversify our energy resources."
"Our intention is to move forward thoughtfully, looking at how we can protect the resources of the United States and making thoughtful decisions," he said on CNN's "State of the Union," noting that deep-water drilling has been done thousands of times without incident.
Time.com: Obama promises help, but containing spill is still talk
Obama said Friday he still believes that domestic oil production is an important part of the strategy for energy security, but he added, "I've always said it must be done responsibly, for the safety of our workers and our environment."
The president ordered Salazar to conduct a review of the oil spill and report back in 30 days on what precautions, if any, should be required to prevent future accidents.
Democratic Sen. Bill Nelson of Florida has asked Obama to shelve his proposal, at least until the cause of the current spill is fully investigated.
In a letter to the president, Nelson also said he would file legislation "that would, for the time being, prohibit the Interior Department from acting on your administration's plans to expand offshore drilling, including seismic testing and other exploratory operations."
Florida Gov. Charlie Crist, who in the past has been a proponent of offshore drilling, told NBC's "Meet the Press" that such drilling has "got to be tabled, for sure."
White House press secretary Robert Gibbs indicated last week that Obama's offshore plans aren't set in stone.
"I think our focus right now is, one, the area, the spill, and two, also to ultimately determine the cause of it and see the impact that that ultimately may or may not have," he said, noting that Obama's announcement was the beginning, and not the end, of a longer process.
CNNMoney's Steve Hargreaves contributed to this report.