White House budget director leaving in July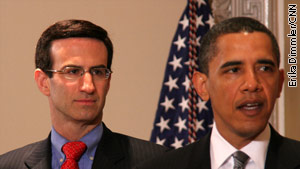 Peter Orszag played a vital role on President Obama's economic team.
STORY HIGHLIGHTS
Peter Orszag is key part of Obama administration's economic team
Orszag worked on economic stimulus bill, health care reform legislation
Role includes budget planning and negotiating with Republican legislators
Orszag headed Congressional Budget Office before Obama tapped him for White House post
(CNN) -- Peter Orszag has told President Obama that he plans to leave his position as White House budget director in July, an Obama administration official said Monday evening.
Orszag, 41, has been a key part of Obama's economic team, serving in his role as director of the Office of Management and Budget during the passage of the economic stimulus bill and this year's health care reform legislation.
As budget director, he crafted policy, but also was a prime negotiator with congressional Republicans.
As one of the main negotiators in the final hours before lawmakers passed the economic stimulus package, Orszag tried to bridge differences and was keeper of the ever-changing numbers, often crunching them in his head.
Orszag headed the Congressional Budget Office for almost two years before Obama tapped him to be the White House budget director shortly after the 2008 presidential election.
The new role thrust Orszag -- a man accustomed to working behind-the-scenes analyzing economic data -- into the public spotlight.
He also worked at the Clinton White House as special assistant to the president at the National Economic Council and served on the Council of Economic Advisors.
Orszag is known in the halls of Congress for wearing cowboy boots with his business suit and has quoted country music songs during budget hearings.
CNN's John King contributed to this report.
FOLLOW THIS TOPIC