STORY HIGHLIGHTS
Four families of rig victims open doors, share memories of their men
In their homes and offices, the impact of April 20 is clear

Ride along and meet these men who are so dearly missed
State Line, Mississippi (CNN) -- Sherri Revette cuts through thick pines, guiding the four-wheeler down dirt and mud trails to her tranquil spot, a sandbar along the Chickasawhay River about a mile behind her home in the backwoods of Mississippi.
She comes here every day, first thing in the morning or late in the evening, longing for her husband Dewey, chief driller on Deepwater Horizon.
When the wind whips around the river bend, it's as if he has wrapped his arms around her. "You can feel him," she says.
This was supposed to be their summer of fun. Married 26 years, the couple had reached that sweet spot in life, with their daughters grown and independent -- yet close by. Sherri and Dewey planned to take a fishing trip to Mobile Bay after his "hitch" ended on the rig. They would spend time relaxing with family at their deer cabin in Alabama, too.
Dewey was that kind of guy: family man, fisherman, deer hunter. He adored his girls, Andrea and Alicia. And he never watched a movie his entire life -- too many largemouth bass to catch. His routine every morning was to hop on his jacked-up four-wheeler and take the same path Sherri is riding down.
At sea on the rig, he'd call home and ask, "Have you been through the woods yet today?"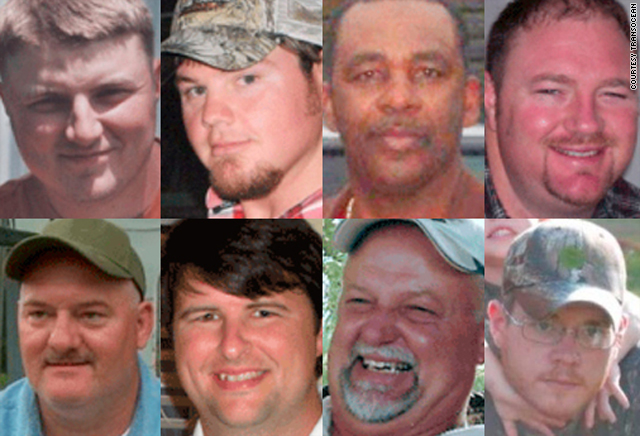 Gallery: Victims of the Deepwater Horizon blast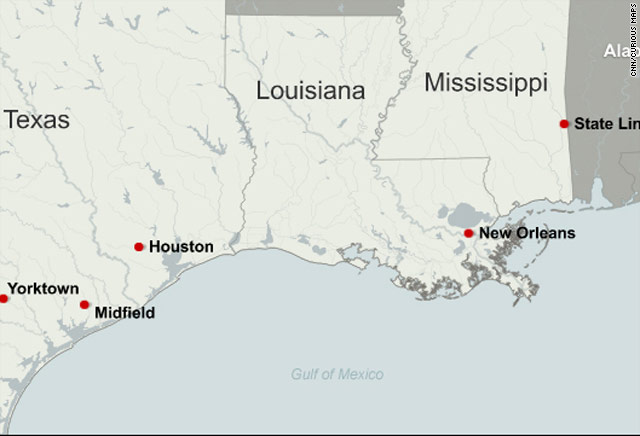 Three towns, more than 1,000 miles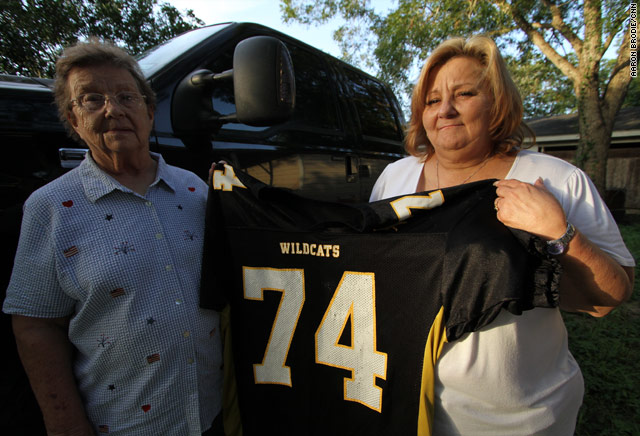 Gallery: Rig workers' families
He couldn't wait to get there himself. His three-week stint on Deepwater Horizon was to end at 11:30 p.m. April 20. Sherri missed his phone call that morning. All day, she hoped he would try again. She was eager to see him.
Around midnight, she lay in bed, still hoping the phone would ring. A call came the next morning, at 5:15.
"You need to watch the news," her sister-in-law said.
The Deepwater Horizon had exploded just before 10 p.m., an hour-and-a-half before Dewey's hitch was to end.
Now, Sherri's four-wheeler whines as it comes to the end of the trail, which opens to a sandbar as white as the famous beaches of Destin, Florida.
Sherri came to this spot when the Coast Guard called off its search for the 11 missing rig workers. She cussed. She screamed. She tossed sticks, logs and other debris -- anything she could get her hands on -- into the river.
"I tell you what, I felt 98 percent better by the time I got back up."
Dewey's youngest daughter, 18-year-old Alicia, scampers along the sand with her cousin. They pause to draw a message with their hands. "We miss you," it says.
Boots at back steps
In the more than 100 days since the rig exploded, the world has been inundated with images of the disaster: oil-soaked birds struggling to take flight, tar balls washing ashore and strangling wetlands, a plume of crude billowing into the Gulf from 5,000 feet below the sea.
But drive down the rural roads of Yorktown, Texas, to State Line, Mississippi, from the home of one of the youngest rig workers who died that day to the home of one of the most experienced who perished, and you see different images of this disaster.
Redwing boots lay untouched by the back door. Bronze memorial helmets from Transocean are proud centerpieces. A souped-up Ford F250 pickup sits silent next to a carport. Tears flow freely.
It is not yet known how much oil has sullied the Gulf or its long-term impact on the environment and coastal towns. But for all the unanswered questions this disaster has created, a few are answered readily by meeting those who lost their men.
CNN traveled more than 1,000 miles through the states where the 11 rig workers lived -- Texas, Louisiana and Mississippi. Not all of their families could be reached, and others declined to talk. Some were immersed in the details of life that can be overwhelming even in normal times.
The family of one politely declined because they were busy sending a son off to college. Twenty-one children lost their fathers; one, born three weeks after the accident, never met his dad.
Read about oil's invisible toll: divorce, suicide
Four families, including Dewey Revette's, generously opened their doors and shared their memories. One grieving mother has moved into her son's house. A young wife raising two children under 6 finds ways for them to remember him. A father who longs to play golf with his son one more time is fighting to change maritime law on behalf of all the families.
Sitting in their kitchens, family rooms or offices, taking in their loss, the impact of April 20 begins to come clear.
The jokester and Faith Hill
Pickups rumble past Cabeza Creek Taxidermy and TNG ("Trust In God") carpentry on Main Street in Yorktown, Texas, a town of 2,000 about 150 miles southwest of Houston. It was here that Adam Weise once stopped the chief of police and told him to put his seatbelt on.
"If I have to wear one, then you do, too," he said.
The Yorktown Country Club, at the edge of town, was the site of other antics. Adam used to hide in the bushes, with an air horn -- and sound it when a golfer hit mid-swing. One duffer chased him with a club.
I keep thinking that, as a mother, something should have gone off in me.
--Arleen Weise, mother of rigger Adam Weise
At his home in town, Adam's presence is everywhere.
His cat, Tits, prances in the grass near his giant black pickup, the Big Nasty. An American flag waves from the front porch.
Inside, two 5-foot rattlesnake skins sprawl across a skinned bobcat on top of a coffee table. Deer heads look down from the walls. A second bobcat, next to the front door, used to stand watch at the high school, where Adam was a star center on the Wildcats football team.
His mother, Arleen Weise, now lives in Adam's home, but she avoids the living room. "That just slaps me in the face about his loss when I sit in there." She clutches a pendant with the letter "A" on it, for Adam, a gift from a family friend.
At 24, Adam was the second youngest to die on the rig, the only one who did not have children. He was the youngest of Arleen's four kids. His oldest brother works on oil wells in Pennsylvania.
Every time Adam left for the rig, he'd tell her, "I'm working for your retirement, mom."
Adam made her the sole beneficiary of his life insurance policy. "My life is better [financially] from the loss of my son," she says, choking up. "It's not what I want, but it's what I have now."
She's speaking in the dining room, adjacent to the room full of hunting trophies. On the wall behind her is a letter from President Barack Obama and a framed flag that flew over the Texas Capitol on the day of her son's memorial.
On a table is a prayer shawl from a church in Oregon. Nearby is one of the last photos ever taken of Adam, a dapper-looking cowboy at a friend's wedding. Arleen, a stylist, cut her son's hair for the event.
She loves that photo, but pulls out another from his senior year in high school. It's Adam -- the rough and tough jokester -- dressed as a hairy-chested Faith Hill.
Arleen's tears disappear. "It's the photo that makes me smile."
She rubs the picture gently. When Adam was much younger, she kissed him in front of his classmates on the school bus. He got teased. "That's OK," Adam said, "because I love my momma."
Arleen lost her father in October 2008. A daughter's baby died at birth in December. "I know he's with my dad and the baby," Arleen says of her son. "Not that he wanted to leave us, but I know he's at peace."
Adam often called his stint on Deepwater Horizon "the well from hell." His mother wrote on a notebook immediately after the explosion: "April 20, Start of Hell."
"I keep thinking that, as a mother, something should have gone off in me."
Her own mother, Nelda Winslette, is a comfort. The two head outside to show off Adam's Big Nasty, the pickup he loved so much. Last Christmas, he donned a red Santa suit and spun down Main Street.
Standing by the truck, Adam's grandmother shakes her head. "It was his time to go," she says softly.
"Yeah," Arleen sighs.
Heading back inside her son's man cave, Arleen passes his leather boots on the steps. They don't stand empty.
From each sprouts a green plant.
Listening to Daddy's voice
The journey from Yorktown to Midfield is flat country highways and stifling Texas heat. At times, all you can see is waist-high prairie grass.
There is no town square, just about 80 people, a population that's remained unchanged in 50 years. It's not just small-town America. It's the definition of rural, a blip on the map.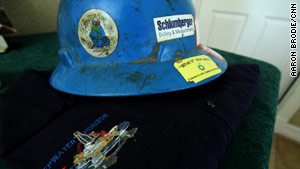 Jason Anderson's helmet is on display in his family room.
The Farm-to-Market road appears out of nowhere, and you hook a left. A brown ranch house with a tin roof comes into view, the home of Jason Anderson, the 35-year-old toolpusher on Deepwater Horizon.
When Jason died, the casserole dishes nearly outnumbered Midfield's entire population.
There are no tranquil spots for Shelley Anderson. She's in the throes of raising 5-year-old Lacy and 18-month-old Ryver.
Life continues but without the "perfect father, perfect husband." She's doing all she can to make sure the children know their dad: a man who loved floating on inner tubes down the Guadalupe River, an avid deer hunter, high school football star and proud oil rigger.
Their son Ryver, Shelley says with a smile, is a "souvenir" from their last float trip.
Ryver points at photos and says, "Dadda!" When Lacy sees her mother crying, the young girl hugs her. "It's OK," Lacy says. "Daddy's in heaven now."
Three months after his death, Shelley still refers to her husband in the present tense. They were to celebrate their eighth anniversary July 27. As she talks of Jason, she runs her fingers through his wedding band, which hangs from a charm bracelet on her right wrist.
Jason's black leather Deepwater Horizon jacket drapes the kitchen chair where he left it. It's among the few items that still carry his scent.
"For right now, that's what I need."
They were renovating their home when Jason left for the rig. He's never seen the completed kitchen, with its white cabinets and granite countertops. "Other than from heaven," Shelley says.
Out back, his "man porch" remains unfinished. He planned to install a giant barbecue grill and sink with running water. At the far end, Jason's four-wheeler is parked on the concrete slab, right next to Lacy's pink Big Wheel.
Little things like taking out the trash -- "a man's job" -- can wreck Shelley's day.
"This is the type of pain you can't get over. He's the love of my life. He's everything."
Jason was a toolpusher on the rig, the equivalent of a supervisor at a construction site. He had recently been promoted to senior toolpusher and, at 7 a.m. on April 21, he was to board a helicopter that would fly him to his new job on a different rig.
Read survivors' account of the night the rig exploded
In the family great room, Jason's image smiles from a blue banner created for the Transocean memorial service. In another corner, his overalls and helmet from a previous hitch sit on a table. The helmet is banged-up and adorned with stickers, including a safety one issued by BP.
Ten days after Jason was killed, Shelley's great-grandmother died. The couple's children, especially Lacy, were confused after attending that funeral: "Why didn't we get to see Daddy in his box?"
Sometimes, when their father's absence seems overwhelming, Shelley calls Jason's cell phone. She lets the kids listen to his familiar deep baritone, a message that lasts only seconds. "...I'll get back to ya..."
The children tell him how much they love him, how much Daddy's missed.
"It's just a way that we can hear his voice," Shelley says. A way of hanging on.
'Ultimate bittersweet experience'
The highways from Midfield to Baton Rouge, Louisiana, span more than 350 miles across desolate stretches, through industrial towns, bayous and forgotten parts of America.
In Baton Rouge, home of Louisiana State University, you pass strip malls and chain restaurants. The law practice of Keith Jones is in a nondescript office park.
Books line shelves and papers are scattered about. Golf clubs lie in the back of the room for putting practice.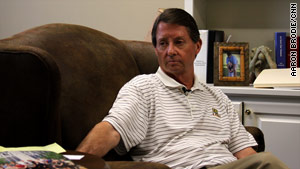 Keith Jones lost his son, Gordon, on the rig. He's now fighting to change maritime law.
One item stands out. It's a photo of his son, Gordon Jones, giving his 2-year-old boy, Stafford, his first golf lesson. Both father and son wear giant smiles. Keith Jones stood behind his daughter-in-law, Michelle, as she snapped the photo.
"I remember, when I drove away in my golf cart, having this explicit thought: They are so happy!"
At 28, Gordon Jones had it all -- a good job, a young family and plenty of time to spend with his father on the golf course when he was home from hitches.
A mud engineer, Gordon was to work for a week on Deepwater Horizon, then take seven weeks off to be home for the birth of his second son.
Three weeks after the explosion, Maxwell Gordon Jones was born.
"It was the ultimate bittersweet experience," says Keith Jones. "Gordon's mom and I just hugged each other and wept."
He is protective of his son. He doesn't want to show his special mementos or tell funny lines that his boy used to say. "It's not the world's job to mourn my son."
He says he has no regrets. Father and son were inseparable, especially on the links. Yet he is pained with guilt. He helped get his son into the oil business.
"For five years, I bragged that I got Gordon that job," he says. "And then after he got killed, my first realization was that if it wasn't for me, he wouldn't have been on that rig."
He pauses, his eyes bloodshot. He holds back tears.
He is dedicating his life to his son. He testified before Congress on the need to change the Death on the High Seas Act, which allows only for compensation of lost future income. He's working with Gordon's older brother, Chris, who is also a lawyer.
"BP does not speak the language of human emotion well at all," he says. "They speak one language only: and that's money. That's where we're going to try to make them feel pain."
He's not sure if the new work is helping him through his grief or delaying it.
Longing for the life before April 20
Back at Dewey and Sherri Revette's place in State Line, Mississippi, freshly planted shrubs frame the front of the ranch house. People across the country sent them. Florists were so swamped they pulled trailers full of plants to the home at the end of Dewey Revette Drive.
When word of the explosion spread, more than 600 friends and family showed up. State Line has a population of 550.
Your mind plays tricks on you. It's like you're still waiting for that phone call or that email.
--Sherri Revette, wife of rigger Dewey Revette
On this day, 11 of his family members gather. Sherri's brother has come down from Ohio. He and Dewey had planned to complete a long postponed renovation project. "I will finish it in his honor," Paul Likovetz says.
When Sherri speaks of her 48-year-old husband, the room fills with tears. She sleeps in his clothes. Both daughters also cherish items from their father's closet.
Dewey walked his oldest girl, Andrea, now 24, down the aisle last summer, one of his proudest moments. "That was our first thought when all this happened," Sherri says, crying. "Our youngest child won't get that."
She'd do anything to turn back the clock -- to get their life back.
Her husband spent 27 years working offshore rigs. Sometimes, Sherri still thinks he's on a long hitch. "Your mind plays tricks on you," she says. "It's like you're still waiting for that phone call or that e-mail."
Then, reality returns.
She hops on the four-wheeler and heads to the sandbar, searching for peace.
FOLLOW THIS TOPIC