STORY HIGHLIGHTS
A dozen Louisiana residents go to Alaska, seeking lessons from 1989's Exxon Valdez oil spill
Along the Prince William Sound, they find comfort, advice, fears -- and a challenge
Alaskans, 21 years later, still find oil, feel pain; they also benefit from positive changes
Pilgrims from Gulf Coast leave region, blessed by healing drum and with a sense of kinship
Prince William Sound, Alaska (CNN) -- Eyes closed as ice-cold water laps at the shore, one woman is transported to her bayou porch. Staring out at an enormous iceberg, some laugh, convinced it could pass for a Mardi Gras float. Inside a visitor's center, they see a decades-old photograph of an oil-slicked bird and agree: It looks just like the ones back home.
They find easy ways to relate -- some comforting, some not -- as they journey to a place so foreign.
After months of living with uncertainty, a dozen Louisiana residents travel to America's last frontier to get a glimpse into what their futures may hold. They ooh and ah at breaching whales, a calving glacier and waterfalls. But they've come to Alaska because of something unsightly: spilled oil.
Traveling by ferry on the Alaska Marine Highway, they arrive in Cordova and Valdez, towns along the Prince William Sound. It was in these waters, more than 21 years ago, that the Exxon Valdez oil tanker grounded on Bligh Reef, spilling into the sound at least 11 million gallons of crude -- a fraction of the more than 205 million gallons that gushed into the Gulf of Mexico in the months leading up to their pilgrimage in early August.
Russell Dardar, who tells everyone "I used to be a fisherman," is here on a fact-finding mission, to take notes by tape and report back to his indigenous community.
Iris Brown Carter, whose loss of loved ones drives her feisty spirit, looks for fuel to bring to her fight against polluting corporations.
Rosina Philippe, whose Atakapa-Ishak tribe has lived in Grand Bayou, Louisiana, for more than 1,000 years, wants to make sure her descendants are not forced to learn their history in a museum.
They are joined by scholars, a policy leader, a priest and politicians from their home state. They are met by Alaskans who know too well what may come. They will spend a week hearing from experts, attending meetings, visiting educational sites and private homes. Against the backdrop of Alaska's unrivaled natural beauty, they will learn how oil marred the environment, how the herring disappeared.
Some of what they hear is comforting: how far science has come, that they can learn from the Alaskans' experience, how lucky they are that this time the president is not "an oil man." But other comments only stoke their fears.
Even in their short visit, they will forge a kinship. And with those connections come promises of support, prayers for healing.
But there is no escaping reality. In one man's story they will find a challenge to go where they may not yet be ready.
"Who we are because of where we are"
They call it the Exxon Shame Pole.
Rosina Philippe, her neck draped in turquoise, her long black braid falling over her left shoulder, stands in front of it, transfixed.
The ancient art form features the upside-down face of Lee Raymond, the Exxon president at the time of the spill. His eyes are dollar signs. His nose is like Pinocchio's. He has no ears, because he cannot hear.
Elsewhere on the pole: birds soaked with oil, lesion-covered fish, a tombstone. There are figures representing the thousands who died before the litigation ended and never got paid for their losses. And there's a bottle of alcohol, a reminder that the Exxon Valdez captain was found to be intoxicated.
From Raymond's mouth pours black oil, and written over it are words that sound familiar to the Louisianans.
They were said by Exxon then; by BP in recent months. Both times, the words were meant to comfort: "We will make you whole."
Philippe is not buying it. "I think there's a playbook," she says. "The gall -- it ticks me off."
The pole, completed 18 years after the tanker accident, stands inside Cordova's Ilanka Cultural Center. ("Ilanka" is Alutiit for "family.") It is here that Patience Andersen-Faulkner teaches native Alaskan art and culture.
A member of the Eyak tribal council, Andersen-Faulkner is one of the Alaskans shepherding the visitors from the Gulf. Her presence is a quiet but meaningful one. She does not offer up PowerPoint presentations, give lectures or become a loud voice in heated discussions. She steps back and guides them to people who will teach. She does not let on that a dear friend committed suicide days before their arrival. Or that her son was the one to find the body.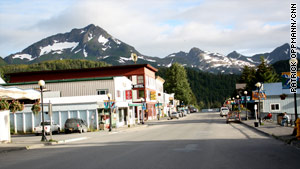 Cordova, Alaska, along the Prince William Sound, still feels the fallout from the Exxon Valdez oil spill.
She was born and raised in Cordova, a fishing community that sits off the Orca Inlet and has a population of about 2,300. It's the kind of town where snowdrifts on the Chugach Mountains that serve as a backdrop have names -- like "the bear catching the fish" and "the dancing lady." Fishery reports and forecasts are posted in business windows, and fresh oysters can be purchased in the liquor store. Recesses at the elementary school have been known to end early because of bears.
In this place, Andersen-Faulkner, 62, has long provided comfort. She guided fishermen through paperwork after the Exxon Valdez spill, offering her ear and shoulder. She helped devise a peer listening program so community members could take care of each other.
In May, she left her home to go where she was needed then: to Louisiana, just weeks after the Deepwater Horizon oil rig exploded, killing 11 men and causing oil to gush into the Gulf.
She brought with her a healing drum.
Whether those she met in Louisiana knew it or not, they'd become family.
Now it is her turn to welcome them. Each day she sees Philippe, they share a hug.
On this day, Philippe leaves the cultural center and sits alone on a deck across the street, overlooking the harbor. There, surrounded by plaques memorializing Cordova fishermen, she thinks of her older brother.
He instinctively navigates the inland waterways that fan out from their small village, his mind knowing what no GPS device could. Now he's idle, the waters he fishes closed because of the Gulf Coast oil disaster.
Philippe fights back tears. What could an extended interruption to fishing do to him?
"We know where we belong," she says, with the authoritative voice of one who speaks for her tribe. "We are who we are because of where we are."
She wants to do whatever she must so her community, her brother, can live on in the place of their ancestors.
No lines in the sand
Before heading uphill from the Reluctant Fisherman Inn to the main street running through town, where he'll dine at the Killer Whale but pass on the reindeer sausage, Russell Dardar, 43, takes an early morning moment to marvel about where he has landed.
He's come from the indigenous bayou community of Pointe Aux Chenes. He speaks softly, not often, and always with a thick Cajun accent.
The lush mountains, blanketed with Sitka spruces, alders and hemlocks, are unlike anything Dardar's seen before. He stood in amazement at Childs Glacier, 50 miles outside Cordova, watching slabs of the glacier's face crash into the rushing Copper River.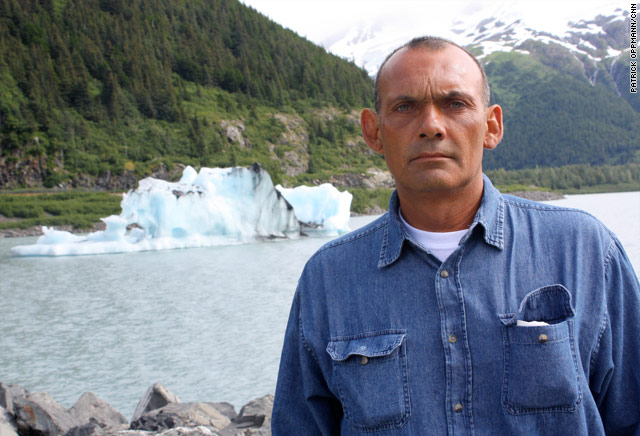 Gallery: Gulf oil victims' trip to Alaska

Video: Spill threatens bayou way of life
But perhaps the strangest sight for him on this Alaska journey, he says, are his shoes. He peers down at the new black sneakers and bright white socks, bought special for this trip. He's used to going barefoot.
He could have worked for BP doing cleanup work "from day one," he says, but doesn't trust what's soiled his waters. Those dispersants especially scare him; he worries what that junk might do to a person.
One piece of advice he hears on this trip -- to remember to look out for one another -- makes him shrug in wonder. His neighbors are his aunts, his cousins, his sister, his mother, his wife's uncle, his nephew. Where he's from, they don't know any other way.
He's sort of like Andersen-Faulkner in that respect.
When oil from the Exxon Valdez began to spill into the Prince William Sound, she was out of town. The frantic calls from home came fast. Her community needed her.
There were no practicing attorneys in Cordova at that time, but she has a bachelor's degree in justice, as well as paralegal and legal technician certificates. As she stepped off a plane in Cordova, her brothers -- all four were fishermen at the time -- thrust documents at her, seeking her eyes and explanation.
"You do it for your brothers, then your nephews, then the neighbors, then ... I just couldn't draw a line in the sand," she says.
Cordova did not see a drop of oil on its shores, but the impact of the spill rocked this small fishing community. It still does at times.
Some lost their livelihoods as fishermen, deckhands and cannery workers. Others, dubbed "spillionaires," cashed in on cleanup work. In bars late at night, says one former fisherman, the animosity between the haves and have-nots can still hang in the air.
Substance abuse and drinking went up; marriages crumbled. Local businesses crashed and closed. Domestic violence, depression, even suicides, spread over this town like a heavy fog.
The first suicide known to be connected to the oil was Bobby Van Brocklin's. The town's mayor in 1989, Van Brocklin died of a self-inflicted gunshot in 1993. He'd watched the boom town turn to a ghost town. His businesses, community and life fell apart.
His death "definitely had an impact," his cousin, Bruce Van Brocklin, 55, says, adding that the wake for Bobby was the most crowded one he's ever seen. "Heck of a way to make a statement."
The litigation stretched on for two decades, weaving its way to the nation's highest court. The initial jury awarded $5 billion in punitive damages to the more than 32,000 plaintiffs, but that amount had been cut to 1/10th by the time the U.S. Supreme Court issued its ruling in 2008. After all those years, the final settlement checks couldn't cover what was lost. For some, the amounts were nothing short of insulting.
Andersen-Faulkner worked for nine years with the class action lawyers who set up shop in Cordova and helped distribute those payments. She says cannery workers received final settlement checks in the amount of 6 cents. Herring fishermen, who held fishing permits worth $34 million (now essentially worthless), were compensated for about 10 percent of what they lost.
Even though they didn't get what they needed, "we thought we were putting the Exxon Valdez spill behind us," says R.J. Kopchak, a former herring fisherman (the herring still haven't come back) who says he came out $400,000 in the hole. "That was what we thought was the final phase of the healing process. And when the blowout occurred in the Gulf of Mexico, all of those wounds -- that we thought had scabbed over and healed -- opened up again."
Learning from the past
In a van, SUVs and sometimes by foot, the Louisiana visitors travel along the quiet Cordova roads, many of which are dirt and dead end. They pass weather-worn homes with metal roofs -- meant to withstand six feet of snow. The landscape is lush, nourished by a spell of wet weather and the 17 hours of daylight typical this time of year.
Around conference tables, at organized meetings and in one-on-one conversations, they receive a torrent of advice: Take the money and run, say some. But don't sign anything too quickly, others warn.
Keep a diary; it'll help you during depositions. Engage politically. Make sure your fight stays in the media.
Demand independent scientists to gather and manage data. Document everything. Organize and find your voice. Honor and listen to each other.
Forgive.
In a Cordova church basement, where the bathroom is crowded with waders and Xtra Tuff rubber boots, the Rev. Gary Barnes offers the kind of advice they may not be ready to hear. He is the only pastor in Prince William Sound who was here when the Exxon Valdez oil tanker ran aground.
He speaks from experience, from watching what anger can do.
When the blowout occurred in the Gulf of Mexico, all of those wounds -- that we thought had scabbed over and healed -- opened up again.
--R.J. Kopchak, former herring fisherman in Cordova, Alaska
"I have a brother that it affected so much he dropped out of life," he says. "He lost every friend he ever had. ... He's better, but he's still not back to normal. We've got to forgive. We can't change the past."
But what about accountability? Responsibility? What about the outcries from people who aren't being heard? What about the locals, who sit here today, getting riled up by the memories, talking about the past as if their spill happened yesterday?
"Unfortunately you can't legislate morality," Barnes says. "You can pass all the laws you want. They need to be held accountable. ... But bitterness is the poison we drink expecting it to hurt somebody else."
Making sense of new realities
Residents along the sound mark time this way: "before the spill" and "after the spill." They collect remnants of crude wherever they find it, mostly in beach sediments. Jars bearing dates as recent as May this year sit on shelves at the science center in Cordova and inside a display case at the town's museum.
But amid the darkness these jars represent, locals point out the glimmers of light.
The spill forged some positive changes. People galvanized as a community, got more environmentally aware and diversified their economy -- becoming entrepreneurs and tapping the region's tourism potential. And they learned that oil, even if they didn't work in the industry, was their business.
Dardar takes a seat at a large conference room table. He's in the offices of the Prince William Sound Regional Citzens' Advisory Council, which was established to push for safe oil transport out of the Valdez Marine Terminal -- where tankers load up before heading out of the sound.
Like he does at every meeting, he dutifully pulls from his pocket a small digital recorder.
He doesn't like to write much, he says. He didn't finish sixth grade. Like so many others he grew up with, he left school to go trapping -- for muskrats, raccoons, minks.
But he's capturing every single word spoken -- even terms like the "toxicity of oil-derived hydrocarbons" and ways to "incentivize industry regulators" -- to bring back to his community. As he and others try to make sense of their new reality, maybe they can make sense of how these words apply to them, too.
What he understands implicitly is shrimp, which is why he jumps at the chance to leave the office and head out on a small cabin cruiser with an advisory council staffer.
The next morning in a Valdez hotel lobby, he recounts that experience. Funny how different shrimping and shrimp are in these parts.
Here they lower boxes or pots into the water, "more like a crab trap or crawfish traps," he says. Eyes wide, he says they catch them 350 feet beneath the water. Where he comes from, they go down no more than nine feet. Strangest of all, the shrimp carry their eggs between their legs "like crawfish," he adds. "Where I'm at, they carry them in their heads."
Over continental breakfasts at tables nearby, other Louisianans are muttering about the news, shaking their heads in disbelief. Word from Washington on this day, August 5, is that the spewing oil in the Gulf Coast is behind them and the cleanup is 75 percent accomplished.
"Guess my work is done," a sociologist who studies environmental disasters quips, her sarcasm thick.
"Who do they think we are -- idiots?"
That news doesn't break for Iris Brown Carter until an hour or so later. She's moving slowly these mornings. Maybe it's the cold or the rain; the arthritis in her knees is acting up, and her limping gets worse as the days roll on.
But when she joins up with the group, back at a conference table, she gets her hands on articles declaring the oil crisis mostly over. Her jaw drops.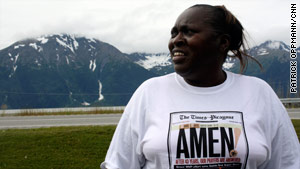 Iris Brown Carter brings her fighting and feisty spirit to Alaska.
"How can they say anything like that? Who do they think we are -- idiots?" she says, her voice cracking as the pitch rises.
Fired up, that's what she is. Part of what sends her feisty spirit soaring and her blood boiling can be linked to the history she carries with her.
She grew up in Norco, Louisiana -- the name derived from New Orleans Refining Company -- a town situated between a refinery and a chemical plant. It was a place where she and others learned not to sleep in pajamas because they never knew when an explosion might send them fleeing into the night.
She watched her mother and sister die in 1997, from illnesses she says had everything to do with chemical exposure. The rashes she had on her own hands, the ones no doctor could diagnose or cure, disappeared when she left Norco. The environmental asthma came later and stayed. She now calls Thibodaux, Louisiana, home.
As she mourned the losses of her loved ones, someone from the Louisiana Bucket Brigade -- an organization that exposes industrial pollution -- showed up at her door, wanting to hear her story.
"I've been fighting ever since," says Carter, 58, who serves on the group's board. "People need to know they have a right to demand better. ... It's not can you do better; you damn well better do better because you messed up. Make demands. Make them hop, make them skip, make them jump."
As if to take her own advice, Carter grabs a reporter and cameraman from a New Orleans station, here to document the trip. "Miss Iris," as she calls herself, has something to say to those at home, and she wants to say it now.
Hand gesticulating, voice rising, she tells them how she's seeing oil in Valdez, 21 years after the oil spilled here.
"They just capped this well. Ten days later or less, there's no oil?" she says. "C'mon now. Who you talking to? Who you trying to bull?"
The next leg of the journey
Dark clouds roll in and the rain begins to fall as the Louisianans check out of the Relucant Fisherman in Cordova. Dardar's hands are plunged deep into the pockets of the navy hoodie he's purchased to stay warm. It says "Cordova, Alaska," and features, in gold, the North Star and Big Dipper -- a replica of the state flag.
The group loads into the vehicles while stealing sips of steaming coffee. Philippe, seeking protection from the elements, wraps a colorful scarf over her long hair.
At the ferry dock is Andersen-Faulkner. She's come to see her "family" off. Her own peace and happiness, she says, is tinged with the sad awareness "that my friends I met in the Gulf are still traumatized."
Hugs are rushed as the rain comes down and ferry officials yell for vehicles to drive onboard.
Brown Carter, her knees aching, leans out of her passenger seat for an embrace, as Andersen-Faulkner tells her, "The next leg of your journey will be different."
The group assembles on the ferry's stern deck, looks out and waits.
"Where is she?" some ask. They worry they won't see her again before the ferry heads out. "Where is she?"
Through the rain and mist, Andersen-Faulkner emerges -- a lone figure.
She has one last duty, a ritual to send them on their way. It's something she does on special occasions -- like the date of her daughter's birth and death. She holds high a drum and begins to play.
Boom. Boom. Boom.
The rhythmic beat starts, barely audible through the rain.
Boom. Boom. Boom.
Each beat carries a message. She plays to bless them on their journey, to unite them, to let them know they'll be remembered.
Some wave their hands from the deck and bow in gratitude. Philippe removes the scarf covering her hair. Clinging to one end of it, she raises her clasped hand, letting it unfurl and flutter in the wind.
Brown Carter takes a seat and begins to sob.
"She's so sweet to pay homage to us," she says. "I mean, who are we?"
Next Brown Carter prays: "to soften the hearts of the people of BP so they'll do right by the people." And then, as the ferry turns into Prince William Sound, she adds: "Thank you, Lord Jesus, do not run into an iceberg."
Nearly everyone heads inside to escape the wet and cold. But Philippe stands at the rail and keeps watch.
As their Cordova friend, their "sister," fades into the distance, Philippe and the others travel toward the future -- not knowing what will come next but secure that they don't go alone.
FOLLOW THIS TOPIC