Public may not see failed blowout preventer from BP oil well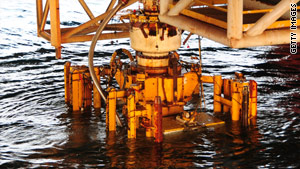 This image shows the damaged blowout preventer along with the lower marine riser package.
STORY HIGHLIGHTS
The blowout preventer is on a ship in the Gulf of Mexico
A camera feed from the ship was discontinued Saturday
Thad Allen cited security concerns Wednesday on further videotaping of the unit
He referred questions to the Department of Justice
Washington (CNN) -- The public may have seen the last video images of the failed blowout preventer from the BP oil well disaster, as authorities expressed possible security concerns.
The feed from a camera on board a salvage ship was discontinued Saturday after the apparatus was raised from the sea floor and placed on the vessel Q4000.
At his regular briefing with reporters Wednesday, National Incident Commander Thad Allen said additional questions about the unit would now have to go to the U.S. Justice Department and the Joint Investigation Team.
When pressed about the video feed, Allen said, "We'll have to refer that to the Department of Justice. There were some constraints put on that videotaping based on the people that are looking at the blowout preventer and their identities and so forth, and I think there's, there may be some security issues associated with it."
Allen said the ship will carry the unit to shore, but that the timetable and other questions will no longer be something he can address as part of the disaster operations that he heads.
As of Wednesday, he said, "the blowout preventer is already up on deck on the Q4000. The lower marine riser package has been separated, and they're putting it on latching skids getting ready to move it closer to shore."
He said "exactly when it arrives and what the disposition would be, I would refer you to the Department of Justice, or the Joint Investigation Team," since "from this point out it doesn't involve the spill itself."
Allen said after the ship moves off-scene, "this will cease to be part of the national response that I'm coordinating as the national incident commander."