STORY HIGHLIGHTS
The eco-vuvuzelas are made from kelp found on beaches
South African tradition is taken back to nature
Business started as a school fundraiser
Cape Town, South Africa (CNN) -- The sound of vuvuzelas has been a feature of every match at this year's World Cup, but one Cape Town business is using them to create a different kind of buzz.
Adam Carnegie is the creator of eco-friendly, custom-crafted horns made from dried kelp plant. As well as using sustainable materials, he hopes to create sustainable employment in the community.
"Taking the loudy, wildy vuvuzela, and the magic that brings to the game, we are able to create something just a little bit more unique -- and of course it's natural," Carnegie told CNN.
He first started making the kelp vuvuzelas for a fundraiser at his son's school. They were such a success he turned the idea into a business, founding the Kelp Environmental Learning Project (KELP) in 2008. He set up a small factory and began selling the horns for between $25 and $40.
Carnegie says it's not just the designs that appeal to South Africans -- the fact that they are made from kelp gives them an advantage over their mass-produced, plastic cousins.
"There's a lot of values that you may not notice, but in terms of our culture in Africa, 'nuti' value is natural value," he said. "It's the power that comes in a natural product. These horns have something special for our football-crazy crowds, that makes it unique and special."
Carnegie's initiative is making something of value out of something many take for beach litter. Kelp that gets washed up on beaches is dried out by the sun, which transforms it into different shapes -- some straight and long, others curvy.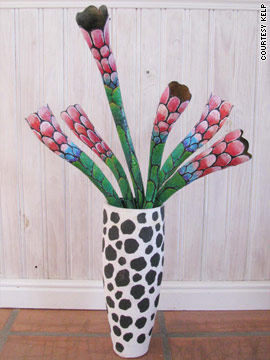 Gallery: Kelp vuvuzelas
Carnegie and his workers scour the beach, picking out worthy pieces.
"Kelp can have a bad interpretation being a smelly beach item," said Carnegie. "But in actual fact, it's a tremendously valuable resource. We should all celebrate that. This is precisely that opportunity, let's rethink kelp.
"With each horn, with each piece it does need to be evaluated. Because certain pieces have lost their end piece, they will probably become what we call football vuvuzela. Some of these pieces are more dramatic which have natural hair. They becomes our fun warrior brands."
These horns have something special for our football-crazy crowds
--Adam Carnegie, eco-vuvuzela creator
Once the kelp has been collected, local artists help Carnegie create a variety of designs -- from animals and warrior faces, to sea creatures and football team colors.
Inexperienced painters start with simpler patterns but can move onto more ornate designs as they become more skilled. Carnegie hopes the overall process will create sustainable employment through what he calls "social upliftment."
"Social upliftment is not just about employment but teaching entrepreneurial skills and understanding," he told CNN.
"So we can transfer skills in painting, but we also want to transfer more than that. We want to transfer the message of the environment, but also the message that we are players in this economy.
"The only way to understand your role is too see how you can earn and be part of the wealth and abundance. So our painters each learn about that."
Carnegie hopes to grow his team of 17, with new production centers in places where kelp is abundant and where there are willing workers.
As he continues to teach others about the environment, he's also eager to showcase South African culture.
"With the people in the city of Cape Town, people recognize very fast that we are creating a project [that] basically amounts to building national heritage," he said.
"We know we are creating the building blocks that will eventually be taken up in different communities along the coast. We will start to see those cultures flourishing through interpretation in these horns, whether it's wild flowers or fishermen's boats and crafts.
"We are creating a vehicle itself to take South Africa's heritage onto the map, onto the world wide map. We are using football as a launch platform."
Catriona Davies contributed to this report
FOLLOW THIS TOPIC