Officials work to control anthrax outbreak in Bangladesh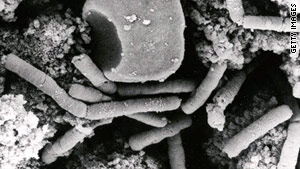 Nearly 300 people have been infected since the anthrax outbreak was first detected two weeks ago in Bangladesh.
STORY HIGHLIGHTS
298 people have been infected -- none critically -- since the outbreak began last month
The country is on high alert as the disease continues to spread to new areas
A half-million vaccines for livestock are being sent to the affected regions
(CNN) -- Officials in Bangladesh are working to control an anthrax outbreak that has infected nearly 300 people since its first detection two weeks ago.
The country was put on high alert Sunday as the bacterial disease continued to spread between animals and people, Bangladesh's official news agency reported.
Committees across the country -- made up of livestock officials and medical personnel -- have been formed to spread an awareness campaign to prevent, detect and treat anthrax infections, according to the Sangbad Sangstha national news agency.
The disease was first detected last month in northwestern Sirajganj district, where 38 villagers reportedly became infected after consuming beef from sickened cows, the news agency reported. It then spread to neighboring districts.
Fisheries and Livestock Minister Abdul Latif Biswas said Sunday that a half million livestock vaccines will be sent to affected areas. Biswas told a news conference that there is an adequate number of doses to treat infected animals and people.
So far, none of the 298 people infected with disease has been sickened critically, Mahmudur Rahman, the director of the Institute of Epidemiology, Disease Control and Research, told the news agency.
As of Sunday, 33 cows and 17 goats have died of the disease, and another 217 animals have been infected since the outbreak began August 18, the livestock ministry told the news agency. All livestock entering the capital, Dhaka, are being tested at four entry points, and residents are being urged not to sell or eat meat from diseased cows.
According to the Mayo Clinic, anthrax spores are formed by naturally occurring bacteria in soil in most parts of the world. The spores can remain dormant for years until they find their way into a host -- usually wild or domestic livestock. Most human cases of anthrax occur as a result of exposure to infected animals or their meat or hides.
FOLLOW THIS TOPIC