Ahmadinejad: Iran has 'fully mastered' nuclear technology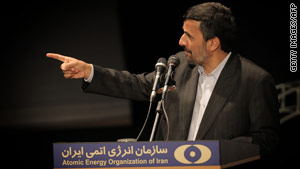 Iran's President Mahmoud Ahmadinejad speaks at an event to mark Iran's National Nuclear Day.
STORY HIGHLIGHTS
President Mahmoud Ahmadinejad gave speech National Nuclear Day
Ahmadinejad slammed countries that tried to negotiate a halt to Iran's nuclear activity
Calls such countries "selfish" and "arrogant"
Ahmadinejad accused U.S. of encouraging nuclear proliferation through its policies
(CNN) -- Iran announced Friday it has advanced its nuclear technology, unveiling new, faster centrifuges and celebrating "giant steps" forward.
In a speech celebrating National Nuclear Day, President Mahmoud Ahmadinejad slammed "selfish behavior" by "arrogant" countries that have tried to negotiate a halt to Iran's nuclear activity. As he spoke, a crowd chanted "God is great" and "Death to America."
"Today, Iranian scientists and experts have fully mastered the nuclear and have been taking giant steps and moving at full pace towards meeting all domestic needs and making proper use of home-grown potential in the field of nuclear energy," Ahmadinejad said.
Officials unveiled what they called a "third generation" of centrifuges six times faster than the ones currently being used.
Insisting Tehran's nuclear efforts are purely for energy purposes -- despite claims by many Western nations that Iran is pursuing nuclear weapons -- Ahmadinejad said he had been open to a deal, and blamed other countries for it falling apart.
Ahmadinejad also accused the United States of encouraging nuclear proliferation through its policies.
Referring to the signing of an arms deal between the United States and Russia this week -- including remarks by U.S. President Obama that the U.S. goal is a world without nuclear weapons -- Ahmadinejad called it "a show performed by the United States" and "a great lie."
At the University of Louisville in Kentucky, U.S. Secretary of State Hillary Clinton accused Iran of "flouting the rules -- seeking to develop a nuclear weapons capability under the guise of a peaceful enrichment program."
She touted the new START Treaty with Russia as a way of pressuring Iran to curb its nuclear aspirations. The treaty would reduce the number of strategic nuclear warheads to 1,550 on each side -- a level not seen since the 1950s.
Efforts to cut the nuclear arsenals of the United States and Russia are unlikely to persuade Iran or North Korea to change their behavior, she said. But, she added, "I believe they could" help persuade other nations to support "serious sanctions" against Iran.
She predicted the treaty will have bipartisan support in Congress. "There are times when people of good will and great intellect have diverging views on how to deal with complex issues, but I don't think this is one of those times," she said.
"The only way we think we are going to convince the Iranians to give up nuclear weapons is if they conclude they will be less safe with them than without them and that their economy and their society will suffer sufficiently that the tradeoff is no longer worth it to them," Clinton said.
Sanctions are not the only means of effecting change, she said. "We've always said all options are on the table, but clearly our preference is to create conditions that would lead to changes in the policy of the Iranian government toward the pursuit of nuclear weapons which, by the way, is their stated policy."