STORY HIGHLIGHTS
In Oregon, terminally ill patients can choose to end their own lives with lethal medications
Washington has a similar law; it is not criminalized in Montana
In 2010, 65 patients died by ingesting prescribed lethal medications in Oregon
Editor's note: Coming this fall on CNN, Dr. Sanjay Gupta takes an in-depth look at assisted suicide and families ripped apart by the issue.
Portland, Oregon (CNN) -- James Powell could barely speak on the day he died; cancer had confined him to bed and heavy painkillers left him only semi-lucid. Yet the mood was almost celebratory as 25 people -- family, friends and volunteers -- gathered in a large living room to tell stories and say goodbye on the day Powell chose to end his suffering.
"After he took the medication, he fell asleep really quickly. His body just relaxed. He went into deep snoring. There were tears, but also it felt like a real family gathering of support," his daughter Katy, 61, remembers. "After he died you could pretty much feel the spirit kind of lift in the room. Thank goodness he's free of that horrible suffering and pain."
Powell, who died at age 82 in 2008, had worked to pass Oregon's Death With Dignity Act, a law enacted in 1997 that allows terminally ill patients to choose to end their own lives with lethal medications. A similar law was passed in 2009 in Washington. In Montana, the state supreme court ruled in 2009 that doctors in that state cannot be prosecuted for assisting with the death of terminally ill patients, but did not guarantee it as a constitutional right.
This month, in Massachusetts, the Dignity 2012 campaign, which includes members of a local chapter of the national nonprofit group Compassion & Choices, is spearheading a movement to get a Death With Dignity Act on the 2012 ballot. Supporters filed paperwork with the state's attorney general.
The idea of allowing someone to end his or her own life is undoubtedly controversial. Gallup's 2011 Values and Beliefs poll found in March that 45% of Americans consider doctor-assisted suicide morally acceptable, and 48% believe it's morally wrong; the split was closer than on other hot-button issues such as abortion, having a child out of wedlock and cloning animals.
The law is significant for more than just the few people who actually go through the entire process of obtaining lethal medications and taking them, said Barbara Coombs Lee, president of Compassion & Choices.
"End of life care and empowered patients are better for everyone in the state," she said.
But this creates a double standard for the prevention of suicide, argues Stephen Drake, research analyst for the organization Not Dead Yet, a disability advocacy group that opposes physician-assisted suicide.
In his view, the Death with Dignity Act establishes a two-tiered system in which some people's suicides are more encouraged than others. It's the idea that young, healthy and nondisabled people should be prevented from dying, while the deaths of the old, ill and disabled should be facilitated, he said.
"When you look at it that way, it doesn't look so much like empowerment's at work," Drake said.
There's a difference between helping a patient feel comfortable at the end of life and "making killing an acceptable part of medical practice," he said. He said he fears advocates will attempt to expand the established law's requirements to include more and more people, although Coombs Lee said her organization has no interest in broadening the eligibility rules for the Death with Dignity Act.
Groups like Not Dead Yet and the National Council on Disability are also concerned that the top three reasons for people using the law in Oregon are consistently "loss of autonomy," "decreasing ability to participate in activities that made life enjoyable" and "loss of dignity." These reasons seem to be predicated on the notion that a disabled life is viewed as one that is not worth living, opponents of assisted suicide argue. The disability council would like these reasons examined more closely.
The United States Conference of Catholic Bishops recently approved a statement against "doctor-prescribed suicide," which also brings up the issue of disability. The group cautions that the wishes of others may bias a patient's choice, especially in a society that undervalues the lives of people who are disabled or dependent on others.
"Those who choose to live may then be seen as selfish or irrational, as a needless burden on others, and even be encouraged to view themselves that way," the group wrote.
The bishops also argue that patients should receive help, in the form of counseling and medication if needed, to alleviate their desire to end their lives, rather than be granted a prescription for it.
But the bishops do support effective palliative care and do not suggest that patients undergo unduly burdensome medical treatments that prolong suffering at the expense of quality of life. They draw the line at physician-assisted death, pointing to the U.S. Declaration of Independence's emphasis on the inalienable right to life, and to the Christian belief that life is a gift from God.
"A choice to take one's life is a supreme contradiction of freedom, a choice to eliminate all choice," they write.
The basics
In order to use the law in Oregon, a patient must be over the age of 18 and have a diagnosis of a terminal illness with six months or less to live. The patient must be a resident of the state and capable of making and communicating his or her own health care decisions.
The patient must give an oral request to an attending physician twice, with at least 15 days in between. A consulting physician must also confirm the diagnosis and prognosis.
It's usually not possible for a person with dementia to use the law, because the patient must be able to make his or her own decisions. If either the physician or consulting physician feels the patient has depression or other mental illness that might affect judgment, he or she must be sent for a further mental evaluation. Further guidelines are available from the state of Oregon.
In the year 2010, 65 patients died by ingesting prescribed lethal medications in Oregon, according to the state's public health division, corresponding to about 21 deaths out of 10,000. In the state of Washington, 51 people died after ingesting the medications last year. But more people than that go through the process. A total of 96 prescriptions were written in 2010 in Oregon, and 87 were dispensed in Washington.
Patients may die naturally first or decide not to use the drugs. But having the medication gives the patient and family peace of mind, Coombs Lee said.
"They want to have it the same way you want an umbrella or you want fire insurance or you want a safety blanket of some kind," Coombs Lee said.
Once the patient has the medication, the patient begins to have conversations about intentions with his or her family, said Jason Renaud, executive director of the Oregon chapter of Compassion & Choices. The patient starts to say goodbyes in a much more intentional way, and starts to make amends more intentionally, too.
The system may not be perfect. A 2008 British Medical Journal study, led by Linda Ganzini of Oregon Health and Sciences University, found that the Oregon law may not adequately protect all mentally ill patients, and suggested there should be better tools for screening for depression.
But Renaud takes issue with that research. "Our folks are within weeks of dying, so it's quite common and normal for them to be sad and worried about their families and about their health," he said.
Patients come to the Oregon chapter of Compassion & Choices by physician referral, Renaud said. Most patients have cancer.
Coombs Lee's organization counsels about 2,500 people nationwide every year about end of life options. Professional staff and trained volunteers help individuals navigate their state's systems and, in places where it's legal, assist them through the process.
Some call that process "assisted suicide," which Drake fears is "making killing an acceptable part of medical practice," but Compassion & Choices calls it "hastening."
Its volunteers help with that hastening. They may be the ones to prepare the lethal medication and stay at the home until the patient goes into a coma; they'll wait until death if the family wants. Hospice staff is usually there, too, if the patient is in hospice care. Death usually comes within 20 minutes to two hours, although it can take days in some cases. In two cases in Oregon in 2010, patients who took the medication did not die from it, but passed away from their underlying illness, according to the Oregon Public Health Division.
Before giving the medication, a volunteer will ask two questions: Do you know what happens when you take this, and, are you doing this on your own free will? The patient gets the lethal drugs only if he or she says yes to both.
What it means to hasten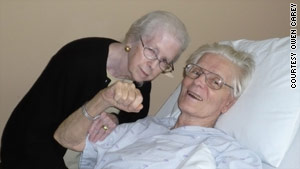 Katy Powell's parents, Autry and James, both supported passing the Death with Dignity Act in Oregon.
Katy Powell is one of those volunteers. A real estate agent in Portland, she doesn't advertise the time she has put into helping with end of life choices for the past three years, but she is getting more comfortable talking about it.
"I'm not only honoring my dad and wanting to volunteer, but I'm a huge proponent of personal freedom of choice. I don't care if people don't want to use the law. We're here to help them die in any way they want to," she said
She knows how to mix the medication so the family of the person who is hastening doesn't have to. The main ingredient is usually about 100 capsules of a drug called Seconal that have to be pulled apart and mixed with water. The result is a bitter drink, the way pure aspirin tastes, she says. In a sense, the foul flavor is another safeguard in case the person had any doubts.
"If someone was confused about what in the heck they were doing, and they tasted this, in one sip they would spit it out if they didn't want to drink it," Powell said. "When people drink this down, gulp after gulp after gulp, they're very determined. They don't stop."
Often, the hastening is a sort of "party with tears," Powell said. The mood all depends on family dynamics; in her experience, women who are choosing death often seem happier than men.
"They're just like, 'Cheers, I'll see you in another life,' and then they have a whiskey chaser or whatever they want to chase the medication with, and people are laughing and crying," she said.
One patient who chose to hasten was a professional belly dancer who taught belly dancing at a local college, Renaud recalled. She had breast cancer in 2008 and survived a double mastectomy, but when the cancer returned she did not want to go through chemotherapy and radiation again. She quickly became terminally ill. A volunteer from Compassion & Choices arrived at 5 p.m. on the day of the hastening to find a party with 45 people, which lasted until midnight, Renaud said.
"When she died, there were dozens of people in her bedroom. That can't happen in other states. In other states it's covert, illegal, frightening," he said.
Why would someone choose to hasten death this way? Pain is part of it, Powell said. Another factor is not wanting to be totally dependent on others, especially strangers if they have to go into a nursing home or other hired-care situation.
"It's more of just being autonomous and having control over their situation. They don't want to lose control," she said.
From law to practice
Her father, Jim, wasn't a control freak, but he was always in charge, she said. He was the head of both a business and a large family, and was a strong leader in his Unitarian church. When he wanted to do something, he was determined and would do it, she said.
Both Powell's parents were staunch believers in people having freedom of choice in personal matters (Autry, Powell's mother, is still living, but suffers from Parkinson's and dementia). The Death With Dignity Act became important to James Powell in particular because he was a friend of the husband of Janet Adkins of Portland, who was the first person Dr. Jack Kevorkian publicly assisted in suicide. At age 54, she had Alzheimer's disease and was adamant that she did not want it to progress.
"Because of the outrage of what Kevorkian was doing, I think Dad and her husband -- they were very educated, intelligent, well-connected people -- got these people together and said 'We need to have a law that legitimizes this.' "
(The law that was passed, however, would not have applied to Adkins, because she did not have a diagnosis of a terminal illness with six months or less to live).
Powell's father was on the committee that wrote the law, she said. Still, when he helped pass it in 1997, he probably didn't think he'd use it himself one day.
"He always knew it was there, and he was probably happy when the time came," she said.
After her father died, Powell waited the recommended few months before beginning to volunteer with Compassion & Choices. At first, she was a lot more emotional about helping people with the hastening process, as if she were reliving what she went through with her father. She still empathizes with the families, she said, but now doesn't get as stressed or sad about the hastening itself; she is happy for the patients, who always thank her over and over.
"It's almost like being at a birth, where you're emotional about that, too, and it's more joyous, of course, but it's still that same wonderful awe-inspiring feeling of taking part in something that's really important," she said.