STORY HIGHLIGHTS
Ryan Lambert has been a fishing guide in Louisiana bayou for more than 30 years
He's lost $1.2 million in business since BP spill, but has been compensated only $200,000
Lambert: BP pressing business owners to take "quick claim" of $25,000, waive right to sue
He wants BP to compensate fully and quickly and its fines used to bring back the Gulf
Editor's note: Ryan Lambert is owner of Cajun Fishing Adventures Lodge in Buras, Louisiana. He is vice president of the Louisianan Charter Boat Commission, a member of the Coastal Conservation Commission and has testified before the House Natural Resources Committee on the effects of the BP oil spill. He is featured in "Stories from the Gulf," produced by the Natural Resources Defense Council, to run on the Discovery Channel.
Buras, Louisiana (CNN) -- I've been a fishing guide in the waters of the Louisiana bayou for more than 30 years. This special place along the Gulf of Mexico is a national treasure, a place where you could cast a rod out into the warm waters and pull out a red fish or speckled trout like snapping your fingers.
Used to be we'd head out for a few hours and come back with ice chests full of the freshest, tastiest seafood ever caught. Unfortunately, the BP oil disaster almost put an end to that.
Last year, my fishing and hunting business was all but wiped out by the oil spill -- I lost 94% of my business. I have 23 people working for me: 23 families dependent on the income. But no one wanted to come down to a place threatened by 170 million gallons of oil. All told, it has cost me $1.2 million in business losses already, with no end in sight. But BP compensated me for just 10% of that.
BP Claims Administrator Kenneth Feinberg says he is making us business owners whole. Ten cents on the dollar?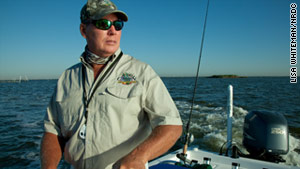 Ryan Lambert
BP isn't making us whole: It's pressing business owners to the ropes in the hope that we'll become desperate enough to accept the company's "quick claim" $25,000 settlement offer.
The quick claim gives individuals $5,000 and business owners $25,000 if they sign away their rights to ever sue for more.
If you don't agree to this amount, you start a terrible process -- constant delays, requests for more documentation, with no communications from BP. Most people can't wait any longer to pay off their bills.
Forgive me if I blanch when I see BP spending millions on public relations trying to convince Americans that it is "making it right" in the Gulf of Mexico. Here's what making it right would look like:
First, people like me would be compensated for our losses -- fully, fairly and in a timely fashion, before we lose our homes, our boats and our businesses.
Forgive me if I blanch when I see BP spending millions on public relations.
--Ryan Lambert

Oil: Out of sight, out of mind?

Alabama coast still affected by spill

2010: BP releases video of oil in Gulf

2010: First 100 days of the BP oil disaster
Second, the Congress would ensure that the fines BP pays for polluting our waters would go toward restoring the Gulf. Unless a law is passed, those fines -- which will likely amount to billions of dollars -- could instead be set aside for some future oil spill. That doesn't make sense. The money needs to go to correct the harm done here. Our lawmakers need to act.
Third, we must put in place a responsible Gulf restoration plan that deals with the devastation of this catastrophic spill while also addressing the long-term health of our wetlands.
The Louisiana wetlands -- the nursery to fish, birds and shellfish and the foundation of life in the Gulf -- are eroding before our eyes. We're losing thousands of acres each year. It didn't start with the BP blowout, but the oil has made matters worse, killing marsh grasses and other front-line vegetation that helps to hold our precious wetlands in place. A comprehensive restoration plan must address the diverse causes of this erosion while we still have wetlands here to protect.
Finally, Congress, the oil and gas industry and the Obama administration must work together to strengthen the safeguards we all rely on to protect our workers, our waters and wildlife.
As Gulf fishermen and outdoorsmen, we've lived with the petroleum industry all our lives. We mourned the loss of the 11 workers who died aboard the Deepwater Horizon last April. And we understand that rig workers need to make a living.
But this work has to be done safely. It has to be done right. The approach some lawmakers would take, rushing the permitting process in ways that would put our workers and waters at needless risk, is something we just can't afford. The stakes, for our home and our country, are just too high.
Six years ago, Hurricane Katrina blew 24 feet of water into my fishing lodge, the business I'd devoted my career to building, the sole means of support for myself and my family. I rebuilt that lodge nail by nail. I rebuilt my business, too. Now, I'm praying that I can hang on once again, not from a natural disaster this time, but from a corporate calamity inflicted on this special region I call home.
You see, this is more than just business to me. This is about saving a national treasure. It's about making our people whole. It's about making sure nothing like this ever happens again.
The opinions in this commentary are solely those of Ryan Lambert.