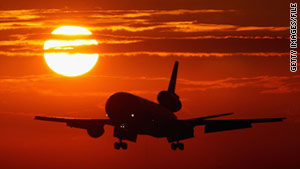 Keep an eye on a variety of sources for unadvertised "pop-up" sales.
STORY HIGHLIGHTS
E-mail alerts from airlines and airfare tracking sites offer pop-up sale fares and promotions

Airline websites sometimes have the best fares to encourage direct booking

Tuesday and Wednesday are usually the cheapest travel days

Weekend fare deals frequently surface at the beginning of the week

Editor's note: George Hobica is the creator of Airfarewatchdog.com. The site is a division of Expedia.com, which also owns Hotwire.com and TripAdvisor.com.
(CNN) -- There's no doubt about it: Airfares for this summer are higher than they were a couple of years ago, especially for business trips that don't require a Saturday night stay.
And even so, some airlines reported losing money last quarter, even with all those extra fees. The culprits are obvious: higher fuel prices, fewer seats, increased demand and airline mergers.
But if you're flexible in where you go and when you go, there are some relative bargains out there.
Most of these "sales" are completely unadvertised, and many of them last only for a few days or hours. We call them pop-up sales.
At Airfarewatchdog.com, we recently sent out fare alerts for flights from several major hub airports (such as Miami, Newark, Dallas, Denver, Cincinnati, St. Louis, Washington and Salt Lake City) to Honolulu for tax-included fares as low as $400 round-trip -- even for peak summer travel.
And a ton of $200 tax-included summertime fares in many markets popped up for only a few hours not long ago. Airtran recently sold seats from Baltimore to Los Angeles on nonstop flights for peak July and August travel for $296 round-trip including tax, hundreds less than what other airlines were charging. (Fares from neighboring Washington, D.C., to Los Angeles were much higher, so here's a good example of how being flexible in your travel plans can save money).
So although summer airfares are on average higher, here's how to increase your chances of snagging a deal.
Before you do anything, sign up for free airfare alerts
I'm a fan of this service, obviously, as founder of Airfarewatchdog, but seriously, why do all the work hunting down a low airfare yourself when you can have someone else do it for free?
Many airfare search and listing sites, such as Travelocity.com, Yapta.com, TripAdvisor.com/Flights, Bing.com/travel (and, of course, Airfarewatchdog.com) offer e-mailed airfare alerts when prices go down. This is just a partial list; do a browser search for "airfare alerts" to see what's available.
Get e-mail from your airlines
Next, sign up for e-mails and frequent flier programs from as many airlines as you can tolerate. Sure, you already get enough e-mail, but you want to fly cheaply, right?
Here's why: Airlines are trying to woo customers to book directly with them by offering special deals when you sign up for their newsletters and e-mail lists. One way they do this is by offering "promo code" deals that are redeemable only on their websites.
It might be 10% off, or $10 off, or even a half-price sale. JetBlue recently sent out a 20%-off systemwide promo code. They also alert you to special deals that can be booked only on their websites or that are available only to members of their loyalty programs.
Once that's done, let the search begin.
Ask yourself this question: Are you a flexible flier?
If you answer yes, you're in luck, because you'll get the lowest airfares.
Let's say you've been promising your sister you'd visit her sometime this year. But whenever you search for a good airfare, the prices are out of reach. If it doesn't really matter when you go, then you need to search on a website that caters to those with flexible travel dates.
Start by clicking over to Travelocity.com, Orbitz.com, Hotwire.com or Cheaptickets.com (all of which are online travel agencies, or OTAs in industry parlance), and check the "flexible dates" button or link.
On Travelocity, enter your origin and destination and hit search. You'll see the lowest published fares for travel dates up to 330 days into the future. You'll then need to click on the fare calendars to see when those fares are available.
Orbitz, Hotwire and Cheaptickets do a flexible date search over any 30-day period you choose. (Keep in mind that American Airlines is not currently listed on Orbitz but is back on Hotwire and Expedia.)
After you find a fare, see if Southwest, which lists its fares only on its Southwest.com website, has a better deal (remember that Southwest doesn't charge for the first two checked bags, so you need to factor that in as well as the fare). Southwest, too, has an excellent flexible date tool (look for "Low Fare Calendar" on the site's homepage).
And check out AllegiantAir.com to see if Allegiant Airlines flies where you're headed, since it, too, sells tickets only on its own website.
What if you're not flexible in your travel dates? The above-mentioned sites can be helpful in that case as well, but you also might want to try sites such as Kayak.com, Tripadvisor.com/Flights, and Momondo.com.
These are "meta search" fare sites, and although they don't offer quite the travel date flexibility as some others do, they often include fares that the airlines sell only on their own websites. None of them include Southwest's fares, however, or fares on the smaller but growing Allegiant Airlines.
Don't overlook online travel agencies (OTAs)
A lot of people swear by searching directly on airline websites rather than third-party sites such as Expedia, and I get this. But online travel agencies can sometimes do a better job. They'll let you know if the best deal is on a combination of airlines (say, going out on US Airways and coming back on United) and they also show the widest range of schedules and fares. Plus, they offer air-plus-hotel packages that can sometimes save you serious cash.
Don't overlook business-class fares to Europe this summer
Sounds crazy, but American Airlines last month had business-class fares to Europe for peak summer travel at prices lower than economy class for the same dates. (Oddly, Travelocity had these deals, and Kayak didn't.)
Airline websites sometimes have the best fares
Next stop: your airline's website. Increasingly, airlines aren't sharing their very best fares with third-party sites such as Orbitz and Kayak. Case in point: Recent fares to London from the West Coast for $420 round-trip, including tax, were available only on Spanish airline Iberia's website. (Similar fares were twice that elsewhere.) So once you've found a fare, definitely check airline sites directly rather than assuming your favorite third-party site will have all the best deals.
Watch for promo codes
See those little promo code boxes on your favorite airline's website? What's that all about? From time to time, you'll receive promo codes in your e-mail because you signed up for e-mail from your favorite airlines and online travel agencies. These codes can be redeemed only if you book directly on the airlines' websites, another way they try to build consumer loyalty and cut out the middleman.
Getting the best last-minute airfares
You'll often get the best fares if you book at least seven to 21 days ahead of departure. But what if you don't have that luxury? Other than the airlines' last-minute weekend fares, which you can find on their sites, your best bet is Priceline.com's "Name your own price" feature or Hotwire.com. Also take a look at Lastminute.com, which packages last-minute airfares with hotel and rental car deals. Amazingly, the cost of these packages is often less than what you'd pay for airfare alone.
When to use a real live travel agent
There is another way to find a low airfare, and it's one your mother probably used. Pick up the phone and call a local travel agent, the kind with a real storefront. As good as do-it-yourself online sources can be, your friendly neighborhood travel agent may have some tricks up her sleeve to save you money.
Let's say, for example, that you get an airfare alert that fares from Houston to Honolulu are $800 round-trip. But who knew that the same trip, same dates, from Dallas is $300? Or that you can fly from Houston to Dallas for $100 and connect onward? Travel agents also sell "consolidator" airfares, which are heavily discounted deals (mostly on international flights). These fares come with more restrictions but can save you money.
Brick-and-mortar travel agents often charge for their services, but they can also find you amazing package deals, and the savings can be tremendous.
Is there a "magic" hour or day to buy?
It's true that the airlines' weekend deals come out Monday to Wednesday, and some airlines announce their sales early in the week, but if you limit yourself to searching just on those days, you'll miss out.
A good fare can pop up literally any moment of the week. And if you search one minute or one day and the fare is way too high, don't despair. Come back an hour or two or a day or two later and search again. Not only do airfares change with the wind, but the number of seats offered at the lowest fares changes as well, based on supply and demand.
Best days to travel
Although a low airfare can pop up anytime, one thing's for certain: It's cheaper to fly on a Tuesday or Wednesday. Saturday is also a low-fare day. If traveling internationally, Monday to Wednesday is often the sweet spot.
FOLLOW THIS TOPIC