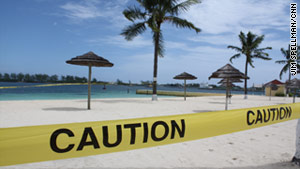 Police tape blocks a beach in in Nassau, Bahamas, on Thursday in preparation for Hurricane Irene.
STORY HIGHLIGHTS
Amtrak cancels train service south of Washington from Friday until Sunday
Airlines are allowing passengers to change plans as Hurricane Irene approaches
Mandatory evacuation order for Dare County, North Carolina, issued for tourists
Hurricane has forced more than a dozen cruise ships to change their itineraries
Editor's Note: Check out "Open Story: Hurricane Irene," a collaborative effort of CNN and iReport contributors who are documenting the storm as it moves across the Atlantic Ocean. Read more about Hurricane Irene from CNN affiliate WSAV.
(CNN) -- Travelers and airlines are casting a wary eye on the projected path of Hurricane Irene, getting ready to change plans if necessary as the storm gets closer to the United States.
The powerful storm battered the Bahamas on Thursday and is forecast to pound much of the U.S. East Coast starting early Saturday.
American Airlines cancelled 126 flights Thursday, mostly out of Miami and the Bahamas, an airline spokesman said.
Most carriers are allowing travelers in the Caribbean to change their itineraries without a fee, and those policies have been extended to parts of the United States. Airlines have posted travel waiver policies for the Caribbean and the East Coast on their websites.
Amtrak has canceled most train service operating south of Washington for Friday, Saturday and Sunday in anticipation of Hurricane Irene. Service in the Northeast corridor is not affected at this point, but more cancellations may be necessary in the coming days, Amtrak warned.
A mandatory evacuation order was in effect for residents and visitors in Hyde County, North Carolina, which includes Ocracoke Island on the Outer Banks.

Twitter Q&A for Hurricane Irene

U.S. military squares off with Irene

Hurricane Irene's impact on NYC

Charleston mayor worried about surge
Nearby Dare County, which includes Manteo, Nags Head, Duck and historic Kitty Hawk, had an evacuation order for tourists only. But state officials hope they will come back as soon as the storm passes.
"By late Sunday or Monday morning, North Carolina, with any good luck, will be open for tourism again," Gov. Bev Perdue said, according to CNN affiliate WRAL.
If you are planning to travel along the East Coast in the next few days, call your hotel and find out what its policies are in case you need to cancel, advised Anne Banas, executive editor at SmarterTravel.
Also keep on top of what your airline is doing, she said, especially because this kind of weather event is not considered to be within carriers' control.
"You don't want to be stranded at the airport," Banas said.
"The only thing you're entitled to in that situation is a refund. So if you're stranded at the airport, you're not necessarily going to get food vouchers or hotel vouchers."
To avoid getting stranded, check with your airline and consider rerouting or rescheduling your trip.
Major airlines -- including US Airways, American Airlines, United Airlines, Continental Airlines, Delta Air Lines, JetBlue, Southwest Airlines and Air Tran -- have dropped ticket change fees for passengers scheduled to fly to or from many cities along the East Coast this weekend.
Some airlines have extended change-fee waivers into early next week.
Irene affects cruises
The huge hurricane has forced more than 20 cruise ships to change their itineraries, CruiseCritic.com reported.
"We monitor the storms closely and make strategic changes to the itineraries to keep them away from the storm," said Jennifer de la Cruz, a Carnival spokeswoman.
"The nice thing ... is that there are a lot of destinations in the Caribbean, so we have lots of options."
Meanwhile, Royal Caribbean evacuated CocoCay, its private island resort in the Bahamas, the cruise line said on its blog.
Port calls are not expected to resume in Nassau and Grand Bahama Island until Saturday, the Bahamas Ministry of Tourism & Aviation said.
The dangerous storm has prompted the ministry to recommend "strongly" that people with plans to travel to the Bahamas in the next few days postpone their trips.
The Bahamas Hotel Association's hurricane cancellation policy is in effect for travelers who need to postpone or cancel their vacation in the islands. The policy allows vacationers either to use their deposits or payments toward a future stay at the same property or to request a full refund.
FOLLOW THIS TOPIC