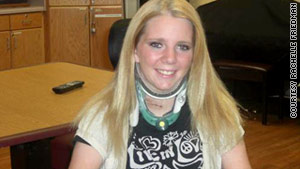 Rachelle Friedman, 25, was paralyzed after an injury at her bachelorette party 14 months ago.
STORY HIGHLIGHTS
Rachelle Friedman was paralyzed after injury at bachelorette party
Her best friend playfully pushed her into a swimming pool; she sustained a spinal injury
She has maintained a close friendship with her best friend
She and Chris Chapman will marry Friday
(CNN) -- Fourteen months after she was left paralyzed by a pool mishap at her bachelorette party, Rachelle Friedman is having the wedding of her dreams Friday -- and then some.
Joining Friedman and fiance Chris Chapman will be between 100 and 120 family members and their closest friends, witnesses to the couple's can-do spirit.
"It just feels like a love story to people," said Rachelle's mother, Carol. "They are really great together."
Wednesday was a day of continued wedding preparations for Friedman, 25, of Knightdale, North Carolina, just east of Raleigh.
The quadriplegic in recent weeks has practiced for the couple's first dance, a special moment even if she will be in her wheelchair. Friedman's father, Larry, will push her down the aisle, so that she can hold a bridal bouquet as she approaches Chapman, 28.
"I can't compare our relationship to anyone else," she said. "I am super lucky to find that perfect love I wish everyone had."
For Friedman, life is about moving forward and gaining increased independence.
When asked how the accident changed her life, the bride-to-be says, "I don't really think about what would have been."
Friedman and Chapman, a middle school science teacher, were to wed June 27, 2010.
In late May, Friedman, who was a program coordinator for a senior citizens center, traveled to their hometown of Virginia Beach, Virginia, for her bachelorette party.
Bridesmaids enjoyed a cookout and a limousine ride to the entertainment strip with bridesmaids. "We had a really good time," the East Carolina University graduate said in November.
Afterward, the group went to her best friend's home, where they started playing around near the pool.
"It was just spontaneous horseplay," said Friedman, a former dance and aerobics dancer. Her best friend "pushed me, and I landed wrong."
The young woman's head struck the bottom of the pool, which had a few feet of water in it.
Friedman, who suffered a spinal cord injury and paralysis from the chest down, has remained close to the friend through the trauma each suffered.
"We're there for each other," Friedman said. "It could easily have been the other way around."
Chapman and Friedman put off the wedding during her initial rehabilitation and while they tried to figure out medical coverage. They were concerned that she may not qualify for Medicaid if she married, but they since learned she was ineligible.
A $500-a-month COBRA policy and long-term disability have helped. Individuals, businesses and foundations have provided other assistance.
After CNN wrote about the couple and HLN's Vinnie's Politan interviewed Friedman, a wedding and honeymoon planning company approached the couple.
"It blew me away, how upbeat and positive she is," said Donne Kerestic, CEO of 1-800-Registry, based in Nevada.
Working with vendors and two wedding planners, Kerestic's company is paying for Friedman's wedding and the couple's honeymoon in Fiji. 1-800-Registry is incurring between $50,000 and $60,000 in costs, Kerestic said Wednesday.
Chapman and Friedman will exchange vows at 11 a.m. Friday at Fearrington Village in Pittsboro, North Carolina.
The complex, which features an inn, restaurant and other features, has an upscale rural theme.
Friedman, who likes country music, is excited about having a band and deejay at the reception, planned at a large barn. She'll be wearing the same dress she planned to wear last summer.
"It's perfect," she said of the nuptial plans.
While she still has dreams of being able to walk one day, Friedman focuses now on increasing her strength and possibly regaining feeling in her hands. She's been working on her ability to "transfer" herself into bed or a car. She uses her thumbs to type on a keyboard.
The recreation management major plays wheelchair "quad rugby" for the Raleigh Sidewinders and has spoken at several venues, including an adaptive sports and wellness day, where people with disabilities were exposed to sports like kayaking, basketball and rugby.
Carol Friedman and Rachelle's 32-year-old brother help her during the week while Chapman is at work.
Besides paralysis, Friedman deals with nerve pain and blood pressure problems.
The past year has tested the couple's mettle.
"We're definitely built to last," Chapman said in November. "She was and is my best friend. I cannot wait to marry her."
The accident introduced them to new friends and brought their families closer together.
A page on a website called CaringBridge.org features photos of Friedman and has a guestbook full of best-wishes entries.
"You have such a wonderful outlook," one person wrote. "I have been through many trials and tribulations in my life and what you said hits the mark. ... You can make you(r) world perfect, different but perfect.''
Excited about being able to lie on the beach in Fiji, Friedman also anticipates three weeks of treatment at Project Walk, a facility in Carlsbad, California, that helps people with spinal cord injuries.
The Walking With Anthony Foundation is covering the costs for Rachelle and Carol Friedman, said Gigi Betancourt, client services manager at Project Walk.
The nonprofit center's aim is helping patients improve their function below their injury level, build strength and find hope, said Eric Harness, head of research and development. Patients do exercises outside of their wheelchairs.
Friedman would eventually like to return to work, perhaps encouraging others as a speaker.
"Rachelle is a very motivated person," said Miranda Strider-Allen, program director at Resources for Seniors, where Friedman helped provide services to Wake County senior and disabled adults. "It's amazing -- her frame of mind and positive attitude."
"My hope is she finds her new niche in life," Carol Friedman said of her daughter.
"It's so awesome that they give to live as husband and wife, like everyone should, with or without a disability," Carol Friedman said. "So many people have it so much worse than we do."