STORY HIGHLIGHTS
Americans describe seeing history unfold while in Egypt
Devon Youngblood: People weren't sure what to expect when protests began
More than 2,600 Americans ask to be evacuated
"You're caught in something for which you have no control," tourist says
(CNN) -- It was Tuesday, January 25. Word had spread for days through the streets of Cairo that there would be protests. No one knew exactly what to expect.
Riot police lined the streets around Tahrir Square. Roads were blocked. Police kept people from gathering into a crowd.
Devon Youngblood, a 22-year-old American who had been working since August at an art gallery, showed up near the square around 2 p.m. She was curious to see how many people would gather.
"Most people I talked with were pessimistic," she said. "They didn't think people would show up."
She encountered an enthusiastic crowd. At one point, a large group of cheering protesters broke through the police line and into the square. People scaled gates. Police lobbed tear gas and used water cannons. But the crowd would not be moved.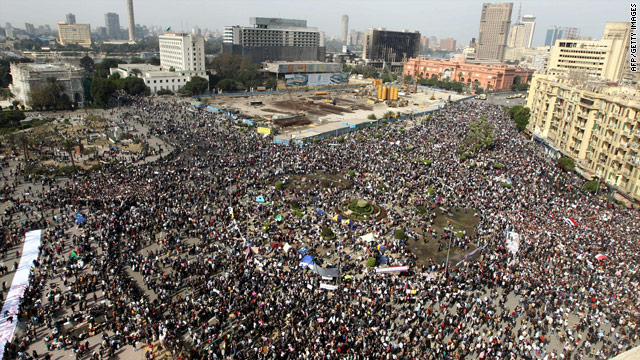 Gallery: Protesters take to the streets

Mobilized against Mubarak

American vows to stay in Egypt

The evolution of Egypt's protests
So began the international crisis still unfolding in Egypt. Several Americans who made it out of the country shared their experiences with CNN; their stories provide a front-row seat to history in a nation where communication with the outside world is spotty at best.
A curfew went into effect at 3 p.m. Tuesday and extends until 8 a.m. Wednesday. The internet has been shut down, as has phone service.
The turmoil has paralyzed daily life in other ways, with food shipments spare and many groceries closed. Gas is running low in some areas, and many banks have closed. Nile TV has set up a hotline for citizens to call in and report bread shortages.
International leaders are monitoring the situation closely. Amid the chaotic street scenes, foreign governments -- including Australia, Canada, China, India, Israel, Mexico, Russia and the United States -- have launched evacuation efforts to get their citizens out.
About 52,000 Americans are believed to be in Egypt. More than 2,600 have asked to be evacuated, a figure expected to rise in coming days.
The Americans who left Egypt were students and tourists -- all sharing a passion for Egypt.
In Alexandria, Tik Root, a student from Middlebury College, had returned to Egypt in mid-January to continue his studies in Arabic. Like many U.S. students, he left with a mix of emotions: excited, happy and concerned for the Egyptian people.
Diane and Gaynor Kelley of Chicago were concluding a dream vacation, a cruise down the Nile River. The couple said they feel lucky to be alive but remain concerned for the Egyptians who helped them escape. One of their tour guides was shot.
Taking it to the streets
Youngblood left work early last Wednesday, the first day after the protests began. Residents still seemed in awe: "Wow, people really came together."
But word spread that police were going to crack down and make sweeping arrests of people on the streets. Many felt it was best to leave before the clashes intensified.
As she walked downtown, Youngblood said she was struck by the silence in the city of 8 million. Downtown was abandoned: "It was really surreal because Cairo is not a quiet place."
She continued on, still unsure if the unrest would build and what could come next.
By Thursday, Facebook and Twitter were silenced. Then, text messaging was shut down. By nightfall, residents were cut off from the internet and phone service.
"The motivations behind it were scarier than the actual lack of information," Youngblood said.
Egyptians prepared to take to the streets en masse the next morning. On Thursday night, Youngblood's friends began referring to the movement as a revolution.
"It hadn't really hit me until then that people were thinking of this as a revolution," she told CNN. "I had thought of this as a string of protests and people just wanting to protest. I wasn't sure what direction people really knew they wanted to take it."
With communication limited, people worried: What is the government planning if they're cutting off access to the outside world?

Google connects Egyptians to Twitter

Egypt unites, tells Mubarak 'go'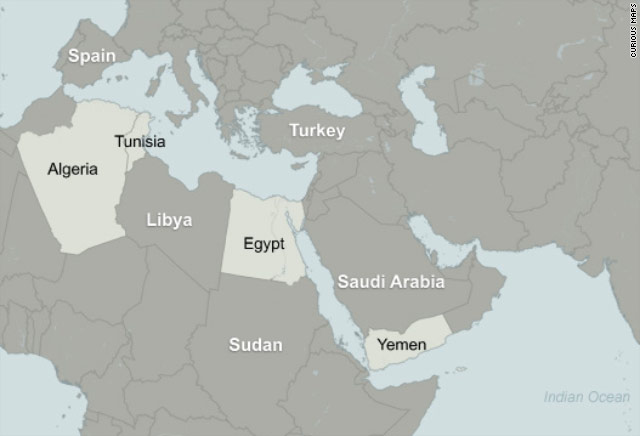 At a glance: Nations facing unrest
The streets erupted in protest Friday.
Root, the student from Middlebury, stood in the middle of the madness in Alexandria. A government building was burned. Police stations torched.
Police fired rubber bullets and launched tear gas canisters. "I saw people coming back bloodied from the front lines," he said.
At times, a wave of anti-Americanism swept through the crowd. One man picked up a spent tear gas canister. He held it up for all to see. "Made in America," it said.
If people asked, Root decided to tell people he was from Mexico. To survive, it seemed the right thing to say.
By Saturday, police were gone. Ordinary citizens had taken over. They were directing traffic and setting up neighborhood watches to prevent looting.
"It was one of the coolest things I've seen in my life," Root said.
Scary end to Nile cruise
The Kelleys had been isolated on their cruise down the Nile. They had heard rumblings of something going on but didn't know quite what.
The vacation was wrapping up. They caught a flight into Cairo. Their tour guide remained confident they would be safe.
When they arrived, no other flights were taking off. The couple, and the rest of the tour group, were stranded and cut off from the outside world.
"You're caught in something for which you have no control whatsoever of your own destiny," Gaynor Kelley said.
Their Egyptian hosts, with the Abercrombie & Kent tour group, helped make sure they were safe. They got them food and put them up in a hotel while working around-the-clock to see how the group could leave the country.
The father of one of their Egyptian guides was shot as the group made its way to the airport. The Kelleys haven't heard any updates on his condition.
"Our last day getting to the airport was the scariest," Diane Kelley recalled.
Military police were stopping cars at roadblocks set up outside the airport. Gunshots could be heard in the distance.
She said she thought about the recent bombing at the airport in Moscow. The Egyptian tour guides offered constant reassurance.
Once inside the airport, flight after flight was canceled.
Gaynor Kelley had a sinking feeling: Will I ever make it back home?
"You sort of begin to lose confidence that you're ever going to get out," he said.
The decision to go
For Youngblood, leaving the country was agonizing. She didn't realize how many friends she had made since August until it was time to say good-bye.
But by Saturday night, she said she knew it was time to go as the streets became more chaotic. Citizens were setting up their own neighborhood watches. Outside her building, men stood guard with thick plastic pipes. She was armed with one too, inside her apartment.
"That's when it hit me that I should get out."
She caught a flight Monday to Athens, Greece. She said she plans to return to Cairo as soon as it's safe again.
Root is still trying to absorb all that's transpired in the last week. "I don't think anyone's been able to process what has happened," he said, just before leaving for Europe.
As a college student, he's learned more in a week than most get in a semester. "This has been a very great and meaningful experience. It's taught me a lot about Egyptian politics, the Mideast and revolutions."
The Kelleys are left wondering about the folks who got them out of the country.
"I am thinking how grateful I am of the Egyptian people who helped us," Diane Kelley said. "I'm feeling very sorry for the conditions that they're in. I'm feeling very sorry that their homes are being looted, that their families aren't safe. These people helped us."
FOLLOW THIS TOPIC