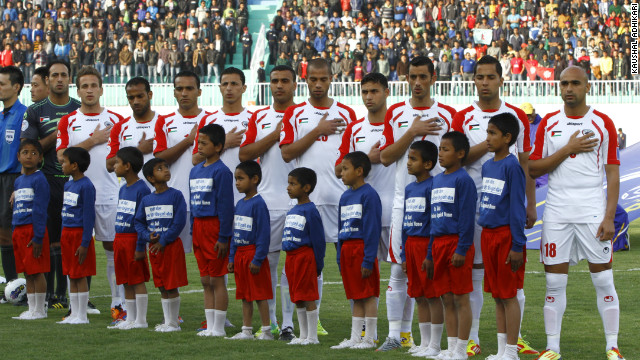 Palestine is one of 208 members of global football's governing body FIFA and is competing at the eight-team AFC Challenge Cup in Nepal.
Palestine took on Nepal in opening game of the AFC Challenge Cup on Thursday. The winner of the tournament will earn a place at the 2015 Asian Cup in Australia.
The Palestinian team celebrate their first goal against Nepal with members of the coaching staff on the touchline. Palestine won the match 2-0.
FIFA president Sepp Blatter pictured in Nepal on Thursday. He is seen here with Nepalese Prime Minister Baburam Bhattarai.
'The national team without a nation'
Advancing to Australia
Challenge Cup celebrations
Presidential visit
STORY HIGHLIGHTS
Palestine national team wins opening game of AFC Challenge Cup in Kathmandu
Alla Attya and Fahed Attal score in 2-0 victory over host team Nepal on Thursday
Palestine playing in the biennial Asian tournament for the first time this year
Its squad is weakened by the absence of Palestine's Europe-based players
Nepal (CNN) -- When the 11 members of the Palestine football team walked out on the pitch of the Dashrath Stadium on Thursday to play host side Nepal, probably only a small fraction of the 17,000 spectators knew that their country was playing against another that does not even exist in the conventional sense.
They could be forgiven for that. After all the AFC Challenge Cup, a tournament of eight second-tier Asian countries, is a tournament of national teams.
"We are a national team without a nation," says the Palestine team's manager Abdallah Alfaraa.
But Palestine is one of world football body FIFA's 208 member associations, and among 46 in the Asian Football Confederation. It has a professional league, FIFA-approved stadiums and players who ply their trade in Europe, South America and Africa, plus Saudi Arabia. And its national coach comes from Jordan.
"For us it is very important to be in the Challenge Cup," Alfaraa says. "Football is a way of telling the world that we are human and we want to get our freedom."
We have waited 64 years for our freedom. We can't wait any longer. We can live with Israel
Palestine team manager Abdallah Alfaraa
To highlight the power of football, FIFA president Sepp Blatter launched the tournament jointly with Nepal's Prime Minister Baburam Bhattarai by telling the crowd that the sport has no borders.
"Please give a welcome to the Palestine team," Blatter continued, drawing resounding applause from the Nepali spectators.
Palestine may not have felt that welcome at the end of the match, which Nepal lost 0-2 as Alla Attya scored the first goal in the fourth minute and Fahed Attal netted the second in the 65th.
The Palestinian territories' internal political problems -- with the West Bank on one side and Gaza on the other, separated by Israel in between -- are reflected in the way football is run.
The Palestinian professional league of 12 teams is limited to the West Bank. "Because of the political problems we face with Hamas (which controls Gaza) we don't have a league there," Alfaraa says.
In order to use football further as a tool for freedom and political messaging, the Palestine Football Association is organizing an international tournament in May this year to coincide with the anniversary of Nakba Day -- May 15, the day Palestinians call their "day of catastrophe."
That is the day Israel declared independence in 1948 amid a war with Arab armies.
The May tournament hopes to attract 11 other teams, Alfaraa said. The Italian Olympic team and national sides from Iraq, Vietnam, Tanzania, Mauritania, Bahrain, Jordan and Tunisia have already confirmed participation, while talks are under way with three countries, he said.
We are now playing football under occupation. We want peace
Palestine coach coach Jamal Mahmoud
It would be the third international tournament with Palestine participation. Its proudest football moment so far has been placing fourth at the 2011 Arab Games.
Although this is the first time it is participating in the biennial AFC Challenge Cup, being staged for the fourth time, Palestine has set high goals. "We are here to win," says coach Jamal Mahmoud. "Our team is very strong."
The winner of the tournament, which also includes North Korea -- a qualifier for the 2010 World Cup finals in South Africa -- will get an automatic place in the 2015 edition of the 16-nation Asian Cup.
"Our dream for the Palestinian people is to play in the Asian Cup in Australia in 2015," Alfaraa says.
With Thursday's win, they are a step closer. A win against Turkmenistan -- described by Mahmoud as a "very strong" team -- will seal Palestine's place in the semifinals.
But with the European leagues not releasing Palestine's players, and former winners like India and Tajikistan also competing, overall victory could be a tough task. The North Koreans, meanwhile, are considered favorites to defend their title.
And freedom? "We have waited 64 years for our freedom," Alfaraa says. "We hope to get it soon. We can't wait any longer. We can live with Israel."
Mahmoud adds: "We are now playing football under occupation. We want peace."