200-year-old shipwreck discovered in northern Gulf of Mexico
updated 4:11 PM EDT, Thu May 17, 2012
STORY HIGHLIGHTS
Scientists believe the wooden shipwreck dates back to the 19th century
A rare type of stove, cannons and stacked muskets were on the ship
Exploration used new technology
The wreck was originally detected during an oil-and-gas survey by Shell
(CNN) -- A wooden ship believed to be over 200 years old was discovered during a recent exploration of the northern Gulf of Mexico, according to a press release from the U.S. National Oceanic and Atmospheric Administration (NOAA).
Scientists were able to view the remains of "anchors, navigational instruments, glass bottles, ceramic plates, cannons, and boxes of muskets" aboard the ship, NOAA stated.
Shipwreck found on Gulf floor while thousands watched
"Artifacts in and around the wreck and the hull's copper sheathing may date the vessel to the early to mid-19th century," said Jack Irion, a maritime archaeologist with the Interior Department's Bureau of Ocean Energy Management.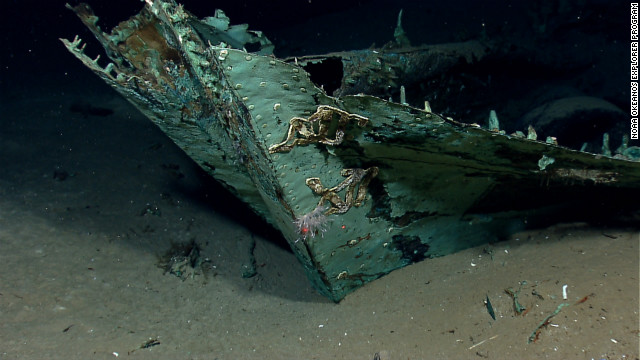 Images of a shipwreck found in the Gulf of Mexico showed that its wooden construction has been destroyed by underwater organisms, but copper sheeting that protected the ship's hull also helped it retain its shape.
Artifacts discovered at the wreck site included ceramic plates, platters, and bowls. A wide variety of glass bottles for liquor, wine, medicine and food were also found -- including some of their original contents.
An anemone rests on a collection of muskets that belonged to the ship. These weapons could indicate what the ship was used for and where it was going.
Intriguing sealife was also discovered during the expedition, like this octocoral. Nearly 80,000 people participated in the NOAA expedition through telepresence technology over the course of a few weeks.
NOAA's Seirios Camera Platform, operating above the Little Hercules ROV, images the shipwreck and its remnants, including its anchor.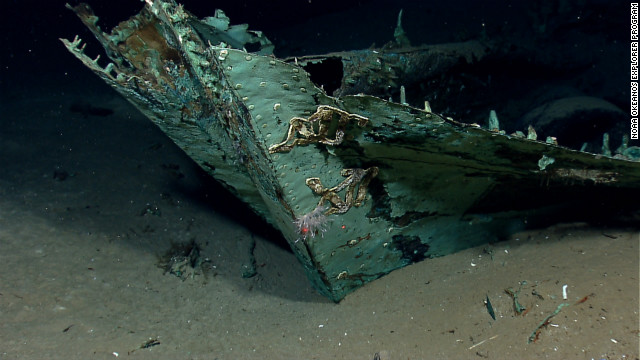 "Some of the more datable objects include what appears to be a type of ceramic plate that was popular between 1800 and 1830, and a wide variety of glass bottles. A rare ship's stove on the site is one of only a handful of surviving examples in the world and the second one found on a shipwreck in the Gulf of Mexico."
Scientists aboard the NOAA ship "Okeanos Explorer" were able to view the wreckage using advanced multi-beam mapping sonar technology and a remotely operated underwater vehicle, named "Little Hercules." Little Hercules made 29 dives during the 56-day mission in March and April, according to NOAA.
The Bureau of Ocean Energy Management requested that NOAA investigate the site after it was originally detected as an "unknown sonar contact" by Shell Oil Company during a 2011 oil and gas survey of the Gulf, government officials said.
The expedition also used "telepresence" technology that allowed scientists and citizens on shore to partake in the exploration via the Internet as it happened. According to daily logs posted on NOAA's website, others followed the exploration remotely using e-mail, on-line chat rooms, video streams, and file transfer sites to exchange information.
"Shipwrecks help to fill in some of the unwritten pages of history," said Frank Cantelas, a maritime archaeologist with NOAA's Office of Ocean Exploration and Research. "We explored four shipwrecks during this expedition and I believe this wreck was by far the most interesting and historic."
The shipwreck site was located approximately 200 miles off the U.S. Gulf coast in water that was over 4,000 feet deep, according NOAA. Until now, the area has been relatively unexplored.

Part of complete coverage on
MainSail
updated 6:39 AM EDT, Wed May 15, 2013

Sailing around the world is one of the most grueling challenges on the planet, with muscle-bound skippers steering 20-meter yachts through everything from tropical cyclones to Antarctic storms.
updated 10:42 AM EDT, Thu May 9, 2013

For centuries, lighthouses have illuminated the most treacherous coastlines in the world, offering a beacon of hope to sailors in the depths of darkness.
updated 5:31 AM EDT, Tue May 7, 2013

Silently huddled on the water's edge, waiting hours on end for a hint of action, may not be everyone's idea of a pleasurable pastime.
updated 7:58 AM EDT, Thu April 25, 2013

Richard Branson's 1986 speedboat has been found in a Spanish boatyard and is being restored to its former glory.
updated 6:57 AM EDT, Wed March 13, 2013

Perfect for guests wanting water views with the convenience of dry land, our top 5 'boatels' include a WWII submarine and 1960s lifeboat.
updated 8:35 AM EDT, Wed March 13, 2013

A series of haunting photographs of an imagined underwater world make up the first ever underwater gallery aboard a sunken ship.
updated 6:37 AM EST, Tue March 5, 2013

Is this history rewritten? Ex-Royal Navy officer embarks on a voyage to prove that Phoenicians could have beaten Columbus by 2000 years
updated 1:36 PM EST, Thu February 7, 2013

As MainSail prepares for the unveiling of the longest yacht ever made, we find out whether there's any limit to how big a boatmaker will go.
updated 9:22 AM EST, Thu January 31, 2013

Featuring glaciers, barren cliffs, rugged shorelines and savage sea swells, these are the seven deadly islands of the world.
updated 12:50 PM EST, Thu January 31, 2013

A group of Australian explorers emulate Shackleton's epic survival journey, using almost exactly the same equipment and rations.
updated 6:10 AM EST, Fri January 18, 2013

Hackerfleet is a collective of volunteer computer hackers and programmers crafting a new generation of sailing software in the middle of the ocean.
updated 6:27 AM EST, Fri January 11, 2013

Bolivia, Russia, Holland and Switzerland, just where are the world's most awe-inspiring lake-sailing destinations? CNN finds out.
updated 7:15 AM EST, Fri December 21, 2012

For the traveling sailor, finding a partner willing to give up everything to jump aboard, is a tall ask. That's why many lonely-hearted sea-lovers are turning to the internet.
updated 10:32 PM EST, Wed November 28, 2012

When faced with ferocious waves, most people would seek protection in the sturdiest vessel they could find. But not 73-year-old Sven Yrvind.