Ship to explore new frontiers of design and oceanography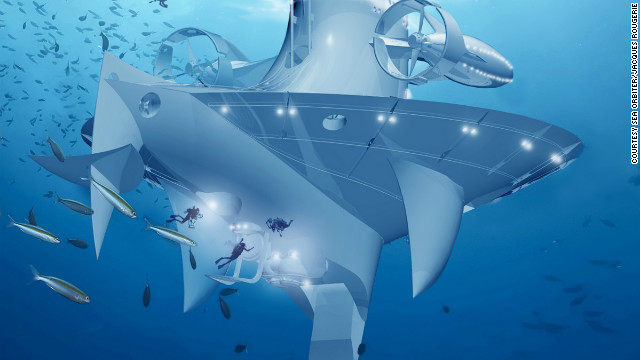 The SeaOrbiter is a 12-year project designed by architect Jacques Rougerie. Building of the unique live-aboard, ocean-going vessel is set to begin later this year.
Designed to drift with ocean currents, it will also have an onboard power supply to avoid collisions and storms generated by renewable energy.
When built the vessel will be 58 meters in height with around 50% of it underwater.
It will have room for around 18 scientists to live and study the ocean.
The cost of building the ship is estimated to be around $43.
A 1:15 scale model of the SeaOrbiter is currently on display at Expo 2012 in Yeosu, South Korea.
A 'Nautilus' for the 21st century
Rising from the deep
Capturing the spirit of exploration
A new frontier for oceanography
Studying the seas
SeaOrbiter in scale
STORY HIGHLIGHTS
SeaOrbiter is a unique, ocean-going research vessel
The vessel is designed by French architect Jacques Rougerie
Building of 58-meter tall ship due to begin in October
(CNN) -- It could be an alien spacecraft or a 21st century version of Captain Nemo's Nautilus from Jules Verne "20,000 Leagues Under the Sea," but in fact it's a live-aboard, ocean-going laboratory that could be exploring the seas as soon as late next year.
Called the SeaOrbiter, the part submarine, part research vessel is the concept of French architect Jacques Rougerie. Currently the centerpiece of France's pavilion at Expo 2012 in Yeosu, South Korea, it has spent almost 12 years floating around as a mere concept. It recently completed its industrial design phase and construction is slated for October this year.
"All technical issues are resolved, all the modeling is done," says Ariel Fuchs, education and media director of the SeaOrbiter project. "We gathered institutional and industrial support five or six years ago and it's been a real institutional and financial project for the last two years."
It is expected to cost around $43 million and when built, will be 58-meters in height, taller than Nelson's Column, a monument in London. When launched, around 50% of the vessel will be below the water line, allowing for constant underwater study, Fuchs says.
It's designed to explore the ocean in a new way, mainly spending time under the sea.
Ariel Fuchs, SeaOrbiter project
"One of the first users will be the science community," he says. "It's designed to explore the ocean in a new way, mainly spending time under the sea, giving people the opportunity to live under the sea for a very long time, to observe, to undertake research missions, like marine biology, oceanography and climate issues."
Rougerie's inspiration for SeaOrbiter comes from ocean explorers like Jacques Cousteau and the experimental Tektite underwater capsule laboratory that was used by oceanographer Sylvia Earle in 1969.
Earle is one of many vocal supporters of the SeaOrbiter project; others include former NASA Administrator Dan Goldin and astronaut Jean-Loup Chretien. The space connection doesn't stop there as SeaOrbiter has enlisted the support of the European Space Agency and other industrial organizations to help develop the technology needed for the ambitious project and its onboard systems.
Designed to drift with ocean currents, the vessel will generate the majority of its power for life-support systems and propulsion to avoid other ships and storms from renewable energy, including solar, wind and wave power, Fuchs says. A side project is underway in conjunction with EADS, the European defense and space systems conglomerate, to develop a biofuel as the ship's main power source.
"It meets the requirements of today's philosophy of sustainability," Fuchs says.
When built, the ship is expected to go to Monaco -- the same place where Jacques Cousteau began his missions.
"The larger education plan is explaining how important the oceans are in to the balance of the planet," says Fuchs.

Part of complete coverage on
updated 9:30 PM EST, Sun January 20, 2013

Patricia Wu looks at efforts to combat food waste in Hong Kong.
updated 9:33 PM EST, Sun January 13, 2013

CNN's Pauline Chiou goes to Hong Kong's annual toy fair to find out about the growing market for eco-friendly toys.
updated 11:15 PM EST, Sun December 30, 2012

CNN's Liz Neisloss reports on a roof that is only a sample of the greening of Singapore's skyline.
updated 9:16 PM EST, Tue December 18, 2012

A dam project in Cambodia could destroy livelihoods and ecosystems, says Conservation International
updated 10:22 PM EST, Mon December 17, 2012

Shipping lines, port authorities and technology companies are taking the initiative to go green and reduce costs.
updated 9:06 PM EST, Sun December 9, 2012

Less than 20 miles from Singapore's skyscrapers is a completely different set of high-rise towers.
updated 6:04 AM EST, Thu December 6, 2012

The Pitcairn Islands might only have 55 human inhabitants, but the waters surrounding them are teeming with marine life.
updated 10:22 PM EST, Sun December 2, 2012

Biofuel made from sugar cane waste in Brazil could revolutionize the global energy industry.
updated 9:58 PM EST, Sun November 25, 2012

Many believe that fuel-cell cars will overtake electric vehicles in the near future.
updated 3:20 AM EST, Mon November 19, 2012

Modern and sustainable buildings in the UAE are taking cues from an ancient Arabic design tradition.
updated 11:09 PM EST, Sun November 11, 2012

One man's artistic vision is distracting divers from Cancun's threatened underwater ecosystem.
updated 12:46 PM EST, Mon November 12, 2012

Lake Victoria, Africa's largest lake, has been plagued by water hyacinth plants for over two decades.

Just how much are natural wonders like the Great Barrier Reef worth in monetary terms?