Carlotta weakens to tropical depression over Mexican mountains
updated 11:37 AM EDT, Sat June 16, 2012
STORY HIGHLIGHTS
NEW: Carlotta weakens to a tropical depression
Two girls are killed and their mother critically injured after their house collapses
A tropical storm warning is in effect for parts of Mexico's southern Pacific coast
Editor's note: Are you there? Share your images (if it is safe to do so) with CNN iReport.
(CNN) -- A storm over southwestern Mexico weakened further Saturday to a tropical depression, the National Hurricane Center said.
Carlotta was expected to continue to drench the area for another day or two, but all warnings and watches were discontinued.
The tropical depression was located about 50 miles (80 kilometers) north-northeast of the resort town of Acapulco, the center said in its 11 a.m ET advisory.
It was moving toward the northwest at about 12 mph (19 kph), and the depression or its remnants would "meander" in the area for up to two days, the hurricane center said.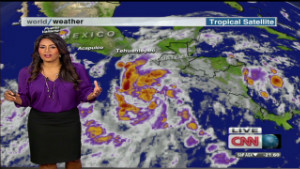 Tropical weather update
At least two children were killed when Carlotta slammed southern Mexico at hurricane strength, unleashing fierce winds and dumping intense rains over Oaxaca state.
The storm destroyed a clay house Friday night in Pluma Hidalgo, killing a 13-year-old girl and her 7-year-old sister, said Cynthia Tobar, a spokeswoman for Mexico's civil protection agency.
The girls' mother was seriously injured and taken to a hospital in the city of Huatulco, Tobar said.
According to preliminary reports, Carlotta ripped off the roofs of homes and caused widespread power outages and small landslides, Tobar said. Authorities will survey the area once daylight comes and and the weather conditions are favorable.
In the mountain community of Pluma Hidalgo, about 1,200 people are in shelters, Tobar said. Many more evacuated to stay with relatives or friends, she said.
Carlotta is expected to leave total rainfall accumulations of 4 to 8 inches through Monday over parts of southern Mexico, with as much as 15 inches of rain in isolated areas, the hurricane center said.
"These rains could cause life-threatening flash floods and mudslides," the hurricane center said.

Part of complete coverage on
Superstorm Sandy
updated 8:17 AM EST, Mon November 5, 2012

A mother learns that her newborn is part of a hospital evacuation. Facebook posts from a member of the HMS Bounty turn ominous. A man worries about the wind and rain, but another force of nature hits home.
updated 2:53 PM EST, Thu November 29, 2012

Tourists become volunteer rescue workers. The connected provide power outlets and Wi-Fi. Performers lift spirits. Photographers preserve images. Doctors work overtime to keep hospitals running and patients alive.

Get to know the victims of Superstorm Sandy through our interactive feature.
updated 10:42 AM EST, Fri November 30, 2012

It has been in operation only since October 30, but the Facebook page for "Giving back to those affected by Sandy" has a longer timeline than most Facebook members.
updated 3:07 PM EST, Sun November 25, 2012

It's important to remember that even as the effect of Superstorm Sandy recedes from the news, there are still devastated areas that are without electricity, heat or hot water.
updated 11:46 AM EST, Sat November 24, 2012

The rapper 50 Cent brought a little holiday cheer and Thanksgiving food to New Yorkers hit hard by Superstorm Sandy.
updated 12:10 PM EST, Wed November 21, 2012

Our AmeriCares "Operation Muck-Out" team immediately got to work, ripping out the interior walls and removing the insulation until only wooden beams were standing.
updated 12:19 PM EST, Tue November 20, 2012

Ashley Murray became the first female president of Liberty Industrial Gases and Welding Supplies Inc. in Brooklyn. But now the family history Murray was charged with preserving is at risk of ending after Superstorm Sandy.

Truckloads of donations from across the country, carrying everything from bottled water to diapers, are arriving at places of worship.
updated 12:16 PM EST, Tue November 20, 2012

The adage says "a picture is worth a thousand words," but when Leeann Lewandowski happened upon a photograph of her late mother on Facebook after her home was destroyed in Superstorm Sandy, she was speechless.
updated 12:52 PM EDT, Fri November 2, 2012

Roots ripped out of the ground as a large oak tree fell toward Olga Raymond's front door. With it came a power line.

iReporters share their photos, videos and stories of living in the path of the superstorm.