'Brave's' Merida and other animated heroines
updated 8:47 AM EDT, Fri June 22, 2012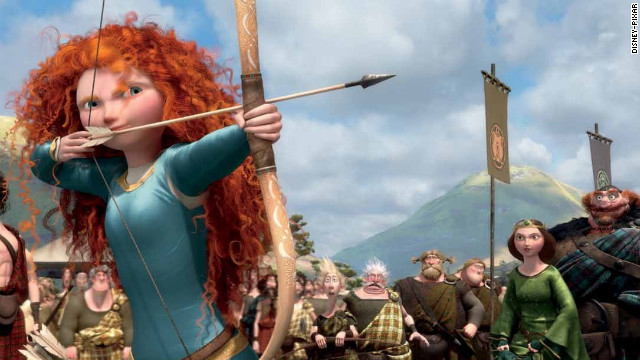 Merida, a Scottish princess, sets out to break her family's curse in Disney-Pixar's "Brave." The skilled archer joins a growing list of animated females who would have been just fine without Prince Charming's help. (Not that there's anything wrong with a little animated eye candy.) Check out our short list of movie heroines and add your favorite in the comments below:
So what if "Tangled's" Rapunzel defends herself with a frying pan and holds prisoners captive with her long, magical hair?
She might have traded her voice in for a pair of stems, but "The Little Mermaid's" Ariel was still one tough chick. Would you disobey your pop if he carried a triton that granted him unlimited power? Didn't think so.
Helen "Elastigirl" Parr and her daughter, Violet, fight alongside the rest of the Incredible family to defeat Syndrome in 2004's "The Incredibles."
Belle is literate and brave. She takes care of her father, fends off an arrogant hunk and teaches table manners to an enchanted prince in 1991's "Beauty and the Beast."
"Finding Nemo's" Dory might suffer from short-term memory loss, but the brave little regal tang wasn't afraid to stand up to sharks, jellyfish and whales on the way to P. Sherman, 42 Wallaby Way, Sydney.
Despite being abandoned by her former owner, "Toy Story's" Jessie is upbeat and ready for action. She even gives Woody and Buzz Lightyear a run for their money.
Merida
Rapunzel
Mulan
Ariel
Helen "Elastigirl" Parr and Violet Parr
Belle
Dory
Jessie