New Hong Kong leader chased from town hall meeting
updated 6:07 AM EDT, Tue July 3, 2012
STORY HIGHLIGHTS
Hong Kong's new chief executive chased out of town hall meeting by protesters
Incident part of continuing backlash again CE's appointment
Thousands of protesters flooded Hong Kong's streets following Sunday inauguration ceremony
Fears of Chinese central government's influence into city's affairs underlying backlash
(CNN) -- On only his second day in office on Monday, Hong Kong's chief executive was chased out of a town hall meeting by protesters, in a continuation of the widespread backlash against his appointment, according to local media reports.
As the forum at a community center was drawing to a close, dozens of young protesters began to shout and hold up placards accusing Leung Chun-ying of putting on a "political show."
Police escorted Leung out of the building and formed a human chain to clear a path to his car, which was swamped by protesters.
The meeting, held in Tuen Mun district, was the first of six district visits planned for Leung to meet residents and discuss issues of concern in a public forum. It followed Leung's promise to improve communication with the public.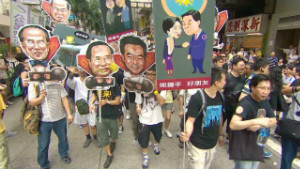 Hong Kong anniversary prompts protests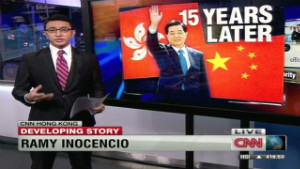 Hu marks Hong Kong handover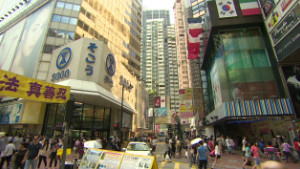 Open Mic: Hong Kong's identity
Following his inauguration on Sunday, 400,000 protesters flooded the streets for the city's annual July 1 protest, in heightened numbers not seen since the turnout of 500,000 at the 2003 march, according to protest organizers. Police estimates of crowd numbers were much lower at 63,000.
Read about Hong Kong's mass protest on July 1
Leung's appointment, which was sealed by an elite 1,200-member committee with the Chinese central government's blessing in March, topped citizens' list of ongoing grievances. Sunday's protest was dominated by chants for Leung to step down, dotted with banners and costumes mocking his credibility.
Leung has come under fire most recently for six illegal building structures discovered at his home, which he claimed were installed by a previous tenant. He has also been accused of taking a hard-line approach on public freedoms and being a secret member of the Chinese Communist Party, allegations which he has denied. The backlash against Leung is a microcosm of the city's frustration over a lack of universal suffrage, amid fears of Beijing's encroachment into the city's affairs and freedoms.

Part of complete coverage on
updated 1:21 AM EDT, Wed May 22, 2013

A quarter century after his death, American pop artist Andy Warhol has popped up in China again after his first and only trip to the country in 1982.
updated 10:25 PM EDT, Wed May 15, 2013

This month, "On China" host Kristie Lu Stout speaks to guests about China's contemporary art scene.
updated 9:07 PM EDT, Wed May 15, 2013

Who is the world's third biggest smartphone maker? BlackBerry? Guess again. HTC? Nope. It's China's Huawei.
updated 8:24 AM EDT, Wed May 8, 2013

CNNGo heads to the capital of China's Sichuan province where numbing peppers rule.
updated 8:16 PM EDT, Wed May 8, 2013

The poisoning of Zhu Ling, a college sophomore in Beijing almost two decades ago, has ignited an emotional debate in China.
updated 6:53 PM EDT, Tue May 7, 2013

80-year-old Chinese war veteran Duan Keke fought for North Korea in the Korean War. He believes China will prevent war with North Korea.
updated 10:59 PM EDT, Tue April 30, 2013

The Communist party has become an exclusive club for China's elite, and some say its youngest members are motivated by nothing more than naked careerism.
updated 7:14 AM EDT, Fri April 26, 2013

The H7N9 strain responsible for the bird flu outbreak in China is unlike any that has previously been seen in this type of virus.

Share with us your photos and videos of life in China-- the everyday China. The best content could be featured online or on air.