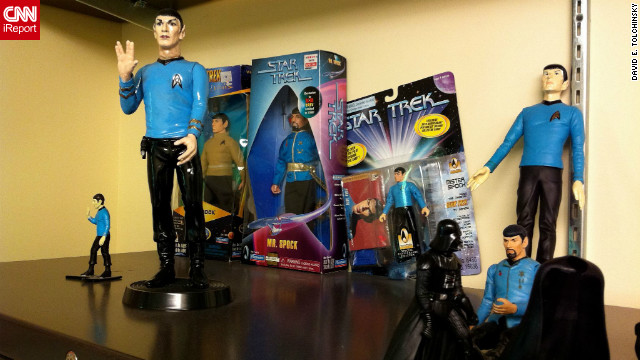 Film professor David Tolchinsky
has a collection of Spock dolls that he describes as "a cheaper mid-life crisis than collecting Porsches".
Chantana Mekwilai
, that's family: the 29 year old secretary keeps dolls crocheted by her younger sister at her office in Pathumtani, Thailand. "She took two days to learn to crochet and makes one small doll in three hours," she says. "They are so colorful and make me smile and enjoy working."
CNN's iReporters told us that desk toys are often a chance to remind themselves of something that makes them happy. For
Clyde Antes
' motivational levels. "Whenever I feel bored or tired while working, I'll just look at my toy and it makes me laugh," he says. "You talkin' to me, Sharkbait?", Antes makes the toy say. And, "Pro bono? Never heard of him".
A little plastic shark in a pinstripe suit works wonders for 22 year old Philippines college student
Hala Al Hajj Shehadeh
, a postdoctoral assistant professor of mathematics at the Ann Arbor, began keeping toys when she first brought her newborn daughter in to work. Two years later, her office still contains rattles, balls, stuffed animals, coloring crayons, stickers, puzzles and toys. "I have all her toys, to keep her busy when she visits," Shehadeh says.
There are practical advantages to having toys to hand in the workplace, too.
Carmen April
has a doll called a "fit" which she throws at the wall, when the need arises. "My receptionist thinks it is hilarious when I "throw a fit"," she says. "I always warn her so as not to scare her," she says. "Friends who know how much I love my 'fit' ask to borrow it."
Nashville podiatrist
Rachel Cauvin
, an interior designer and project manager in New York, has been collecting children's toys from fast food chain meals for years. "I am a big kid at heart," she says. "How could you not love those little faces looking up at you every morning when you come to work?"
Cauvin's coworkers have yet to pass any comment on her predilection, but she says, "if they could only come to life like in the movies that would give my co-workers something to really talk about!"
Don't call them toys
Hand-made happiness
Sharkbait
Office baby
Throw 'a fit' at work
Fast food figurines
Toy story
STORY HIGHLIGHTS
Executive desk toys have been around since the 1960s.
There is still an exhaustive market for gadgets that relieve stress and office boredom.
Research suggests having personal desktop items increases workplace wellbeing.
(CNN) -- When executive desk toys first began to appear, they tended to be ornamental gadgets made from such endlessly fascinating materials as sand and magnets. The Newton's Cradle or "Executive Ball Clicker," which demonstrates physics principles of momentum and energy, has been sold since the 1960s.
Other popular early desk toys were similarly stimulating, though they seemed less like a science lesson and more like art therapy.
The pinscreen, patented in 1987 by artist Ward Fleming (and featured prominently in a video for 1980s New Romantic singer Midge Ure), is an "artistic animation image producer" that allows users to form an image by pushing something -- their face, for instance -- against a screen of pins.
The desktop zen garden offered its owner another means of relaxation via a classy objet d'art.
Desktop warfare has been a popular trend in recent years.
Sean Fallon, Nerd Approved editor
Although these executive desk toys might seem like a thing of the past -- as much a relic as brick cellphones and fax machines -- our love for office playthings has not abated.
Amazon sells nearly 200 different types of desk toys. ThinkGeek stocks 100 items, including bacon scented hand sanitizer and a pen that delivers an electric shock, while Office Playground carries 268 varieties of stress ball alone.
In particular, the growth of Comic-Con culture and the rise of cosplay have made action figures popular in modern offices.
Sean Fallon is editor of Nerd Approved, a toys and collectibles review site that has featured "Game of Thrones" bookends shaped like dire wolves and a USB hub that looks like Darth Vader's helmet.
"Desktop warfare has been a popular trend in recent years," said Fallon. "Desktop trebuchets, electronic missile launchers, rubber band guns...There are also plenty of products out there based around franchises like 'Star Wars', 'Star Trek', 'Firefly', 'Dr. Who' and the like."
Just don't call them "toys". It seems some desktop action figures are too precious to play with.
David E. Tolchinsky, a film professor at Northwestern University, says he experiences a "strange identification" with his collection of Spock figurines. They function as an ice-breaker with the students and colleagues who visit his office, often leading to conversations about film genre or screenwriting.
One Spock isn't that cool. A lot of Spocks -- it's like an interesting disease.
David E. Tolchinsky, film professor and Spock collector
"I find out that a lot of students are really into wrestling, " he said. "I tell them, if you want to learn how to write screenplays, watch wrestling matches. Wrestling has it all: colorful characters, drama, violence, twists, dark moment, and the come from behind surprise ending. Look at what the crowd reacts to and when: it's all there, everything you need to know how to write."
Although Tolchinsky owns seven Spock dolls -- "one Spock isn't that cool... a lot of Spocks is like an interesting disease," he says -- he has further items on his Amazon wish list, including a ring for his wrestling figures, and believes there's a robust business reason for them. "How can you make or teach about film and art," he argues, "and not have your office also be artful?"
There are other reasons behind the popularity of bobble-head dolls and magnetic sculptures. Research suggests people derive job satisfaction from being able to personalize their working environment. According to a study by commercial realtors Goodman UK, 55% believe having personal items on their desk contributes to their workplace wellbeing.
In a 1971 episode of British science show "Tomorrow's World", a reporter plays with various desk toys, in imitation of a lonely executive whose workload has been reduced to the point of boredom because of computers.
If modern computers don't lighten our workload to the same extent, they may yet offer a solution to the restless worker in need of stress relief.
According to a report by web security company Barracuda Networks, 69% of companies allow employees to use Facebook, and 75% allow Twitter.
Facebook may well be the new desk toy: you don't need to squeeze a ball, you just need to "like" a friend's status.