Boehner says presidential campaigns 'get off message'
updated 4:43 PM EDT, Thu September 20, 2012
STORY HIGHLIGHTS
House speaker sidesteps questions about Mitt Romney's comments on President Obama's supporters
Boehner says presidential race 'far from over', wants GOP to focus on the economy, jobs
Boehner says he's looking forward to election stretch drive: 'I just hope I survive'
Washington (CNN) -- House Speaker John Boehner acknowledged Thursday that presidential campaigns get "off message," but sidestepped questions about GOP presidential candidate Mitt Romney's controversial comments that have put congressional Republicans in the awkward position of defending their nominee.
"Everybody is going to try to make this election about everything other than what it is. The American people are asking the question, where are the jobs? And so the focus is on jobs," Boehner insisted at a news conference.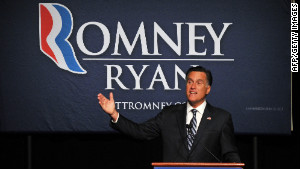 Romney's effect on Senate race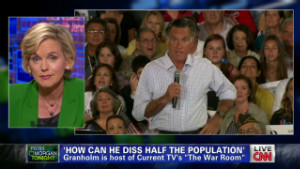 Granholm on Romney: "final straw"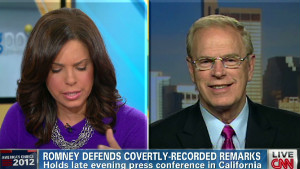 Strickland on Romney leak: 'Deep chasm'
Romney's remarks, leaked on a video from a May fund-raiser in Florida, showed the Republican candidate dismissing 47% of Americans "who are dependent on government" and will vote for President Barack Obama "no matter what."
Romney pivots after controversy
Instead of answering questions about those comments, Boehner repeatedly pivoted back to the issue he has been pounding on for months -- jobs.
The Ohio Republican said Romney has a plan to get people back to work and cited his own personal experience, noting two of his brothers and two of his brothers-in-law have recently lost their jobs in the economic downturn.
And Boehner signaled he was pushing for his party to zero-in the on the economy.
"You're going to have candidates -- both campaigns, on both sides -- say things that get off the message. The message is: Let's stay focused on jobs because that's what the American people want us to stay focused on."
Romney campaign aims to recalibrate campaign around economic message
The speaker also criticized recent talk among political pundits questioning Romney's chances, dismissing it as "political hand-wringing by these Washington insiders."
Boehner emphasized that he believed in a Gallup poll that showed Romney within a point of Obama and said, "this race is far from over."
In a nod to the battle that remains until the November election, Boehner quipped: "I'm looking forward to the next 46 days. I just hope I survive."

Part of complete coverage on

Get all the latest news at CNN's Election Center. There are race updates, a delegate counter and much more.

A black man is returning to the White House. Four years ago, it was a first, the breaking of a racial barrier. Tuesday night, it was history redux. And more.

The 2012 presidential election shattered spending records, further polarized a divided country and launched a thousand hashtags.
updated 1:41 PM EST, Thu November 8, 2012

Democratic and Republican congressional leaders continue to sharply disagree over the key issue of whether top tax rates should be raised to help resolve the looming crisis.
updated 2:24 PM EST, Wed November 7, 2012

In a historic turnaround, the ballot box is showing America's shifting attitudes about same-sex marriage.

Even though voters indicated to pollsters that their financial situation is the same or worse than it was four years ago, they put their trust in the president.
updated 4:19 AM EST, Thu November 8, 2012

The president faces a long and familiar set of challenges after riding a wave of support from moderates, women and minorities to victory.
updated 9:27 AM EST, Wed November 7, 2012

Republicans kept a lock on the U.S. House of Representatives, a crucial victory after the party failed to wrest away the presidency from Barack Obama and the Senate from the Democrats.
updated 7:34 PM EST, Wed November 7, 2012

Democrats will retain their control of the Senate after winning several closely contested races on Tuesday.