The world's fittest men of all time
updated 3:00 PM EST, Tue November 6, 2012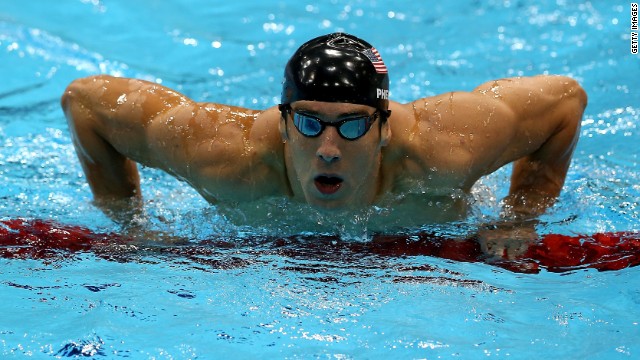 In need of some body inspiration (or eye candy)? Men's Health magazine has identified the "
100 Fittest Men of All Time
." Here are the top 10, starting with swimmer Michael Phelps. At 27, the Olympian has a record 22 medals.
Actor and martial arts expert Bruce Lee was a big proponent of total fitness workouts that combined strength, cardiovascular, endurance and flexibility training. His methods are still used today in programs like P90X and Insanity.
Arnold Schwarzenegger wasn't always a politician. Here he poses during the 1977 Cannes Film Festival, where he presented "Pumping Iron," a documentary about body building.
Jack LaLanne is known to many as the "godfather of fitness." He spent decades promoting healthy eating and exercise. LaLanne died in 2011 at the age of 96.
Former NFL player Herschel Walker didn't slow down much when he retired from football. Since then, he's been participating in professional mixed martial arts.
Jim Thorpe competed in the 1912 Summer Olympics. His sport of choice? The pentathlon and decathlon, where he finished first in eight of the 15 events,
according to Men's Health
. He then went on to play professional baseball AND football.
In 2008, Portugal's soccer star Cristiano Ronaldo was named the FIFA World Player of the Year. As
a fan site states
, "Ronaldo will take on any defender with searing pace, and mesmerising footwork to boot. His ability to beat a player and whip in crosses makes him a feared opponent."
doping allegations
for years.
This week
, Armstrong lost his multimillion-dollar deal with Nike and stepped down as chairman of the
Livestrong charity foundation
.
Seven-time Tour de France winner Lance Armstrong may be the most controversial on Men Health's list. The cyclist has been up against
Those who have tried cross-country skiing know it is not for the faint of heart. Norway's Bjoern Daehlie earned 12 Olympic medals -- eight of them gold -- before retiring in 1999. Who else made the list? Check out all 100
on Men's Health
.
1. Michael Phelps
2. Bruce Lee
3. Arnold Schwarzenegger
4. Jack LaLanne
5. Herschel Walker
6. Jim Thorpe
7. Cristiano Ronaldo
8. Lance Armstrong
9. Manny Pacquiao
10. Bjoern Daehlie