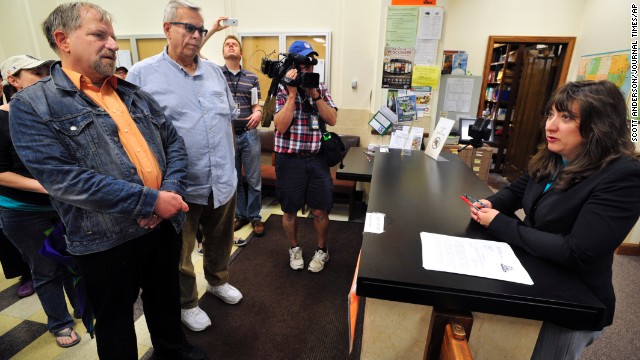 The Rev. Tony Larsen and his partner, Craig Matheus, are refused a marriage license by Racine County Clerk Wendy Christensen, right, in the clerk's office in Racine, Wisconsin, on Friday, June 13. The county does not grant marriage licenses to same-sex couples despite a judge's ruling that the state ban on gay marriage is unconstitutional.
Pastor Carol Hill from Epworth United Methodist Church speaks during a beachfront marriage equality ceremony at the Kathy Osterman Beach in Chicago, on Sunday, June 1, 2014. June 1 marked the first day that all of Illinois' 102 counties could begin issuing marriage licenses to same-sex couples.
William Roletter, left, and Paul Rowe, right, press close to one another after having their photo taken with their newly acquired marriage certificate at City Hall in Philadelphia, Pennsylvania, on May 21.
Same-sex couples get their marriage licenses at the Oakland County Courthouse in Pontiac, Michigan, on Saturday, March 22, a day after a federal judge overturned Michigan's ban on same-sex marriage.
Utah state Sen. Jim Dabakis, left, and Stephen Justesen acknowledge the crowd after being married in Salt Lake City on Friday, December 20. A federal judge struck down Utah's ban on same-sex marriage, saying it conflicted with the constitutional guarantees of equal protection and due process. Many Utah counties began issuing marriage licenses before the state appealed to the U.S. Supreme Court. The high court temporarily blocked enforcement of the lower court ruling until the constitutional questions are fully resolved.
Plaintiffs Laurie Wood, left, and Kody Partridge, center, and attorney Peggy Tomsic leave a federal courthouse in Salt Lake City on Wednesday, December 4, after a judge heard arguments challenging Utah's same-sex marriage ban.
Hawaiian Gov. Neil Abercrombie, left, and former Sen. Avery Chumbley celebrate with a copy of the Star-Advertiser after Abercrombie signed a bill legalizing same-sex marriage in Hawaii on Wednesday, November 13, in Honolulu. Hawaii's same-sex marriage debate began in 1990, when two women applied for a marriage license, leading to a court battle and a 1993 state Supreme Court decision that their rights to equal protection were violated by not letting them marry. Now the state is positioning itself for an increase in tourism as visitors arrive to take advantage of the law, which took effect December 2.
Newark, New Jersey, Mayor Cory Booker officiates a wedding ceremony for Joseph Panessidi and Orville Bell at City Hall on Monday, October 21. The state Supreme Court denied the state's request to prevent same-sex marriages temporarily, clearing the way for same-sex couples to marry.
A couple celebrates at San Francisco City Hall upon hearing about the U.S. Supreme Court rulings on same-sex marriage on June 26, 2013. The high court cleared the way for same-sex couples in California to resume marrying after dismissing an appeal on Proposition 8 on jurisdictional grounds.
In the other June 26 ruling, the Supreme Court struck down a key part of the Defense of Marriage Act, a 1996 federal law defining marriage as between a man and a woman. Jamous Lizotte, right, and Steven Jones pose for photos while waiting for a marriage license in Portland, Maine, in December 2012.
signing a same-sex marriage bill on March 1, 2012
. The law was challenged, but voters approved marriage equality in a November 2012 referendum.
Maryland Gov. Martin O'Malley, center, shakes hands with Senate President Thomas V. "Mike" Miller after
Washington Gov. Chris Gregoire celebrates after signing marriage equality legislation
into law on February 13, 2012. Voters there approved same-sex marriage in November 2012.
Olin Burkhart, left, and Carl Burkhart kiss on the steps of the New Hampshire Capitol in Concord in January 2010 as the
Maine state Sen. Dennis Damon left, hands Gov. John Baldacci the bill that the
Beth Robinson of the Vermont Freedom to Marry Task Force, who is among those who fought for marriage equality, on April 7, 2009.
Amy Klein-Matheny, left, and her wife, Jennifer, exchange vows in
Michael Miller, left, and Ross Zachs marry on the West Hartford Town Hall steps after same-sex marriages became legal in Connecticut on November 12, 2008.
Massachusetts approved same-sex marriage.
Massachusetts was the first state in the U.S. to do so.
Lara Ramsey, left, and her partner of eight years, Jane Lohmann, play with their 7-month-old son, Wyatt Ramsey-Lohmann. The two wed in 2004 after
Same-sex marriage in U.S.
Same-sex marriage in U.S.
Same-sex marriage in U.S.
Same-sex marriage in U.S.
Same-sex marriage in U.S.
Same-sex marriage in U.S.
Same-sex marriage in U.S.
Same-sex marriage in U.S.
Same-sex marriage in U.S.
Same-sex marriage in U.S.
Same-sex marriage in U.S.
Same-sex marriage in U.S.
Same-sex marriage in U.S.
Same-sex marriage in U.S.
Same-sex marriage in U.S.
Same-sex marriage in U.S.
Same-sex marriage in U.S.
Same-sex marriage in U.S.
Same-sex marriage in U.S.
Same-sex marriage in U.S.
Same-sex marriage in U.S.
Same-sex marriage in U.S.
Same-sex marriage in U.S.
Same-sex marriage in U.S.
Same-sex marriage in U.S.
STORY HIGHLIGHTS
Edith "Edie" Windsor lost her spouse in 2009 and got a tax bill that triggered legal fight
Justices meet Friday to decide if they will accept any of 10 pending marriage-related appeals
Some states have approved same-sex marriage; while others have banned it
The 5-4 conservative-liberal bench has the option of ruling broadly or narrowly
(CNN) -- Edith "Edie" Windsor lost her spouse in 2009, her grief compounded by an estate tax bill much larger than other married couples would have to pay.
Because her decades-long partner was also a woman, the federal government in legal terms did not recognize the same-sex marriage, even though their home state of New York did.
"I was devastated by the loss of the great love of my life, and I was also very sick, then had to deal with pulling together enough money to pay for the taxes," Windsor, 83, told CNN. "And it was deeply upsetting."
That fundamental unfairness as Windsor and her supporters see it, is at the center of legal fight now awaiting action at the U.S. Supreme Court.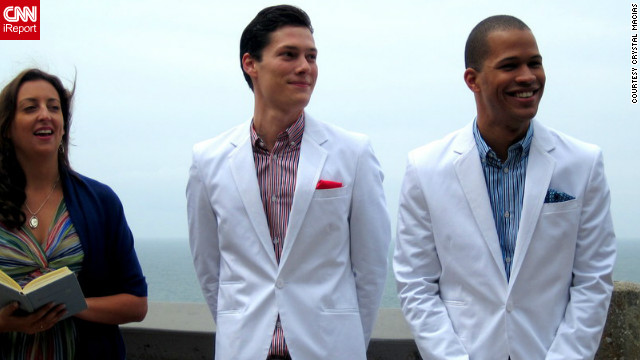 iReporter Alex Rhinehart, center, and Tony O'Brian held their wedding ceremony in a San Francisco park in May 2011, though same-sex marriage was not legal in California at the time. The pair led their guests to the summit of a cliff for the ceremony in lieu of a traditional wedding march -- using the spot to represent their union: "a place so old and solid with such a promising view of the horizon beyond."
Alex and Tony wanted to keep their wedding simple and inexpensive: They made picnic lunches for guests and painted wooden dolls in their likeness for cake toppers.
The son of iReporter Angela Cloninger (right) walked her down the aisle to meet her partner, Barbara, in a wedding ceremony almost three years ago in Asheboro, North Carolina. A few days later, they legally married on courthouse grounds in Washington, D.C. North Carolina voters recently amended the state constitution to make same-sex marriage illegal.
iReporter Valezka Taylor decided to adopt a sailor theme so her mate, Sami, could wear her Coast Guard uniform. They were inspired to get married after "don't ask, don't tell" was repealed, but it took an extra nudge from her teenage daughter to set the wheels in motion. Valezka's daughter and her aunt were bridesmaids; they wore red and blue to match the sailor theme.
Sami, a boat mechanic in the U.S. Coast Guard, wore her dress blues for their April ceremony in front of the Constitutional Garden in Washington.
Ra'Shawn (right) and Kelvin Barlow-Flournoy combined their last names after marrying last year at Howard University School of Divinity in Washington. They married during a Sunday service that was streamed online and viewed by more than 400 people. Both are pastors, and Ra'Shawn is an HIV prevention coordinator for a church in Charlotte, North Carolina.
Ra'Shawn and Kelvin have worked with Human Rights Campaign to spread the word that people of faith can be advocates for gay and lesbian rights. They married during a trip to the Capitol as part of HRC's Clergy Call.
Kevin Haubrick, left, met his husband Mike online in 2009. It quickly became clear to Mike that Kevin was "the one" when he saw Kevin interact with his daughter, Elizabeth. The pair wed at a bed and breakfast in Arlington, Vermont, the following year in the presence of friends who helped Kevin create his online profile.
After the ceremony, they had dinner and cake complete with a customized wedding topper. The following month, Mike and Kevin held a wedding reception in their home city of San Antonio for friends and family.
Craig Woodward (left) proposed to Scott Norton by the ocean at Laguna Beach, California, and surprised him by having all his family and friends there to share it.
Scott and Craig were married in California in front of 100 friends and family. The minister did a reading of Dr. Seuss and the wedding party members boogied down the aisle, each to a personalized song. Here, their friend Chris Williams catwalks down the aisle to "I'm Every Woman" by Whitney Houston.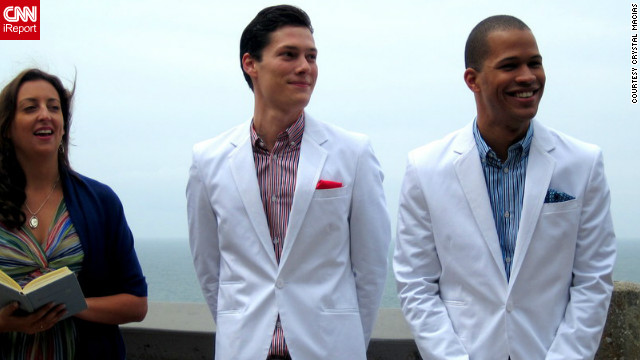 Same-sex wedding snapshots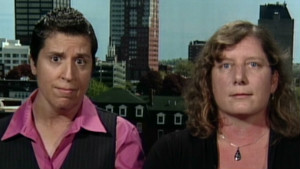 DOMA would deny soldier's wife benefits
Victory for lesbian, years after her longtime partner's death
The justices will meet privately Friday for a closed-door conference to decide if they will accept any of 10 pending appeals, essentially over whether a fundamental constitutional right for gays and lesbians to marry exists.
If they agree to hear the issue, oral arguments would be likely be held in March with a ruling by late June.
The political, social, and legal stakes of this long-simmering debate will once again put the high court at the center of national attention, a contentious encore to their summer ruling upholding the massive health care reform law championed by President Barack Obama.
Earlier this month, voters in Maryland, Washington, and Maine approved same-sex marriage, adding to the six states and the District of Columbia that already have done so. Minnesota voters also rejected an effort to ban such unions through a constitutional amendment.
Is there a national consensus?
As more states legalize same-sex marriage, one of the key questions the justices may be forced to address is whether a national consensus now exists supporting the idea of expanding an "equal protection" right of marriage to homosexuals.
Three separate issues confront the justices, who are likely to only accept only one for review in coming months. These include federal benefits, state benefits and state referendums.
The Defense of Marriage Act, or DOMA, is a 1996 congressional law that says for federal purposes, marriage is defined as only between one man and one woman. That means federal tax, Social Security, pension, and bankruptcy benefits, and family medical leave protections -- do not apply to gay and lesbian couples, such as Windsor and her late partner Thea Spyer.
Federal appeals court strikes down Defense of Marriage Act
This appeal from Arizona asks whether a state that prohibits same-sex marriage may also deny same-sex couples marital benefits if one of the partners is a state employee, when other state workers in opposite-sex marriages enjoy government benefits.
On referendums, the California high court had earlier concluded same-sex marriage was legal, but the 2008 voter-approved Proposition 8 abolished it. If the high court accepts this appeal, it would likely not decide whether same-sex marriage is a constitutional right, but only whether a state can revoke that right through referendum once it has already been recognized.
"The justices are almost certainly going to take up the question of the constitutionality of the Defense of Marriage Act," said Thomas Goldstein, publisher of SCOTUSblog.com and a top Washington attorney. "The real question is whether they'll step into California's Prop 8 and the ruling there that California discriminated unconstitutionally when it granted a right to same sex-marriage and then took it away. It's a tossup on whether they'll hear that case."
Who will represent U.S. in any court case
Complicating matters is just who will defend the DOMA law before the justices. Traditionally that role would fall to the Justice Department's Solicitor General office. But Obama, in an election-year stunner, said in May he supports same-sex marriages. The president had already ordered Attorney General Eric Holder not to defend the federal law in court.
That left House Republicans, led by Speaker John Boehner, R-Ohio, to step in after the Justice Department refused to participate. They have hired top Washington attorney Paul Clement-- himself a former solicitor general-- to make the arguments to keep the law in place, at least until lawmakers decide otherwise.
Clement said a congressionally mandated, uniform standard to define marriage for federal purposes is both proper and practical, since different states have different laws defining the limits of marriage.
"DOMA does not bar or invalidate any marriages but leaves states free to decide whether they will recognize same-sex marriage," Clement told the court in a legal brief. "Rather, DOMA merely reaffirmed and codified the traditional definition of marriage: what Congress itself has always meant and what courts and the executive branch have always understood it to mean -- in using those words: A traditional male-female couple."
The law does not prohibit states from allowing same-sex marriages, but it also does not force states to recognize them from other states. Most of the current plaintiffs are federal workers, who are not allowed to add their spouses to health care plans, and other benefits.
Many other states, including New Jersey, Illinois, Delaware, Rhode Island and Hawaii, have legalized domestic partnerships and civil unions for such couples -- a step designed in most cases to provide the same rights of marriage under state law.
But other states have passed laws or state constitutional amendments banning such marriages. California's Prop 8 is the only such referendum that revoked the right after lawmakers and the state courts previously allowed it.
In February, a federal appeals court in San Francisco ruled the measure unconstitutional.
Court could offer final word
By patiently letting legislatures and the voters decide the social and practical implications of same-sex marriage over the past decade, the high court is now poised to perhaps offer the final word on the tricky constitutional questions.
The split 5-4 conservative-liberal bench has the option of ruling broadly or narrowly-- perhaps taking a series of incremental cases over a period years, building political momentum and public confidence in the process.
Edie Windsor is one of more than a dozen plaintiffs involved in the current DOMA appeals before the high court. She and Spyer, a psychologist, had been a devoted couple in New York's Greenwich Village for more than 40 years, before marrying in Canada in 2007.
New York did not allow same-sex marriages to be performed in the state when Windsor and Spyer wed, but did recognize the out-of-state license. New York's legislature last year approved same-sex marriage.
Windsor, a retired computer systems programmer, wants the $363,053 in added estate taxes she was forced to pay the IRS. She said the federal government considers her relationship with Spyer as little more than "girlfriends," something she called an "incredible indignation."
"I would like to receive my money back. New York State accepted my marriage as a marriage," she told CNN. "And I believe, and the Justice Department and the president agree with me, that the DOMA law is unconstitutional. DOMA is cruel. It discriminates against us for absolutely no value to the country. And we'd like to see that defeated altogether. I'd like other people not to go through what I went through."