Alec Baldwin, photographer trade accusations after encounter
updated 8:51 PM EST, Tue February 19, 2013
STORY HIGHLIGHTS
New York Post photographer says Baldwin called him a racial epithet
Baldwin's representative says the claim is "absolutely false"
Both Baldwin and the photographer file harassment reports with police
(CNN) -- Alec Baldwin and a photographer for the New York Post are trading accusations and harassment claims after an encounter between the actor and the photographer.
In an article published Monday, the newspaper said Baldwin allegedly called the photographer, who is black, a racial epithet and hurled other insults after the photographer and a reporter approached the actor Sunday while he was walking his dogs.
A spokesman for Baldwin denied the report. "The accusations are completely false," Baldwin representative Matthew Hiltzik told CNN Monday.
"That's one of the most outrageous things I've heard in my life," Baldwin said in a statement, referring to the accusation that he used a racial epithet.
The New York Police Department's Hate Crime Unit is now involved due to the alleged nature of Baldwin's "rant," according to Deputy Commissioner Paul Browne on Tuesday.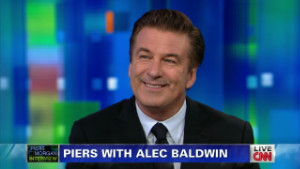 Baldwin: Wish I could flush paparazzi
The newspaper, describing the incident as a "confrontation," also said Baldwin, star of NBC's recently wrapped "30 Rock," grabbed the female Post reporter who was with the photographer by the arm and allegedly said, "I want you to choke to death."
There were no eyewitnesses other than the parties involved, and the reports are still under investigation, according to Browne.
The photographer -- identified by the newspaper as G.N. Miller, "a decorated retired detective with the NYPD's Organized Crime Control Bureau and a staff photographer for The Post" -- and Baldwin both filed police reports for harassment on Sunday. The reports are still under investigation, police Detective Marc Nell said Monday.
Hiltzik specified that the actor's harassment report was filed against the photographer as an individual and not against the newspaper.
The newspaper, meanwhile, quoted Miller as saying that Baldwin "was saying some serious racist stuff."
CNN affiliate WABC-TV asked Baldwin to set the record straight on Monday. The actor responded, "Why would I bother doing that with you?"
CNN's Rande Iaboni and Deborah Feyerick contributed to this report.

Part of complete coverage on
updated 11:00 AM EDT, Thu May 23, 2013

Frida Ghitis: Islam or terrorism are not the enemy. "The enemy is the radical Islamist ideology that justifies any atrocity committed for political motives."

One woman's never-ending battle against sex slavery in the Philippines, with a warrior ally in her corner. Watch the compelling documentary here.
updated 6:43 AM EDT, Thu May 23, 2013

Ai Weiwei, the controversial Chinese artist-activist, has released a music single and video inspired by his harrowing detention by the government.
updated 1:22 AM EDT, Thu May 23, 2013

CNN's Christiane Amanpour and Nic Robertson give their insight on the brutal murder of a man in broad daylight.
updated 11:49 AM EDT, Thu May 23, 2013

President Obama is to speak on the CIA drone program and plans for the Guantanamo Bay prison camp. Here are common counterterrorism myths.
updated 2:04 AM EDT, Thu May 23, 2013

1,400 members of the Boy Scouts of America's national council are expected to vote on whether to end the 103-year-old group's ban on gay youths.
updated 1:14 PM EDT, Tue May 21, 2013

Did you know that hurricanes can also produce tornadoes? Read facts you didn't know about destructive twisters.
updated 9:01 AM EDT, Wed May 22, 2013

The petite frame of 19-year-old Zoe Smith should fool nobody -- she's a weightlifting warrior who has fought stereotypes and broken a British record.
updated 10:55 AM EDT, Wed May 22, 2013

According to the United Nations' mission in Iraq, 712 Iraqis were violently killed in April 2013. This is both normal and extraordinary.
updated 7:19 AM EDT, Thu May 23, 2013

The World Economic Forum has declared Egypt one of the most dangerous places for tourists, above Yemen and Pakistan in terms of risks for visitors.
updated 9:02 AM EDT, Thu May 23, 2013

Doctors used an experimental technique never before tried on a human to save the life of a six-week-old baby from a rare lung condition.
updated 5:26 PM EDT, Wed May 22, 2013

Since hitting the Web in 2007, the hit blogs among the 105 million hosted on Tumblr have tended to be silly, snarky or both.

Five years after the 2008 Olympics construction boom, new Beijing hotels keep right on coming.