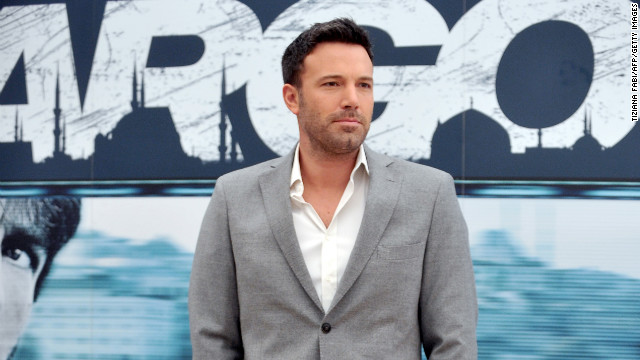 Ever since Ben Affleck's Oscar snub heard round the (movie) world, the director's CIA thriller "Argo" has been racking up the awards. It's won best picture, best director -- or both -- at this year's Golden Globes, Screen Actors Guild Awards, the British version of the Oscars and more. Wthout even a nomination, the Academy Award for best director will elude Affleck this time out. (
Feel free to cast your vote on our ballot, BTW
). He's just the most recent example of when the academy can get things wrong. Here are some other picks of famous Oscar snubs:
Kathryn Bigelow became the first female director to win an Oscar when her 2008 war film, "The Hurt Locker," got the gold. This year, many thought she would at least be nominated for the gripping Osama bin Laden manhunt drama, "Zero Dark Thirty." But It turned out there was zero chance of that happening.
Leonardo DiCaprio, left, with Christoph Waltz, center, and Samuel L. Jackson, has long been an emblem of the academy's snubs: He's been shut out of nominations for everything from "Titanic" to "Inception," and even when he has gotten nods, he's never scored a statue. Despite critical acclaim for his performance in "Django Unchained," the academy once again showed him no love.
Mia Farrow freaked out moviegoers in 1968 with her terrifying role in the classic spawn of Satan film "Rosemary's Baby," but unfortunately that didn't help scare up an Oscar nomination.
"Apocalypse Now" achieved instant acclaim upon its release in 1979, but one of the film's stars, Martin Sheen, right, with Marlon Brando, was not nominated for his role as Capt. Benjamin L. Willard. The horror.
"Do the Right Thing," with Bill Nunn, left, and Spike Lee, was one of the most buzzed about movies of 1989 and has been called "one of the best American films of all time" by The New York Times. With only two nominations -- best supporting actor for Danny Aiello and best screenplay -- it came up empty-handed at the Oscars. Director
"I know it was you Fredo. You broke my heart!" John Cazale broke lots of moviegoers' hearts as the fragile and vulnerable Fredo Corleone in "The Godfather: Part II." He was never nominated for the role, though he has the distinction of being the only actor to have every feature film he appeared in ( a total of five) be nominated for best picture.
Oh, Henry. Who could forget Ray Liotta as Henry Hill, the real-life wiseguy in "Goodfellas"? Members of the academy, apparently, as Liotta got the snub for the 1990 film.
Many critics noted that Jeffrey Wright, here with Courtney Love, seemed to inhabit the role of the doomed artist Jean-Michel Basquiat in the 1996 biopic "Basquiat." But that acclaim didn't translate into an Oscar nomination.
"We Need to Talk About Kevin" was a controversial movie in 2012, but many critics hailed Tilda Swinton's performance as a mother with a complex relationship with her son. She snagged nominations from the Screen Actors Guild Awards and Golden Globes but no Oscar recognition. Who else would you add to the list? Sound off in the comments.
Ben Affleck for 'Argo'
Kathryn Bigelow for 'Zero Dark Thirty'
Leonardo DiCaprio for 'Django Unchained'
Mia Farrow for 'Rosemary's Baby'
Martin Sheen for 'Apocalypse Now'
'Do the Right Thing' for best picture
John Cazale for 'The Godfather: Part II'
Ray Liotta for 'Goodfellas'
Jeffrey Wright for 'Basquiat'
Tilda Swinton for 'We Need to Talk About Kevin'