STORY HIGHLIGHTS
A winter storm warning is in effect in portions of Maine and New Hampshire
Ten inches of snow predicted in the interior regions of Maine, the weather service says
There are six storm-related deaths in Kansas and one in Oklahoma
A snow emergency has been declared in Milwaukee
(CNN) -- It was a winter weather tale as old as, well, modern time: car vs. the snow plow.
"There's our friend and our nemesis, the plow. Ugh," said David Bradley, whose car was buried Wednesday by a plow clearing streets in Toronto.
Forty-five minutes later, he was still trying to dig out his car from a fierce snowstorm that paralyzed parts of the United States and Canada, leaving hundreds of thousands without power and stranding thousands more.
Similar scenes were playing from Wisconsin to Michigan, from Kansas to Texas, as thousands began digging out from a storm that began Sunday as a blizzard in the Great Plains.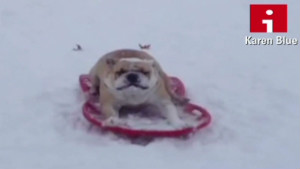 Millions in Midwest clean up after storm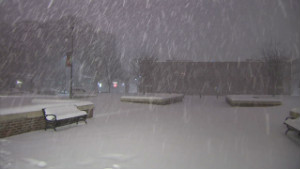 'Thundersnow' caught on video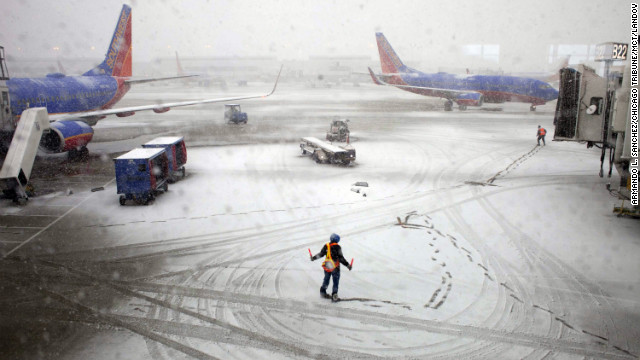 Southwest Airlines employees guide a plane into the gate at Midway International Airport in Chicago on Tuesday, February 26. Back-to-back storms have hit the Great Plains, which is still digging out from last week's weather. Are you experiencing the storm? If it's safe, share your photos.
City worker Thuan Tran and police officer Christina Batalia help dig out stranded motorist Gary Cook after the area was hit by a snowstorm on February 26 in Overland Park, Kansas.
Wet snow hangs on branches on February 26 in Merriam, Kansas.
Milk shelves are nearly empty at a Kansas City, Missouri, grocery store on February 26, after a snowstorm batters the area again.
Heavy snow covers street signs in Kansas City, Missouri, on February 26.
Tree branches are covered in snow on February 26 in Kansas City, Missouri.
Motorists head home on U.S. 69 on Monday, February 25, in Overland Park, Kansas, during the snowstorm.
About 5 feet of snow piles up February 25 outside CNN iReporter Matthew West's back porch in Canyon Texas, covering up his son's tricycle.
Alan Daniels loads salt trucks at the Overland, Kansas, Park Public Works Department on February 25.
The "Keeper of the Plains" statue is blanketed with snow in Wichita, Kansas, on February 25.
A resident shovels snow as the wind cuts down on visibility during a winter storm in Denver on Sunday, February 24.
Bicycles gather snow during a storm in Denver on February 24.
Twelve to 14 inches of snow fell in northeastern Kansas on Thursday, February 21. However, on Friday, February 22, the sun was out, and this street had been cleared, but many were not. Neighbors worked to clear their driveways while the kids enjoyed playing the deepest snow many of them had ever experienced.
Jackie Arrandondo, 19, is covered with morning snow from head to toe as she waits for a city bus Friday, in Minneapolis. Gusty winds and iced-over roadways made for treacherous Midwest travel Friday as a major winter storm headed east over the Great Lakes. Two deaths have been linked to the storm, including one in a fatal traffic accident in Minnesota.
Shawn Noble skis to work after a winter storm left more than 6 inches of snow on February 22 in Iowa City, Iowa.
Tow truck driver Tyson House helps trucker Gary Wheeler of Kansas City on Friday, February 22, in Greensburg, Kansas, after his truck slid off the road. The huge snowstorm was moving across the Plains on Thursday.
A worker uses a snowblower to clear a path on February 22 in Greensburg, Kansas.
Tow truck drivers aid a semi on February 22 in Greensburg, Kansas.
A car is stranded in the snow on Highway 135 outside Wichita, Kansas, on Thursday, February 21.
Vehicles drive in single file down Highway 135 outside Wichita on Thursday.
Mark Russell, right, vice president of rules and competition for the PGA Tour, talks with Thorbjorn Olesen of Denmark as snow and rain suspend play during the first round of the World Golf Championships in Marana, Arizona, on Wednesday, February 20.
Snow covers this cactus during the first round of the World Golf Championships at the Golf Club at Dove Mountain in Marana, Arizona, on February 20.
Pedestrians make their way to work through the snow in downtown Wichita, Kansas, on Wednesday, February 20.
Police take care of an accident in Wichita on Wednesday.
Golf fans seek shelter from the snow Wednesday after the first round of the Accenture Match Play Championship at Dove Mountain in Marana, Arizona. The tournament was suspended due to the weather.
Snow covers the driving range at Dove Mountain on Wednesday.
Snow covers the clubhouse behind the 18th green during the first round of the tournament at Dove Mountain on Wednesday.
Snow collects around golf balls on the practice putting green on Wednesday.
Golf spectators look for cover as snow comes down.
David Viana of the Real Salt Lake soccer team heads the ball against the New England Revolution during the snowfall on Wednesday in Tucson, Arizona.
Brad Evans of the Seattle Sounders dribbles the ball while playing the New York Red Bulls in Tucson on Wednesday.
Snow blankets Yucca Valley, California, an area that rarely sees snow, on Wednesday.
The sun shines on the fresh snow in Yucca Valley on Wednesday.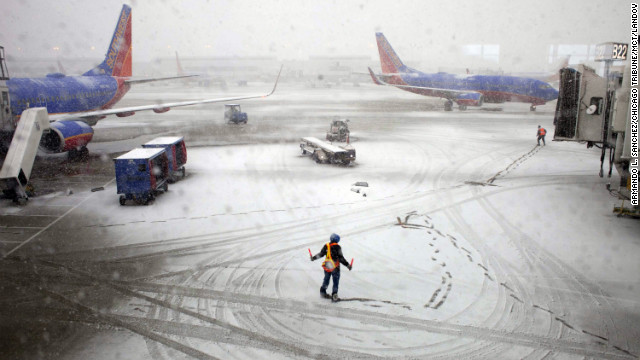 Photos: Snowstorm hits the Plains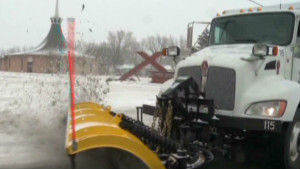 Unexpected side effects of a blizzard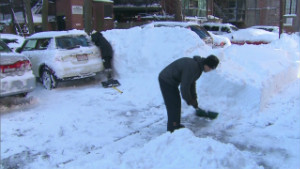 Keeping healthy in cold weather
By Wednesday, it was a significant snowmaker over the Midwest and New England, causing headaches for some commuters.
Warming climate could mean bigger blizzards, less snow
Deaths and destruction
The storm's toll was still being tallied in deaths and damage as remnants of the storm hit portions of New Hampshire and Maine early Thursday morning.
A winter storm warning was in effect until 5 p.m. ET, with up to 10 inches of snow in the interior regions of Maine and eastern New Hampshire, according to the National Weather Service.
As it marched on, officials said at least seven people were killed.
In hard-hit Kansas, there were at least six storm-related deaths: two siblings who died of carbon monoxide poisoning from a generator, three people in fatal vehicle accidents and an elderly woman who died of hypothermia sweeping snow off her steps, Gov. Sam Brownback said.
A seventh person died when a roof collapsed in hard-hit Woodward, Oklahoma, Mayor Roscoe Hill said.
At the height of the storm, about 100,000 Kansas City Power and Light customers were without power, the company said. But Wednesday, roughly 10,000 were without power.
A snow emergency was declared in Milwaukee through Thursday morning to keep cars from parking on zones where snow plows and emergency vehicles take priority. Up to 17 inches of snow fell in portions of Milwaukee.
In the dark, Simon Alcarac was shoveling snow, trying to meet Milwaukee's 11 p.m. deadline to move his car to a nearby elementary school parking lot or face a hefty tow bill from the city.
"I prefer to go walk two blocks, three blocks than pay $200 to get it out" of impound, he told CNN affiliate WTMJ-TV.
A number of school districts, senior centers and churches in New Hampshire and Maine were closed Thursday, while some school districts in Kansas, Illinois and Michigan remained closed.
Travel troubles
Airlines were rebooking passengers in Chicago late Wednesday after the snow forced the delay or cancellation of more than 100 flights, according to the airport.
The storm was making itself felt on air travel in the Northeast on Wednesday evening, where airports in Boston, New York, New Jersey and Philadelphia were all showing delays. At LaGuardia Airport in New York, the FAA said departing flights were delayed by as much as an hour and 28 minutes.
Airlines called off about 500 U.S. flights Wednesday, according to flight tracking website FlightAware.com. The website doesn't distinguish, however, the reason for each cancellation.
Cleaning up
In Chicago, Willie Johnson advised caution when clearing heavy, wet snow off sidewalks and driveways.
"Take your time because this kind of snow they call heart-attack makers," he told CNN affiliate WLS-TV. "I mean, it will kill you."
Others left the shoveling for later, opting instead to break out the sleds.
"I love it," said John Harris, grinning from ear to ear in his Notre Dame stocking cap. "This is Chicago. This is what it should be like."
In Texas, some people had to resort to unconventional tools to get the job done. CNN iReporter Julie Swift of Plainview, Texas -- where 2 or 3 inches fell -- said she used a plastic school chair.
"The guy was shoveling next door for an older lady. I thought he had a real shovel," she said. "But he had a lid to a big plastic tub. That was funny."
Outside Bradley's Toronto house, the din of shovel hitting concrete broke the early morning quiet.
"I have not made tremendous progress," said Bradley, an elementary school hall monitor. "I'm almost to my car."
CNN's Steve Almasy and Tina Burnside contributed to this report.