STORY HIGHLIGHTS
Closing statements set to begin on Thursday at Texas military base
Army psychiatrist defending himself opts not to testify
Hasan, 42, is being tried on 13 counts of murder and 32 counts of attempted murder
The charges stem from the November 5, 2009, attack at a deployment processing center
Fort Hood, Texas (CNN) -- The Army psychiatrist defending himself against charges that he killed 13 people in a shooting rampage at Fort Hood, Texas, concluded his case on Wednesday without calling a single witness.
Maj. Nidal Hasan ended days of speculation over whether he would take the stand with three words: "The defense rests."
Closing arguments were scheduled to begin Thursday morning before the case is handed to a military jury, which will determine whether Hasan is guilty of 13 counts of murder and 32 counts of attempted murder in connection with the November 5, 2009, attack.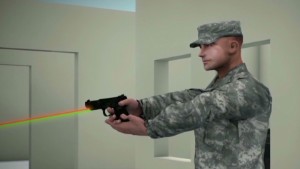 Chilling details from Fort Hood massacre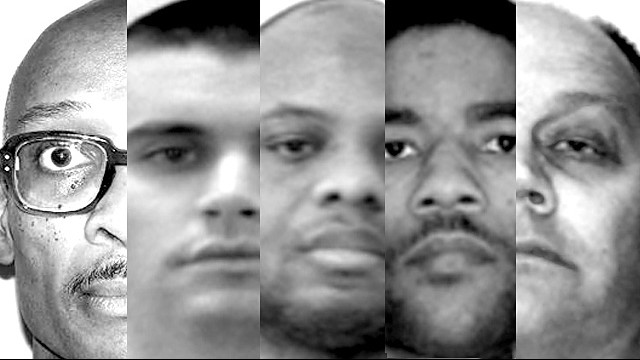 The U.S. military has not executed one of its own since 1961. Here are the five men on the military's death row.
Former Pvt. Ronald Gray has been on death row since 1988. A court-martial panel unanimously convicted him of committing two murders and other crimes in the Fayetteville, North Carolina, area. Gray, who is the longest serving inmate on the military's death row, was granted a temporary stay of execution by a U.S. district court in 2008.
Former Army Pfc. Dwight J. Loving was sent to death row in 1989 after being convicted in the December 1988 killings of two taxi drivers -- one a retired Army sergeant, the other a soldier moonlighting to make extra money. Loving, who was stationed at Fort Hood, Texas, gave what observers say is an "undisputed" videotaped confession.
Former Army Sgt. Hasan Akbar was handed a death sentence for killing two soldiers and wounding 14 others at Camp Pennsylvania, Kuwait, during the U.S.-led invasion of Iraq. On March 23, 2003, Akbar threw four hand grenades into tents where soldiers were sleeping and then opened fire on other soldiers.
Former Air Force Sr. Airman Andrew Witt was sent to death row in 2005 after a military jury found him guilty in the premeditated stabbing deaths of an airman and his wife on July 5, 2004. Witt, the only Air Force service member on death row, was also found guilty in the attempted murder another airman.
Former Army Master Sgt. Timothy Hennis was sentenced to death in 2010 for the May 1985 killings of a woman and her two young daughters in Fayetteville, North Carolina. The case gained widespread notoriety and became the subject of a book and a television miniseries. Hennis was initially convicted of the killings in 1986 in state court and spent two years on death row before the case was overturned. He was acquitted at a second trial in 1989. In 2006, improved DNA testing linked Hennis to the killings. The military tried Hennis because he couldn't be tried in a state court for a crime for which he had previously been acquitted.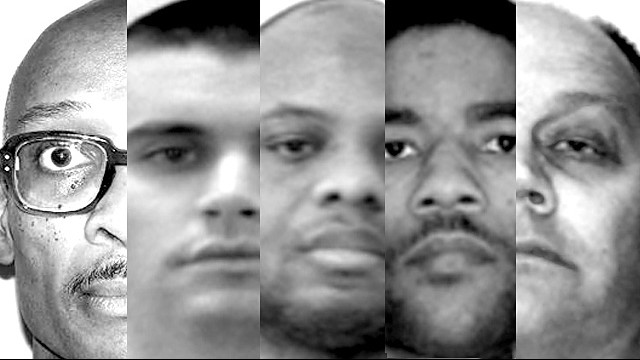 Men on military's death row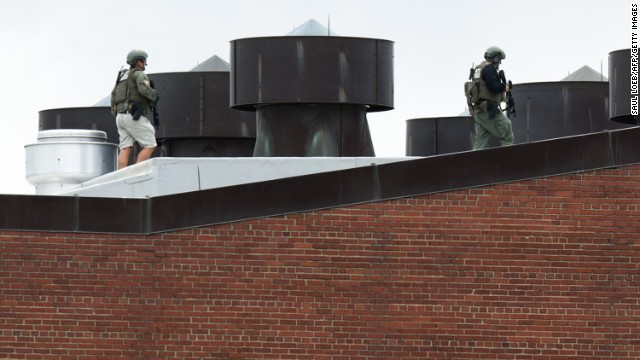 Police officers walk on a rooftop at the Washington Navy Yard on Monday, September 16, after a shooting rampage in the nation's capital. At least 12 people and suspect Aaron Alexis were killed, according to authorities.
Connecticut State Police evacuate children from Sandy Hook Elementary School in Newtown, Connecticut, on December 14, 2012. Adam Lanza opened fire in the school, killing 20 children and six adults before killing himself. Police say he also shot and killed his mother in her Newtown home.
James Holmes pleaded not guilty by reason of insanity to opening fire July 20, 2012, at the Century Aurora 16 theater in Aurora, Colorado, during the midnight premiere of "The Dark Knight Rises." Twelve people were killed and dozens were wounded. Holmes is charged with 142 counts, including first-degree murder. His trial is scheduled to begin in February 2014.
A military jury convicted Army Maj. Nidal Hasan on Friday, August 23, 2013, of 13 counts of premeditated murder in a shooting rampage at Fort Hood, Texas. During the November 5, 2009 shooting, 13 people died and 32 were injured.
Jiverly Wong shot and killed 13 people at the American Civic Association in Binghamton, New York, before turning the gun on himself on April 3, 2009, police say. Four other people were injured at the immigration center shooting. Wong had been taking English classes at the center.
Pallbearers carry a casket of one of Michael McLendon's 10 victims. McLendon shot and killed his mother in her Kingston, Alabama, home, before shooting his aunt, uncle, grandparents and five more people. He shot and killed himself in Samson, Alabama, on March 10, 2009. McClendon left a note saying he put his mother "out of her misery."
Virginia Tech student Seung-Hui Cho went on a shooting spree on the campus in Blacksburg, Virginia, on April 16, 2007. Cho killed two people at the West Ambler Johnston dormitory and, after chaining the doors closed, killed another 30 at Norris Hall, home to the Engineering Science and Mechanics Department. He wounded 17 people before killing himself. It is the deadliest shooting rampage in U.S. history.
Mark Barton walked into two Atlanta trading firms on July 29, 1999, and fired shots, leaving nine dead and 13 wounded, police say. Hours later police found Barton at a gas station in Acworth, Georgia, where he pulled a gun and killed himself. The day before Barton had bludgeoned his wife and his two children in their Stockbridge, Georgia, apartment, police say. The children's birth mother and grandmother had been murdered six years earlier in Alabama. Barton was questioned but never charged in that crime.
Eric Harris, left, and Dylan Klebold entered Columbine High School in Littleton, Colorado, on April 20, 1999, armed with bombs and guns. The students killed 13 and wounded 23 before killing themselves.
George Hennard crashed his pickup through the plate glass window of Luby's Cafeteria in Killeen, Texas, on October 16, 1991, before fatally shooting 23 people and committing suicide.
James Huberty shot and killed 21 people, including children, at a McDonald's in San Ysidro, California, on July 18, 1984. A police sharpshooter killed Huberty an hour after the rampage began.
Prison guard George Banks is led through the Luzerne County courthouse in 1985. Banks killed 13 people, including five of his children, in Wilkes-Barre, Pennsylvania, on September 25, 1982. He was sentenced to death in 1993 and received a stay of execution in 2004. His death sentence was overturned in 2010.
Officers carry victims across the University of Texas at Austin campus after Charles Joseph Whitman opened fire from the school's tower, killing 16 people and wounding 30. Police officers shot and killed Whitman, who had killed his mother and wife earlier in the day.
Howard Unruh, a World War II veteran, shot and killed 13 of his neighbors on September 5, 1949, In Camden, New Jersey. Unruh barricaded himself in his house after the shooting. Police overpowered him the next day. He was ruled criminally insane and committed to a state mental institution.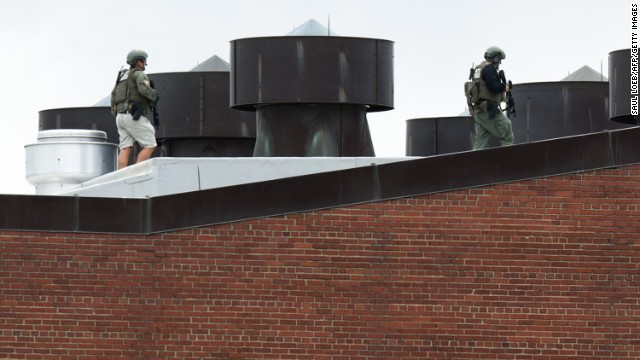 Photos: Worst mass shootings in U.S.
It was unclear if Hasan, who faces the death penalty if convicted, planned to deliver a closing statement.
Fort Hood victims feel betrayed
Hasan's decision not to offer a defense was an anticlimactic end to the testimony portion of a court-martial where prosecution witnesses, primarily survivors, painted a horrific picture of what unfolded inside the processing center during the attack.
Inside the courtroom, the liaison for the family members of those killed handed out packages of Kleenex ahead of the day's proceeding.
As they have nearly every day of the trial, some of the wives and mothers of the 12 soldiers and one civilian killed had their eyes fixed -- some in a cold stare -- on Hasan.
There is no question about whether Hasan carried out the shooting rampage as he took credit for it at the outset of the trial, telling the jury of 13 senior officers during opening statements that the evidence will show "I was the shooter."
The judge, Col. Tara Osborn, has refused to allow Hasan to argue "defense of others," a claim that he carried out the shootings to protect the Afghan Taliban and its leaders from U.S. soldiers.
Is Hasan's strategy martyrdom?
Much has been made of Hasan's defense or, as his stand-by attorneys have said, the lack of it. The judge declined a request by Hasan's attorneys to drop out of the case. The attorneys argued that Hasan was helping the prosecution put him to death.
There may be something to that claim.
The judge barred Hasan from pleading guilty at the start of the court-martial. Under military law, defendants cannot enter guilty pleas in capital punishment cases.
In recent weeks, he has leaked documents through his civilian attorney to The New York Times and Fox News that appear to offer a glimpse of Hasan's justification for carrying out the attack.
The documents included a mental health evaluation conducted by a military panel to determine whether Hasan was fit to stand trial.
"I don't think what I did was wrong because it was for the greater cause of helping my Muslim brothers," he told the panel, according to pages of the report published by the Times.
He also said, according to the documents: "I'm paraplegic and could be in jail for the rest of my life. However, if I died by lethal injection I would still be a martyr."
Military prosecutors called 89 witnesses and submitted more than 700 pieces of evidence before resting their case, hoping to show that the American-born Muslim had undergone what they described as a progressive radicalization.
Hasan challenges witness account of shooting
They have argued to the jury that Hasan, who was scheduled to deploy to Afghanistan, did not want to fight against other Muslims and believed he had a jihad duty to kill as many soldiers as possible.
Over the course of 11 days, prosecution witnesses painted a horrific picture of the shooting rampage that began inside the deployment center, with a number recounting how the gunman rose from a chair, shouted "Allahu Akbar" -- Arabic for "God is the greatest" -- and fired more than 146 rounds in the room.
The prosecution witnesses called Tuesday described the final minutes of the attack, a police shootout that ended with the gunman shooting a police officer before he was shot. Hasan was paralyzed from the chest down.
The final witness called by the prosecution, Dr. Tonya Kozminski, testified about what Hasan told her would happen to the Army if he were deployed.
"The last thing he said ... 'They will pay," Kozminski said.
Fast Facts: Soldier-on-soldier attacks
Military death row: More than 50 years and no executions