STORY HIGHLIGHTS
NEW: President Barack Obama says Russia's actions will have costs, consequences
Russia's ambassador to the United States blames Kiev for the current escalation
Ukraine says it will reinstate compulsory military service in the fall
Donetsk rebel leader: Up to 4,000 Russians are fighting; some are active servicemen
Kiev, Ukraine (CNN) -- A top Ukrainian army officer said a "full-scale invasion" of his country was under way Thursday, as a U.S. official said up to 1,000 Russian troops had crossed Ukraine's southern border to fight alongside pro-Russian rebels.
U.S. officials said Russian troops were directly involved in the latest fighting, despite Moscow's denials.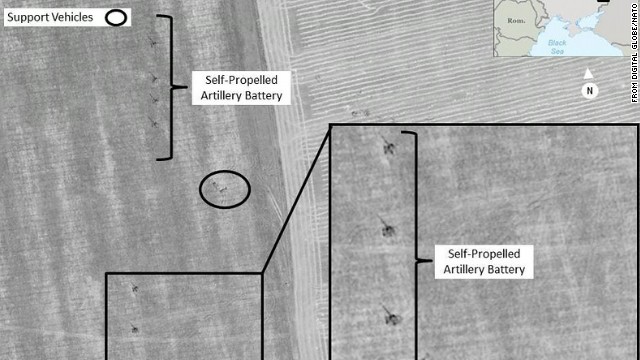 At a press conference on Thursday, August 28, Dutch Brig. Gen. Nico Tak, a senior NATO commander, revealed satellite images of what NATO says are Russian combat forces engaged in military operations in or near Ukrainian territory. NATO said this image shows Russian self-propelled artillery units set up in firing positions near Krasnodon, in eastern Ukraine.
These two images show a military deployment site on the Russian side of the border near Rostov-on-Don, NATO said. This location is about 31 miles from the Dovzhansky border checkpoint.
This image, captured on July 23, depicts what are NATO says are probably six Russian 2S19 self-propelled, 153mm guns near Kuybyshevo, Russia. This site is 4 miles south of the Ukraine border, near the village of Chervonyi Zhovten. Although the guns are not in Ukraine, NATO said, they are pointed north, toward Ukrainian territory.
This image shows a wider overview including the position of the self-propelled guns from image 4.
Pictured here, NATO said, are Russian military units moving in a convoy formation with self-propelled artillery in the area of Krasnodon, Ukraine.
Intelligence now indicates that up to 1,000 Russian troops have moved into southern Ukraine with heavy weapons and are fighting there, a U.S. official told CNN on Thursday.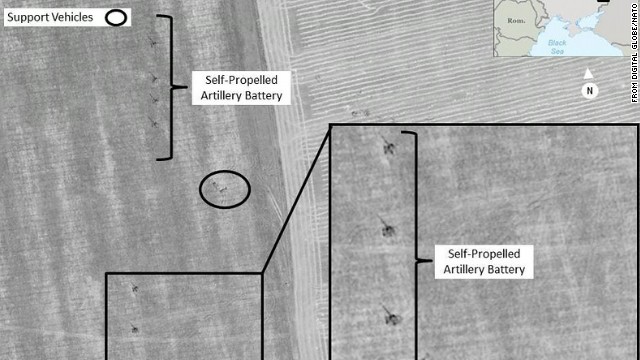 Russian Combat Forces Inside the Territory of Ukraine
Rebels backed by Russian tanks and armored personnel carriers fought Ukrainian forces on two fronts Thursday: southeast of rebel-held Donetsk, and along the nation's southern coast in the town of Novoazovsk, about 12 miles (20 kilometers) from the Russian border, said Mykhailo Lysenko, the deputy commander of the Ukrainian Donbas battalion.
"This is a full-scale invasion," Lysenko said, referring to the fighting in the south.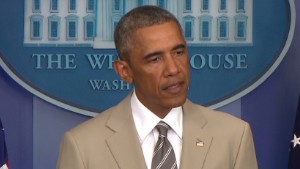 Obama: Russia behind violence in Ukraine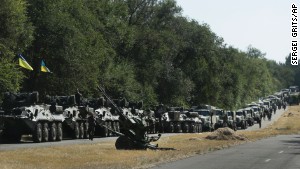 Fighting in Ukraine may be spreading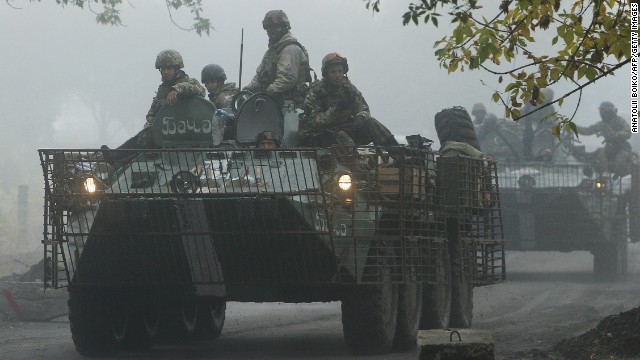 Ukrainian servicemen patrol on armored personnel carriers early morning in Donetsk region on Friday, September 26. Fighting between Ukrainian troops and pro-Russian rebels in the country has left more than 3,000 people dead since mid-April, according to the United Nations.
A pro-Russian rebel guards a destroyed bridge in Nyzhnya Krynka, Ukraine, on Tuesday, September 23.
Residents clean up debris at a building damaged by rockets in Debaltseve, Ukraine, on Monday, September 22.
A firefighter checks out a damaged office building after bomb shelling in Donetsk, Ukraine, on Sunday, September 21.
A Ukrainian soldier guards pro-Russian forces during a prisoner exchange near Donetsk on September 21.
Members of the Ukrainian military held as prisoners of war sit in a bus waiting to be exchanged near Donetsk on Saturday, September 20.
Smoke rises after an explosion at a weapons factory controlled by pro-Russia rebels near Donetsk on September 20. The cause of the explosion was not immediately known.
A Ukrainian attack helicopter patrols an area near Donetsk on September 20.
A firefighter walks past the rubble of a building destroyed by shelling in Donetsk on Wednesday, September 17.
A protester holds a smoke bomb during a demonstration outside the Presidential Palace in Kiev, Ukraine, on September 17. Activists protested the adoption of legislation giving greater autonomy to rebel-held parts of eastern Ukraine's Donetsk and Luhansk regions.
A man covers the body of his mother, who was killed on a bus during a battle in Donetsk on Tuesday, September 16.
People walk through a market Monday, September 15, in the Kievsky district of Donetsk.
Smoke rises around the Donetsk International Airport on Saturday, September 13, as shelling continues between pro-Russian rebels and the Ukrainian army.
A Ukrainian soldier stands guard as residents rally in support of a united Ukraine in the southern Ukrainian city of Mariupol on September 13.
Russian trucks, flying Russian flags and carrying humanitarian aid for eastern Ukraine, line up at a border checkpoint in Donetsk on September 13.
Workers unload supplies from Russia in Luhansk, Ukraine, on September 13. More than 200 Russian trucks entered Ukraine with supplies for the city, which has been cut off from electricity and water for weeks.
Ukrainian soldiers ride on an armored vehicle near Kramatorsk, Ukraine, on September 13.
People look at a large crater from a reported missile strike that hit a bus station Friday, September 12, in Makiivka, Ukraine.
Workers clear rubble Thursday, September 11, after the bombing of a mine in Donetsk.
A column of Ukrainian forces is seen in Volnovakha, Ukraine, on September 11.
An elderly woman sits next to a Ukrainian soldier standing guard in Volnovakha on September 11.
Armed pro-Russian rebels walk September 11 in front of the destroyed Luhansk International Airport. The rebels took control of the airport on September 1 after heavy fighting with the Ukrainian army.
Residents of Lutuhyne, Ukraine, push containers in a wheelbarrow September 11 as they walk between destroyed armored vehicles left behind by the Ukrainian army.
Ukrainian troops protect themselves from a nearby shooting in Debaltseve, Ukraine, on Tuesday, September 9.
Young residents of Berdyansk, Ukraine, dig trenches September 9 to help Ukrainian forces protect the city from possible rebel attacks.
Ukrainian President Petro Poroshenko, left, inspects military personnel during a visit to Mariupol on Monday, September 8.
A pro-Russian rebel stands next to a truck with a heavy machine gun attached to it Sunday, September 7, in Donetsk.
Homes smolder after being hit by shelling in Donetsk on September 7.
A woman stands next to a road sign September 7 after an overnight bombing attack at an Ukrainian army checkpoint on the outskirts of Mariupol.
Ukrainian troops stand on a deserted road as they patrol the border area of the Donetsk and Luhansk regions Friday, September 5, near Debaltseve.
A man repairs damage to a building caused by shelling in Donetsk on September 5.
Smoke rises on the outskirts of Mariupol after pro-Russian rebels fired heavy artillery on September 5.
Ukrainian soldiers ride a tank on a road close to where pro-Russian rebels fired heavy artillery outside Mariupol on September 5.
A wounded Ukrainian soldier is helped by a medical team on the outskirts of Mariupol on September 5.
A pro-Russian rebel holds a destroyed weapon in the village of Novokaterynivka, Ukraine, on Thursday, September 4.
Unmarked military vehicles burn on a country road in Berezove, Ukraine, on September 4 after a clash between Ukrainian troops and pro-Russian rebels. For months, Ukrainian government forces have been fighting the rebels near Ukraine's eastern border with Russia.
People wait by their cars near Berezove on September 4 as rockets hit the road ahead.
A pro-Russian rebel holds a dog, which has a hand grenade attached to its leash, in Donetsk on Wednesday, September 3.
Pro-Russian rebels fire at Ukrainian army positions in Donetsk on September 3.
A Ukrainian military vehicle patrols in the Donetsk region on September 3.
Pro-Russian rebels hold a man near a column of destroyed Ukrainian military vehicles in Novokaterynivka on Tuesday, September 2.
A Ukrainian military truck passes by a serviceman resting in his military camp in Ukraine's Donetsk region on September 2.
A destroyed Ukrainian military vehicle sits abandoned on the side of the road near Novokaterynivka on September 2.
Men clear rubble in Ilovaisk, Ukraine, on Sunday, August 31.
Ukrainian troops leave the rebel-held town of Starobesheve on Saturday, August 30.
A Ukrainian loyalist fighter from the Azov Battalion stands guard on a hill on the outskirts of Mariupol on August 30.
A pro-Russian rebel listens to the news on a transistor radio in the town of Novoazovsk, Ukraine, on Friday, August 29.
Ukrainian soldiers stop on a roadside as they wait for the start of their march into Mariupol on Wednesday, August 27.
A man opens a box filled with rocket-propelled grenades left by the Ukrainian army in Starobesheve.
A pro-Russian rebel walks through a local market damaged by shelling in Donetsk on Tuesday, August 26.
Ukrainian servicemen of the volunteer battalion Azov leave for Novoazovsk on August 26.
Pro-Russian rebels escort captured Ukrainian soldiers in a central square in Donetsk on Sunday, August 24.
People yell as Ukrainian prisoners are paraded through Donetsk in eastern Ukraine on August 24.
A pro-Russian rebel delivers a speech atop a damaged Ukrainian armored personnel carrier in Donetsk on August 24.
People look at damaged Ukrainian military equipment in Donetsk on August 24.
The first trucks of a Russian aid convoy roll on the main road to Luhansk in eastern Ukraine on Friday, August 22. The head of Ukraine's security service called the convoy a "direct invasion" under the guise of humanitarian aid since it entered the country without Red Cross monitors.
A pro-Russian rebel holds shrapnel from a rocket after shelling in Donetsk on August 22.
Residents sit in a makeshift bomb shelter during a shelling in Makiivka on Wednesday, August 20.
Dogs play together as a Russian convoy carrying aid supplies stops at a border control point with Ukraine on August 20.
Ukrainian forces take their position not far from Luhansk on August 20.
Clouds of smoke are on the horizon as Ukrainian forces and pro-Russian rebels clash in Yasynuvata, Ukraine, on Tuesday, August 19.
An Ukrainian helicopter flies near Kramatorsk on August 19.
Ukrainian soldiers load a missile during fighting with pro-Russian rebels Monday, August 18, near Luhansk.
Boys play at a refugee camp, set up by the Russian Emergencies Ministry, near the Russian-Ukrainian border on August 18.
Ukrainian soldiers carry weapons at a checkpoint near Debaltseve on Saturday, August 16.
Pro-Russian rebels greet each other as they pass near Krasnodon, Ukraine, on August 16.
A fireman tries to extinguish a fire after shelling in Donetsk on August 16.
Ukrainian border guards patrol near Novoazovsk on Friday, August 15.
Trucks of a Russian humanitarian convoy are parked in a field outside the town of Kamensk-Shakhtinsky, in the Rostov region of Russia about 20 miles from the Ukraine border, on August 15. Ukrainian officials were preparing to inspect the convoy, which was bound for the conflict-torn east.
A truck driver from the convoy jumps out of a trailer on August 15. The Ukrainian government had expressed fears that the convoy was a large-scale effort to smuggle supplies or troops to pro-Russian rebels.
A tank belonging to pro-Russian rebels moves along a street in Donetsk on August 15.
A Ukrainian soldier walks past a line of self-propelled guns as a column of military vehicles prepares to head to the front line near Ilovaisk on Thursday, August 14.
A Ukrainian soldier prepares a mortar at a position near Ilovaisk on August 14.
A man inspects damage at his house after a shelling in Donetsk on August 14.
A convoy of trucks, which Moscow said was carrying relief goods for war-weary civilians, moves from Voronezh, Russia, toward Rostov-on-Don, Russia, on August 14.
Pro-Russian rebels on the outskirts of Donetsk stand at a checkpoint near a bullet-riddled bus on Wednesday, August 13.
A pro-Russian rebel inspects damage after shelling in Donetsk on Thursday, August 7.
Smoke billows from a Ukrainian fighter jet crash near the village of Zhdanivka, Ukraine, on August 7.
Residents of eastern Ukraine cry in a hospital basement being used as a bomb shelter August 7 in Donetsk.
Ordnance from a Ukrainian rocket launcher shoots toward a pro-Russian militant position in the Donetsk region on August 7.
Relatives of Ukrainian military member Kyril Andrienko, who died in combat in eastern Ukraine, gather during his funeral in Lviv, Ukraine, on August 7.
Refugees from southeastern Ukraine wait at a refugee camp in Donetsk on Wednesday, August 6.
A pro-Russian rebel adjusts his weapon in Donetsk on August 6.
Men walk past a bomb crater in Donetsk on August 6.
A man steps out of his car as Ukrainian soldiers inspect the vehicle at a checkpoint in Debaltseve on August 6.
Ukrainian servicemen sit on a bus near Slovyansk, Ukraine, on Tuesday, August 5.
A pro-Russian separatist guards a road as Australian, Malaysian and Dutch investigators prepare to examine the crash site of Malaysia Airlines Flight 17 near the village of Rossipne, Ukraine, on August 5. U.S. and Ukrainian officials allege that a Russian-made missile shot down the plane from rebel-held territory, killing all 298 people on board. Russia and the rebel fighters deny involvement.
Rescue workers carry the body of a woman who was killed during a bomb shelling in Donetsk on August 5.
A boy stands in a hallway of a refugee hostel run by pro-Russian rebels in Donetsk on Monday, August 4.
Ukrainian servicemen from the Donbass volunteer battalion clean their guns Sunday, August 3, in Popasna, Ukraine.
Ukrainian soldiers fire shells toward rebel positions near Pervomaysk, Ukraine, on Saturday, August 2.
Ukrainian troops patrol near the village of Novoselovka on Thursday, July 31.
A woman says goodbye to her mother as she flees her home in Shakhtersk, Ukraine, on Tuesday, July 29. See more photos of the crisis from earlier this year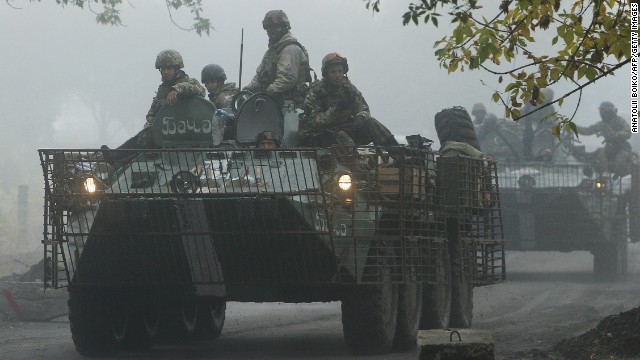 Photos: Crisis in Ukraine
Intelligence now indicates that up to 1,000 Russian troops have moved into southern Ukraine with heavy weapons and are fighting there, a U.S. official told CNN on Thursday.
NATO provided what it said is evidence: satellite images showing Russian troops engaged in military operations inside Ukraine.
"The images, captured in late August, depict Russian self-propelled artillery units moving in a convoy through the Ukrainian countryside and then preparing for action by establishing firing positions in the area of Krasnodon, Ukraine," NATO said in a news release.
Commercial satellite imagery shows the same, according to a British security source with detailed knowledge of UK intelligence estimates. One image that British intelligence has analyzed, dated Tuesday, shows 15 heavy trucks, at least seven armored vehicles and at least nine artillery positions.
Russia's military actions in eastern Ukraine "must cease immediately," British Prime Minister David Cameron said Thursday.
"I'm extremely concerned by mounting evidence that Russian troops have made large-scale incursions into South Eastern Ukraine, completely disregarding the sovereignty of a neighbor," Cameron said. "The international community has already warned Russia that such provocative actions would be completely unacceptable and illegal."
As the Russian presence grows, so does its influence over the separatist leadership in Ukraine, the British security source told CNN.
According to the source, the UK has determined that Russian artillery and rockets -- across the border and from within Ukraine -- have been fired against the Ukrainian military.
Two SA-22A gun/missile air defense systems were observed in separatist-controlled parts of Luhansk province on August 2, the source said. This system is not in Ukraine's inventory but is used by the Russian military.
Ukraine's National Defense and Security Council said that Russian forces were in full control of Novoazovsk as of Wednesday afternoon.
Russia's military fired Grad rockets into the town and its suburbs before sending in two convoys of tanks and armored personnel carriers from Russia's Rostov region, it said in a statement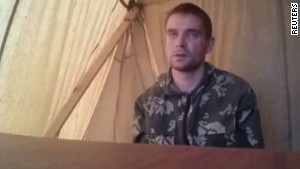 Ukraine: Russians captured in east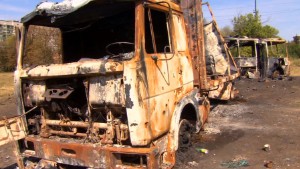 Ukrainians fight to survive amid siege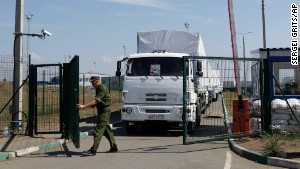 Questions return with Russian convoy
"Ukrainian troops were ordered to pull out to save their lives. By late afternoon both Russian convoys had entered the town. Ukraine is now fortifying nearby Mariupol to the west," the NDSC said.
A number of villages in the Novoazovsk, Starobeshiv and Amvrosiiv districts were also seized, it said.
The NDSC also warned that a rebel counterattack is expected in the area where Malaysia Airlines Flight 17 was shot down in July. Ukrainian and Western officials say they believe it was downed by rebels armed with Russian-made weapons.
Novoazovsk is strategically important because it lies on the main road leading from the Russian border to Ukraine's Crimea region, which Russia annexed in March. Separatist leaders in the Donetsk and Luhansk regions then declared independence from Kiev.
U.N. Security Council meets
As international concern mounted over the apparent escalation in fighting, the U.N. Security Council held an emergency meeting on Ukraine.
Samantha Power, the U.S. ambassador to the United Nations, accused Russia of lying.
"It has manipulated. It has obfuscated. It has outright lied. So we have learned to measure Russia by its actions and not by its words," Power said, calling for "serious negotiations."
"In the face of this threat, the cost of inaction is unacceptable," she warned.
According to Vitaly Churkin, Russia's ambassador to the United Nations, more than 2,000 people have been killed in the conflict and more than 800,000 have been displaced.
He blamed the current escalation on the "reckless policy" of Kiev.
"The Kiev authorities have torpedoed all political agreements on resolving the crisis," Churkin told the Security Council meeting. "The only thing we're seeing is a fight against dissent."
Ukraine's deputy ambassador to the United Nations, meanwhile, put his colleagues on alert.
"The world is challenged by a military-nuclear might, ignoring universal principles and craving absolute power," Oleksandr Pavlichenko said about Russia. "How many more red lines have to be crossed before this challenge is addressed?" he asked.
The latest flare-up comes despite a meeting between Ukrainian President Petro Poroshenko and Russian President Vladimir Putin in Belarus on Tuesday at which some progress appeared to have been made toward finding a diplomatic solution to the crisis.
Poroshenko canceled a planned trip to Turkey on Thursday "due to sharp aggravation of the situation in Donetsk region ... as Russian troops were brought into Ukraine," a statement from his office said.
In a Cabinet meeting, Ukrainian Prime Minister Arseniy Yatsenyuk said that Russia "has very much increased its military presence in Ukraine" and that tougher measures may be needed to curb Russia's support for the rebels.
"Unfortunately, the sanctions were unhelpful as to de-escalating the situation in Ukraine," he said, referring to the economic sanctions imposed by the United States and European Union against Russian individuals and companies.
Yatsenyuk suggested one way to halt "Russian aggression" could be to freeze all assets and ban all Russian bank transactions until Russia "pulls out all its military, equipment and agents" from Ukraine.
"Vladimir Putin has purposely started a war in Europe. It is impossible to hide from the fact," he said.
President Barack Obama, similarly, placed blame for the violence in Ukraine on Russia.
"The violence is encouraged by Russia. The separatists are trained by Russia; they are armed by Russia; they are funded by Russia," he told reporters in Washington.
Calling sanctions against Russia already in place "effective," he said it would face additional costs and consequences for its ongoing incursion.
"Russia is already more isolated than at any time since the end of the Cold War," Obama said.
U.N. Secretary General Ban Ki-moon said the flow of weapons is hindering efforts.
"This remains a key obstacle to the de-escalation of the situation on the ground, as arms and heavy weaponry reportedly continue to flow unabated into Ukraine from Russia," Ban said. "There is an urgent need to ensure a secure border between the two countries, with international verification."
U.S. ambassador: Russia is directly involved
U.S. Ambassador to Ukraine Geoffrey Pyatt also said Thursday that Russian soldiers were directly involved in the fighting, alongside the pro-Russian rebels.
"Russian-supplied tanks, armored vehicles, artillery and multiple rocket launchers have been insufficient to defeat Ukraine's armed forces, so now an increasing number of Russian troops are intervening directly in the fighting on Ukrainian territory," he said on Twitter.
"Russia has also sent its newest air defense systems including the SA-22 into eastern Ukraine and is now directly involved in the fighting."
Moscow denies supporting and arming the pro-Russian rebels. It has also repeatedly denied allegations by Kiev that it has sent troops over the border.
A Russian senator and the deputy head of the Committee on Defense and Security in Russia's upper house of Parliament, Evgeny Serebrennikov, dismissed the latest reports of a Russian incursion as untrue.
"We've heard many statements from the government of Ukraine, which turned out to be a lie. What we can see now is just another lie," he said to Russian state news agency RIA Novosti.
Russian lawmaker Leonid Slutsky also accused Kiev of lies, in comments to RIA Novosti.
"I can only say that there's no ground for claims like this, and the junta tries to lay its own fault at someone else's door," he said, referring to the Kiev government.
Moscow regards it as illegitimate because it took charge after Ukraine's pro-Russian President Viktor Yanukovych was ousted in February.
Russian soldiers detained in Ukraine; leaders meet in Minsk
Rebel leader: 3,000 to 4,000 Russians in our ranks
However, the Prime Minister of the self-declared Donetsk People's Republic, Alexander Zakharchenko, acknowledged Thursday that there are current Russian servicemen fighting in the rebels' ranks in eastern Ukraine.
In his statement, televised on state-run Russia 24, Zakharchenko said the rebels have never concealed that many Russians are fighting with them. He said up until now there were 3,000 to 4,000 volunteers, some of whom are retired Russian servicemen.
Zakharchenko went on to reveal that the Russian servicemen currently fighting in their ranks are active, "as they came to us to struggle for our freedom instead of their vacations."
On Tuesday, Ukraine's Security Service said it had detained 10 Russian soldiers in Ukraine.
Russian state media cited a source in the Russian Defense Ministry as saying the soldiers had been patrolling the border and "most likely crossed by accident" at an unmarked point.
The NDSC said Thursday that Ukraine's Security Service detained another Russian serviceman who testified that his unit was supplying heavy military equipment to militants.
Six questions -- what's happening in Ukraine?
Separately, Ukraine announced Thursday that it would reinstate compulsory military service in the fall. Fresh recruits will not be sent to the country's area of conflict in the east, Mihaylo Koval, the deputy secretary of the National Defense and Security Council, told reporters.
Ukrainian volunteers retreat from Mariupol area
Pro-Kiev forces apparently already have engaged with rebel forces between Novoazovsk and Mariupol, the Sea of Azov port city 35 kilometers (22 miles) to the west that the country's security council said was being fortified.
A CNN crew north of Mariupol saw a ragged convoy of about 25 vehicles, some with their windows smashed out, belonging to pro-Kiev volunteer fighters heading away from the city Thursday afternoon.
The volunteers, including two from the country of Georgia, said they'd been involved in fighting in the Mariupol area but didn't provide details.
Earlier Thursday and farther north, the CNN crew was near Donetsk city, which Ukrainian forces have been trying to wrest from rebels for weeks. Heavy Ukrainian artillery fire targeted areas near Donetsk's southern suburbs amid a heavy downpour of rain.
The main highway 9 miles (15 kilometers) south of Donetsk was deserted. With return fire coming from Donetsk, villagers in the area said they'd been taking shelter indoors or underground, coming out only for an hour or two a day to get supplies.
The city of Luhansk, a rebel stronghold, has also been at the center of fighting for days, prompting a humanitarian crisis. The NDSC said it remained without water, power or phone connections Thursday.
Ukraine's secret weapon: Funding from the country's millionaires
After 8 months of conflict, what's next for Ukraine?
Journalist Victoria Butenko reported from Kiev and CNN's Diana Magnay from eastern Ukraine, while Laura Smith-Spark wrote and reported in London. CNN's Susannah Palk, Max Foster, Tim Lister, Alla Eshchenko and Ariana Williams contributed to this report.